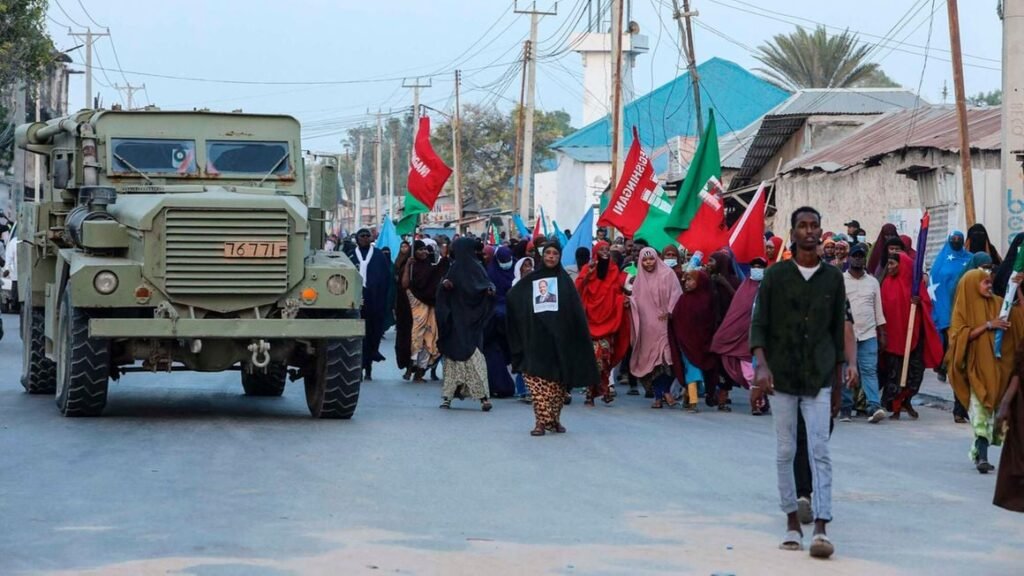 By MANASE OTSIALO
The United States this week cracked the whip further on Al Shabaab illegal charcoal sellers, imposing sanctions to deter one of the Somali militants' enduring crimes.
The Department of the Treasury's Office of Foreign Assets Control (OFAC) designated (target for sanctions) Al-Shabaab operatives and illicit charcoal smugglers in Somalia.
It is a decision that suggests the militant group is back to its old habits two years after security experts intimated it had advanced access to illegal weapons.
The move targeted 26 individuals and entities connected with the Al Shabaab, including 15 financial facilitators and operatives, four charcoal smugglers, and seven of their associated companies.
This action aims at key regional leaders, affiliates, and members of the terrorist group in Somalia who are involved in a wide range of activities in support of Al Shabaab, including financial facilitation, business activities, collection of funds on behalf of the terrorist group, the proliferation of improvised explosive devices (IEDs), and illegal charcoal smuggling from Somalia, all of which have exacerbated local conflicts and suffering.
"Today's designations highlight Al Shabaab's reliance on networks of regional and international actors and entities, who provide funds, direct attacks, and enable the group's malign activities, including the manufacturing and planting of explosives in local communities and fostering corruption," said Under Secretary of the Treasury for Terrorism and Financial Intelligence Brian E. Nelson.
"The US remains committed to leveraging our authorities in support of our partners, such as the federal government of Somalia, in their efforts to counter terrorist threats, which undermine both national and regional stability and security."
Coercing locals
The individuals designated have served as key regional leaders and members of the terrorist group in the Lower Shabelle, Lower Juba, and Middle Juba regions of Somalia.
They have been involved in extensive revenue generation and other activities in support of the militants through illegal fee collections from local Somalis, coercing residents to follow al-Shabaab's directions through its illegitimate "police force", known as the Hisbah, kidnappings and facilitating the manufacture and placement of IEDs.
The decision implies that Al Shabaab has never abandoned the old crimes: smuggling and using locally assembled weapons as had previously been thought. An earlier investigation by a UN Panel of Experts had suggested increasing infiltration in government agencies, including revenue services, had slowed the need for smuggling to get money. It also revealed that the militants could buy weapons from the black market, accessing some of the tools they could otherwise not freely purchase from the international market.
It may also suggest that a tighter noose by Somali authorities around the financing of terror activities was working, forcing the group to revert to old habits.
Sanction list
Those sanctioned include Hasaan Abshir Xuuroow, an Al Shabaab intelligence and finance officer who leads a group of associates to collect mandatory "donations" from civilians in Kismayo, Somalia.
He is accused of taking livestock from owners as donations and later auctioning them off to make a profit for personal financial gain.
Aadan Yusuf Saciid Ibrahim is an Al Shabaab mandatory donations collector in Lower Shabelle, Somalia. He has been responsible for enforcing the collection of fees associated with livestock and market sales.
He has levied hefty charges on behalf of Al Shabaab but retains at least some of those profits for his own enrichment.
Others are Mumin Dheere, the deputy emir of Wayanta, Lower Juba, Somalia. He has reportedly coordinated retaliatory attacks for Al Shabaab by targeting Somali and African Union forces and planned to use vehicle borne IEDs and mortars in the attacks.
Macalin Burhan, also on the sanction list, was appointed as the Al Shabaab Hisbah Commander of the Wayanta area in Lower Juba, Somalia, in late 2021.
He refused to release at least 80 civilians imprisoned by the militants in the Wanyanta area.
Ali Ahmed Hussein, Maxamed Cali, Ahmed Kabadhe, Siyaat Ayuto, Mohamed Abdullah Hirey, Cabdi Roobow and Hassan Yariisow Aadan have also been sanctioned.
Others include Siciid Abdullahi Aadan, an al-Shabaab member who has operated as an IED expert and facilitator, and Shiek Aadan Abuukar Malayle, who oversees the collection of fees from the local population in Lower Shabelle.
Aadan Jiss serves as a Hisbah commander, manages a detention centre, and handles detainments for Al Shabaab's so-called "courts."
Charcoal smugglers
The four charcoal smugglers designated have operated primarily between Somalia and the Persian Gulf, engaging in the illegal export of charcoal from Somalia, according to the US Department of Finance.
Charcoal smuggling has contributed to local conflicts and revenue generation for groups like Al Shabaab, as well as causing deforestation and other environmental damage.
The illicit charcoal trade has previously generated the equivalent of more than $20 million in revenue per year for its associated smugglers, traffickers, and the Al Shabaab.
The leading smugglers sanctioned are Ali Ahmed Naaji, a supplier and coordinator for the illicit Somali charcoal trade since 2013.
He facilitated transportation involving up to 90,000 bags of charcoal in 2016 alone.
He is accused of being an Al Shabaab financial facilitator and has maintained a relationship with the terrorist group since at least 2011 when he stored and distributed al-Shabaab's petroleum supplies in Somalia.
Others in the charcoal smuggling are Bashir Khalif Musse, a businessman based in Dubai, and Mariam Barreh, a director of Bushra Bachir Shipping and Logistics Services LLC, which was implicated in the 2022 shipment of Somali charcoal.
Abdulwahab Noor Abdi also known as "Tomato," brokered the charter for a charcoal delivery to Oman from Al Shabaab-controlled territory in Somalia in 2014. 
Source: The East African