W/Q Maxamed xuseen
Dhallinyaradu waa xoogga waddan kasta, waxa ay qayb muhiim ah ka yihiin hantida ugu muhiimsan ee waddan leeyahay. Afrika waxaa la qiyaasaa in 70% bulshadeedu dhallinyaro tahay, halka Soomaaliya si lamid ah bulshadeedu 65% dhalin yaro tahay.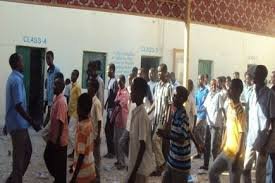 Dhallinta Soomaaliyeed, waxa ay la tacaalayaan shaqo la'aan, amni xumo, tayada waxbarashada waddanka oo hooseysa, iyo waddanka oo aysan ka jirin warbarashada Farsamada Gananta.
Dhallinta Soomaaliyeed ma haystaan cid ay ku deydaan (role model). Sidoo kale, waxbarashada ama manhajka waddanka uma diyaarsana inuu soo saaro dhallinyaro leh xirfad ama hal abuur ay wax ku soo kordhin karaan.
Dhallinyarada Soomaaliyeed wax ay la'yihiin qorshe horumarineed iyo jiheyn la xiriirta hor umarintooda.
Caqabadaha horyaalla dhallinta Soomaaliyeed
Waxaa jira caqabado hortaagan horumarka iyo hor usocodka dhallinta Soomaaliyeed, taas oo sababtay in dhallinyardu aysan waddanka wax badan ku soo kordhin karin. Caqabadahaas waxaa kamid ah:
1)Waxbarashada dugsiyada hoose iyo dhexe oo aad u hooseysa, kuwaas oo aan gaaarsiisneyn in ay soo saaraan arday leh fahan waxbarasho.
Tan iyo xilligii ay meesha ka baxday Dawladda Dhexe ee Soomaaliya, waxaa meesha ka baxay tayada waxbarasho ee hoose/dhexe, taas oo keentay in ay dhallinyaradu fursad u helin waddaninimo iyo waxbarasho kor u qaadda hab fikirkooda.
2) Waddanka oo aan lahayn Waxbarashada Farsamada Gacanta iyo xirfadaha kala duwan.
Waxaa jirta baahi weyn oo loo qabo in la helo Dugsiyo Farsamada Gacanta lagu barto, kuwaas oo buuxiya baahida xirfadeed ee ka jidha waddanka, sidoo kale, waxa ay shaqo abuur xoog leh u sameynaysaa dhalinta soomaaliyeed ee la ildaran shaqo la'aanta.
3) Shaqo la'aan baahsan
Waxaa waddanka kajira shaqo la'aan baahsan taas oo saammeyn weyn kuyeelatay dhallinyarada. Shaqa la'aantaas oo ay sababtay xirfadda dhallinta oo ah mid hooseysa, waddanka oo ay fursaduhu ku yaryihiin iyo caqabado kale oo ay sababeen duruufaha kala duwan ee kajira waddanka.
4) Musuq maasuq baahsan
Musuq maasuqa kajira dalka ayaa wuxuu saammeyn ku yeeshay shaqada kajirta waddanka iyo qaabka loo maareyn karo. Waxaa jirto eexasho, qabyaalad keentay in sed bursi helaan dadka qaarkood, qaarkoodna waayaan fursad.
Waddaniyadda Dhallinyarada oo Hooseysa.
5) Waddaninimada Dhallinyarada Soomaaliyeed waa mid hooseysa marka lala barbardhigo waddamada caalamka, taas oo ay tahay sababtu, wacyiga iyo waxbarashada madaniga ah oo hooseysa ama aan jirin.
Fursadaha Horyaalla Dhallinta Soomaaliyeed.
Sida ku xusan tirokoobkii dadka Soomaaliya, waxaa dadka 35 sano jir kaweyn kabadan yihiin 81%, taas oo micneheedu tahay in Umadda Soomaaliyeed saddex meelood ama ka badan ay dhallinyaro tahay. Haddaba fursadaha dahabka ah ee dhallinyaradu haysato waxaa ka midaDhallinta oo ka helay siyaasadda waddanka matalaad fiican.
Dhallinta oo ka helay siyaasadda waddanka matalaad fiican.
Labadii sano ee ugu dambeysay, waxay dhallinyaradu uga soo dhex muuqdeen arrimaha siyaasadda si mug leh, taas oo ay heleen in ay madax ka noqdaan jagooyin sar sare. Fursaddaas oo keeni karta in dhallintu ay u dooddo matalaadeeda, isla markaana uu kor ukoco baraarugsanaanta arrimaha siyaasadda ee waddanka kajira.
Taas beddelkeeda, waxaa jidha aragti leh, in aysan jirin wax isbeddel ah oo ay soo kordhiyeen dhallintu, kadib markii ay siyaasadda ku biireen, ee ujeedkoodu ahaa in ayagu ku biiraan siyaasadda, laakiin aysan u qareemin ama ku matalin arrimaha dhallinyarada, sida xoojinta siyaasadda dhalinta iyo waxyaabaha kale ee muhiim ka u ah dalka iyo dhallinyaradiisa.
In ay tirada bulshada Soomaaliyeed ka yihiin 81% (UNFP Population census, 2013).
Dhallintu waa caddadka ugu badan ee ummadda Soomaaliyeed, taas oo ka dhigan in ay muhiim u yihiin bulshada soomaaliyeed, kana heli karaan fursado muhiim ah oo ay waddanka wax ugu qabtaan.
In ay jiraan tiro badan oo waxbaratay gaar ahaan waddanka gudihiiha iyo debaddiisa.
Marka taariikhda dib loo raaco oo dib loo eego tobankii sano ee ugu dambeysay, waxaa si habsami leh u kordheysa aqoonta dhallinta iyo fursadaha waxbarasho ee ay helaan. Taas oo micneheedu tahay in dhallinyaradu ku baraarugsan yihiin xaaladda waddanka kajira.
Haddaba, waxaa jirta in dhallinyaradu ay kuyartahay, hal-abuurka Fikradaha Ganacsi iyo horumarineed, taas oo ay qayb katahay, qaabka barbaarinta dhallinyarada.
Fursadaha teknolojiyadda oo waddanka kusoo badanaya.
Waxaa adduunku ugudbay casri ay teknoolojiyaddu tahay furaha hormarka ee waddan ku tallaabsanayo, taas oo aan horay loo qaadin kareyn tallaabo, teknolojiyad la'aanteed.
Haddaba, waddanka soomaaliya waxaa kusoo badanaya fursadaha teknolojiyadda iyo hababka ku shaqeynta teknolojiyadda
Talo soo Jeedin ku socota Dhallinyarada Soomaaliyeed
Iskaashiga Dhallinyarada in la xoojiyo, ayagoo midoobaya Goloyaasha Dhalinta, yagleelayana kuwo cusub oo ay ku soo bandhigaan fikirkooda. (Advocacy Networks).
Ka fogaadaan Siyaasada Haybta (identity/Clan politics), hiigsadaan yool sare oo ay waddan kooda horumar u hor seedaysa.
Dhallinyarada Soomaaliyeed in ay badiyaan wax akhriska, si ay wax badan u qoraan ama ula socdaan arrimaha waddan kooda quseysa.
Dhallinyarada Soomaaliyeed waa in ay ka qeybqaataan arrimaha madaniga ah iyo danaha caamka ah.
Dhallinyarada Soomaaliyeed waa in ay helaan cid ay kudeydaan (role model).
Gabagabadii, waxaa jirta fursado shaqo oo badan oo kajira waddanka, kuwaas oo ay ka faa'ideystaan dad ajaaniib ah, kuwaas oo ay sababtay labo arrimood oo kala ah, in dhallinta Soomaaliyeed aysan laheyn xirfadaha farsamada gacanta iyo in dhallinta Soomaaliyeed ay ka faanaan shaqooyinka xirfadda iyo muruq maalka ubaahan.
W/Q: Maxamed Xuseen
Email:[email protected]
---
We welcome the submission of all articles for possible publication on WardheerNews.com. WardheerNews will only consider articles sent exclusively. Please email your article today . Opinions expressed in this article are those of the author and do not necessarily reflect the views of WardheerNews.
WardheerNew's tolerance platform is engaging with diversity of opinion, political ideology and self-expression. Tolerance is a necessary ingredient for creativity and civility.Tolerance fuels tenacity and audacity.
WardheerNews waxay tixgelin gaara siinaysaa maqaaladaha sida gaarka ah loogu soo diro ee aan lagu daabicin goobo kale. Maqaalkani wuxuu ka turjumayaa aragtida Qoraaga loomana fasiran karo tan WardheerNews.
Copyright © 2020 WardheerNews, All rights reserved