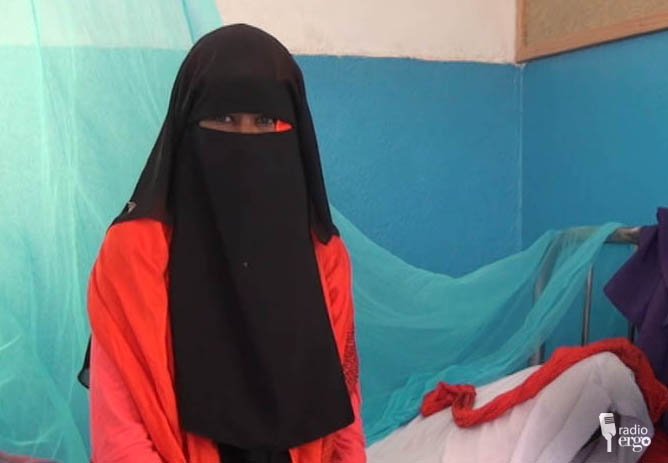 Ayan [not her real name to protect her] has been forced to join Badar IDP camp near Kismayo because the food aid she was relying on has stopped and she can no longer afford the cost of living in the town.
She is among the 80 people who are members of an HIV/AIDS support group in Kismayo, all of whom relied on the aid from the UN's World Food Programme (WFP) that ended in June.
Ayan, with six children to support, has been struggling to put together a single meal a day.
"Whatever we get is barely enough to cover our cost, but we get one meal. We used to have food in our house. Now the aid has stopped, we don't have anything. We used to eat three meals, now just one meal is hard," she said.
"We used to pay $20 in rent in a two-room iron sheet house in Kismayo but we couldn't afford it any more. This house here [in IDP camp], when it rains the water leaks right through, just the other day our belongings all got wet. We don't have bedding now we have to sleep on mats," she said.
Ayan, 48, learned that she was HIV positive in 2020 after her husband died. Her children, the eldest son being 14, have all tested negative.
Missing the 75kgs of flour, rice, sugar and three litres of cooking oil she used to receive, she had to take up a job three days a week on construction sites earning about five dollars. It is a pittance and she is concerned that her work could even lessen as the sector is in low season due to the high ocean currents meaning few building materials are arriving in Kismayo port.
"Whenever you try to find work, they will tell you there is no work. People are usually employed through connections. I don't work anywhere else besides construction sites. This work is hard but the situation forced me to work here because I am not an educated person, I'm just trying to provide for my children," she said.
At work Ayan is careful not to reveal her HIV status to others fearing she could even lose her job.
Her four older children had to drop out of Ganane primary and middle school in Kismayo in May as she had no money to pay the $60 fees.
The aid cuts have caused similar hardships for Halimo [real name concealed], a mother of seven also living with HIV/AIDS.
She used to receive $60 cash aid from WFP that bought her 75 kilograms of food but she also had to move to a camp two months ago after the aid stopped.
She said they can no longer eat regular meals. Living in Marino IDP camp, she is already getting worried about her health.
"Life is difficult, you can imagine someone who doesn't have anything and can't go anywhere. We stay here mostly; I sometimes go out to wash clothes. People don't have money and they sometimes ask you to come back another day to get paid but when I go back they still tell me they don't have money. Sometimes I just walk away without pay," she said.
Halimo, 50, worked on construction sites for three years and turned to domestic work hoping to earn a better income. She earns between $2-4 a day from housekeeping services and is the sole provider for her children.
Her four elder children were at Ahmed Bin Hambal school. As she cannot afford the fees, the school informed her that they would offer free education for two of them.
Halimo has been living with the virus for five years and her husband died of AIDS in 2021. Her children, she says, are all virally negative.
She said she has suffered prejudice and discrimination from people in town who used to shun her when they learned about her HIV status.
According to Ali Daud Abdi, the team leader of the informal support group for people living with HIV/AIDs in Kismayo, the cuts in aid have had a severe impact on this vulnerable community.
"Nobody can fully take care of us, so it's better that we get jobs. Everyone should get skills training. Some people could get small stalls or learn about henna or tailoring because we can't always depend on aid. Some of the people don't have houses, there are some that were evicted from their houses," he said.
There are 80 people including Ayan and Halimo registered as living with HIV/AIDS in Kismayo by this support group, which shares its records with the Jubaland administration.
However, Ali believes that there could be many more people who have not come forward to register for various reasons including lack of awareness and even shame or fear of recognition.
Source: Radio Ergo