By Faisal Roble

Meeting face-to-face with the Devil
What has transpired in the Somali Regional State (DDS) between July 14 and August 4, 2018, will heavily weigh on the history of this region and its people. Within a short period of time, we have seen a sea change and a humiliating removal of Abdi Muhumed Omar from power.  Responding to this development, Human Rights Watch issued the following statement:
"Hopefully, today's arrest of Abdi Illey is a start to justice for victims of serious crimes in Ethiopia's Somali region. Other officials who directed and supported abuses, including crimes against humanity and war crimes, should also be held to account. The federal authorities should ensure that prosecutions are transparent, rigorous and fair and that victims and witnesses can testify without fear of reprisals."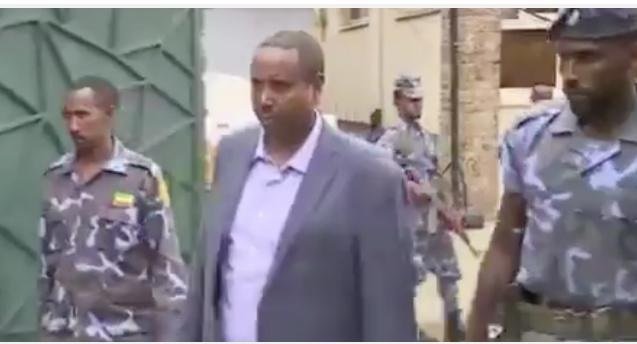 In this essay, I will briefly recap my meeting with former President Abdi Muhumed Omar, his mood at the time and the consequential misstep he took on August 4, that criminalized him, hence put him in the hands of Ethiopia's justice system. On August 26, the government listed about three criminal cases against, including carrying illegal arms and enticing violence between ethnic groups.
On July 14, 2018, I was in the lobby of my hotel, the newly opened Ramada Hotel in Addis Ababa; it sits only few feet away from the busy Bole Road.  One of the reasons why I chose this particular location was for security reasons, and to make sure that in the event some unforeseen circumstances take place, I could easily reach the airport in no more than five minutes.
Throughout the months of June and July, the entire country was ablaze with fire, and so did the US embassy in Ethiopia warn its citizens to exercise caution in traveling to most parts of Ethiopia.
With that warning in mind, I decided to observe maximum [personal] caution and forfeited my travel to Jigjiga and spent my vacation in Nairobi. I was only in Addis in the middle of July to transit on my back to Los Angeles. In a way, this was a hurtful experience that my American born boys could not freely visit the region where their Dad hails from (a subject for another time).
In a rainy afternoon of that fateful day of July14, Jamal Warfa spotted and joined me for a coffee at the hotel's lobby.  Jamal is an energetic young man of 45ish and a member of the national human rights commission for Ethiopia.  He occupies the seat allocated for the Somali region. I too recognized him from his Facebook postings as the man who was arrested and tortured by the Somali Regional Government.
I was impressed by how busy he is and the multiple engagements he executes each day.
Jamal and I talked about the crisis in the crisis in the region and the traumas former President Abdi Mohumed caused his people.  After a 30-minute long conversation, Jamal suggested if I would mind meeting with Abdi Mohumed Omar; "he is in Addis Ababa," he said with a huge smile. Before I answered "yes" or "no," he showed me his telephone number on his cell phone screen and said, "See, I logged him as Iley."  Illey (the one-eyed man) is a nickname for Abdi Muhumed Omar.
Does he know that is how you refer to him, I inquired?
"Not at all," this is only for my reference.
I gave Jamal's offer a hard thought before I took it up! Right away many things ran through my analysis of the positives and negatives associated with sitting with one of the most notorious torturers thus far known by Somalis. His actions have impacted many families in the region, including my own; for no reason, he expropriated my family's properties and threatened to burn the house of my brother in the middle of the night for no reason other than for my some past articles I posted on Facebook.  The immediate trigger of his rage against me was when I posted about 500 civilians inside Somalia that Liyu police killed.
Thanks to a member of reer-Ugas Mahamoud's family, who is related to us by marriage and through our grandmother, my brother was saved.  The man who threatened my family somehow survived the recent purge of some members out of the regional parliament.
With that past memory fresh in my mind, I decided to accept Jamal's offer for three reasons.  As a political commentator, I wanted to take advantage of meeting with a figure whose story will stay with us for many years to come; 2) the night before, I had a substantive discussion with an old friend of mine who knew Abiy's team well and opined that Abdi Muhumed's days were numbered; and 3) I convinced myself his powers to hurt me were limited in Addis Ababa.
I exercised a journalist judgment and took risks to agree to meet. When Jamal called and told him that he wants to visit and he was with me, I could hear in Jamal's voice a back-and-forth conversation between the two.
Jamal was also in return saying "waa nin aqoonyahan ah," meaning Faisal is "an intellectual" and worth the meeting.  I suspect he did not want to do it initially because for a call over the BBC radio that I called for his resignation (July 10, 2018) was still fresh in his mind.
After a brief but intense conversation, he agreed to receive us.  We took a taxi to the address he gave to Jamal.  The hotel we arrived at was a decrepit and low-priced hotel with a bar and a low-grade restaurant in the lobby. Ethiopian ladies were serving the hotel and the bar in multiple capacities.
The environment scared me and I painted several scenarios in mind as to why such a powerful man as Abdi Muhumed will stay here.  I bombarded inquiries to Jamal.  Jamal himself was somewhat surprised but comforted me that this place could be a decoy and a pickup point to our destination.  I wondered whether he paid the hotel to use it as decoy.  Nonetheless, they know the former President well; they even knew him by his nickname "Iley."
Read more: The Last Days of Jigjiga's big Man
Faisal Roble
Email:[email protected]
—
Faisal Roble, a writer, political analyst and a former Editor-in-Chief of WardheerNews, is mainly interested in the Horn of Africa region. He is currently the Principal Planner for the City of Los Angeles in charge of Master Planning, Economic Development and Project Implementation Division
---
We welcome the submission of all articles for possible publication on WardheerNews.com. WardheerNews will only consider articles sent exclusively. Please email your article today . Opinions expressed in this article are those of the author and do not necessarily reflect the views of WardheerNews.
WardheerNew's tolerance platform is engaging with diversity of opinion, political ideology and self-expression. Tolerance is a necessary ingredient for creativity and civility.Tolerance fuels tenacity and audacity.
WardheerNews waxay tixgelin gaara siinaysaa maqaaladaha sida gaarka ah loogu soo diro ee aan lagu daabicin goobo kale. Maqaalkani wuxuu ka turjumayaa aragtida Qoraaga loomana fasiran karo tan WardheerNews.
Copyright © 2019 WardheerNews, All rights reserved