By Mohamed Fatah
For more than four decades, conflicts and war of secession have dominated politics in northern Somalia. Somaliland attacked Las Anod on February 6th as clan elders met to decide the future of the Sool, Sanaag, and Cayn regions. Somaliland, a breakaway separatist region of Somalia, a self-proclaimed secessionist republic whose sovereignty claim is not internationally recognized, launched the attack to take back the city from the local inhabitants. Somaliland and its security forces have flagrantly ignored and violated the essential safeguards to protect civilians, mosques, schools, and hospitals.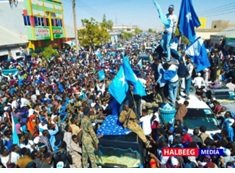 According to the U.S. Bureau of African Affairs, "The United States (U.S.) condemned the continued indiscriminate attacks that have killed scores of civilians in Las Anod and driven more than 185,000 people from their homes. The violence must end, and those responsible must be held accountable."
Since the start of the war of aggression in Las Anod, there has been mounting evidence of Somaliland violating international criminal law in the conduct of war. The relentless use of explosive weapons in vast areas of the city has affected populated areas, killed, and injured scores of civilians, and devastated entire neighborhoods. Local authorities and civil society organizations have documented indiscriminate attacks using artillery, mortar, and tank shells. Muse Bihi, the President of Somaliland, and Somaliland political and military leaders must face war crimes and crimes against humanity charges for targeting civilians in Las Anod.
According to credible sources, reports of shelling in Las Anod have significantly impacted senior U.S., European Union (E.U.), and United Nations (U.N.) officials. Social media posts of the indiscriminate bombardment of Las Anod have provoked outrage and calls for the International Community to act. There is a growing concern that diplomatic and military interaction with Somaliland leaders may have emboldened secessionists. The international community partners must address war crimes, bringing President Muse Bihi and Somaliland political, military and security officials to the International Criminal Court (ICC) in The Hague to face war crimes and crimes against humanity charges.
The Biden administration faces significant political pressure from members of the U.S. Congress, including senators and representatives from Minnesota, Ohio, Maine, California, Virginia, and Washington. The U.S. dispatched Timothy Trenkle, the Deputy Chief of Mission to Hargeisa, to warn Somaliland that the U.S. and the international community partners would impose swift and severe costs for violating international humanitarian law that limits the effect of armed conflict. The U.S. administration and western allies will likely impose sanctions on Muse Bihi, close associates, senior government officials, and political and military leaders, according to a senior administration official familiar with the matter.
The investigators are in the early stages of building U.S. and ICC criminal cases. The State Department's Bureau of Democracy, Human Rights, and Labor will likely lead the investigation, coordinating with the U.S. Department of Justice (DOJ) and the Federal Bureau of Investigation because the criminal investigation also involves the assassination of an American citizen in Las Anod. The DOJ's Human Rights and Special Prosecutions Section will lead prosecution for human rights violations and war crimes.
Somaliland forces, militias, political leaders, and security elements have played a pivotal coordinating bombardment of Las Anod. The deadliest Somaliland attacks occurred over the past four weeks, with 250+ people killed and 800+ injured due to indiscriminate shelling. The systematic, widespread nature of fighting and the allegation of embedded Djiboutian military and intelligence units strongly suggest that Somaliland and Djiboutian political and military leaders may have played a central role in destroying the city.
A substantial body of evidence indicates that Somaliland political, security, military, and paramilitary elements played central and coordinated roles in carrying out war crimes and crimes against humanity. We call on the United Nations (UN) Security Council to exercise its authority under the 1951 Convention on the Prevention and Punishment of the Crime of Genocide. We call on the Department of State and the Department of Treasury to impose sanctions on Somaliland and Djibouti political and security leaders.
President Muse Bihi started a war marked with extreme violations of international humanitarian law, known as the laws of war. Indeed, the Somaliland militia has been committing violations of the rules of war with increasing frequency and brutality throughout the region. The indiscriminate use of force has caused excessive collateral damage and loss of civilian life. Over the past four years, Somaliland's policy "Dhulku ma guuro ee dadka guura," which means "the land remains, but the people move" has expelled hundreds of thousands of people from their homes and villages. A sustained campaign has resulted in the deaths of hundreds of local civilians and the displacement of hundreds of thousands more.
Additionally, this policy has resulted in the execution, disappearance, arbitrary detention, deportation, and forcible displacement of thousands of people. In sum, the violence against the civilian population includes the murder of 100+ clan political leaders, intellectuals, and professionals, including a member of the Somali American diaspora. The following acts are regarded as grave breaches, when committed in violation of the convention, causing death or serious injury to body or health:
Article II

shelling of Las Anod with the intent of terrorizing and killing innocent civilians; the destruction of homes, hospitals, mosques, and schools;

Killing 250+ members of the Las Anod community; the assassination of 100+ political leaders, intellectuals, and professionals;

Causing serious bodily or mental harm to 800+ members of the Las Anod community.

Causing the displacement of more than 250,000 people from their homes.

Article 85

Making the civilian population or individual civilians the object of attack;

Launching an indiscriminate attack affects the civilian population or objects in the knowledge that such an attack will cause excessive loss of life, injury to civilians, or damage civilian objects as defined by article 57 of the convention.
Undeterred by international community calls and accusations of war crimes, Muse Bihi has been using local forces, clan militias, advisors, and ammunition from Djibouti to bomb Las Anod.
On February 22nd, Linda Thomas-Greenfield, the U.S. Ambassador to the United Nations, expressed grave concern with the violence in Las Anod, "particularly the indiscriminate shelling of civilians."
On February 14th, international community partners strongly condemned the continued violence in Las Anod. They expressed grave concern about reports regarding the mobilization of armed groups. "We are also deeply concerned about the shelling of civilian infrastructure, which resulted in causalities and widespread displacement. Attacks against civilians must stop."
On February 9th, the US State Department's Bureau of African Affairs issued a statement that declared that Somaliland's "indiscriminate shelling of civilians is unacceptable and must stop. "We call for an immediate de-escalation of violence in Las Anod, protecting civilians, unimpeded humanitarian access, and resolving tensions peacefully through dialogue."
On February 7th, international community partners called for an immediate de-escalation of violence in Las Anod. The partners "are gravely concerned about the recent violence in Las Anod that resulted in civilian casualties, including children. We call for an immediate de-escalation of violence, protecting civilians, unimpeded humanitarian access, and resolving tensions peacefully through dialogue."
In late January 2023, Muse Bihi and other high-ranking Somaliland political and military leaders agreed to carry out a campaign of terror against innocent civilians in the Sool, Sanaag, and Cayn regions. A core component of that campaign was the unlawful attack on the civilian population—belonging primarily to Dhulbahante—who opposed Somaliland. Somaliland forces conducted the campaign, and the United Kingdom (UK) supported Rapid Response Unit (RRU) police units. Somaliland committed war crimes during the campaign, mainly carrying out numerous shellings.

In conclusion, the international community partners must hold Muse Bihi and Somaliland political and security leaders as well as Djibouti accountable for the shelling and massacre of innocent civilians. The attacks are war crimes and crimes against humanity. Somaliland acts of violence, aggression, and reprisals against civilians and civilian infrastructure with no military purpose in Las Anod meet the standards for prosecutable war crimes.
The war crimes prosecution should target Muse Bihi, his close associates and officials who ordered atrocities or those political and security leaders who failed to stop the shelling. While not directly involved in committing specific crimes, Somaliland political leaders, military, and commanders are responsible for the actions of their supporters and the policies that enabled the indiscriminate shelling and the killing of innocent civilians.
Policy Recommendations
The people of the Sool, Sanaag, and Cayn (SSC) regions have declared their autonomy and announced that their regions are not part of Somaliland. The elders said in a statement that the territories are part of Somalia. The international community partners must respect their decision and work with all stakeholders to establish the Northeast State (Woqooyi Bari) as the new Federal Member State.
Pressure President Muse Bihi to immediately withdraw his forces from the Sool, Sanaag, and Cayn regions.
International partners must establish an international criminal tribunal at The Hague to investigate war crimes and crimes against humanity committed by the Somaliland forces, militias, and Djibouti's role in the conflict.
The U.S., E.U., and the U.N. must investigate Djibouti President Ismail Omar Guelleh for his role in the Las Anod conflict and his government's efforts to destabilize Somalia.
Somaliland is heading toward political and security collapse due to the actions of President Muse Bihi and his allies. The international community partners must work toward preventing an inevitable civil war between the clans in Somaliland. The most viable solution to prevent civil war is into divide Somaliland to three states consisting of Awdal State (Awdal), Golis State (Togdheer), and Woqooyi Galbeed (Northwest).
Cut non-humanitarian financial and material support to the secessionist Somaliland and Djibouti regime.
Stop financial, training, intelligence, and other support to Somaliland and Djibouti forces and UK-trained units.
The Department of Treasury's Office of Foreign Asset Control (OFAC), EU, and the UN Security Council (UNSC) must impose financial and economic sanctions, including freezing foreign accounts and assets of Muse Bihi, Mohamed Kahin, Essa Kayd, Suleiman Koore, Abdiqani Aateye, General Nuh Ismail Tani, Faisal Abdi Botan, General Abdirahman Hassan, Colonel Yusuf Nur, Mohamed Saqadhi, Faisal Ali Warabe, and Edna Adan Ismail.
Investigate UK funding of the RRU, the role of the unit in human rights violations in Las Anod, and the unlawful killing and political intimidation in Hargeisa, Borama, Burco, and Erigabo.
Djibouti provides weapons and ammunition to Somaliland security, violating the UN's Somalia Arms Embargo. The UN should investigate and impose an arms embargo on Djibouti and freeze the assets of political and military leaders aiding Muse Bihi and Somaliland war crimes and crimes against humanity in Las Anod.
Mohamed Fatah
Email: [email protected]
————–
Mr. Mohamed Fatah is a Somali-American executive with over 20+ years of experience in foreign policy, national security, and regulatory compliance. He served as a senior foreign policy advisor to the 2020 Biden for President Campaign Foreign Policy Working Group team, advising the senior campaign leadership on the Middle East and Africa issues. Mr. Fatah had a distinguished career in the U.S. Government, where he served as a Senior Foreign Policy and National Security Advisor to the National Security Council (NSC) / White House.
---
We welcome the submission of all articles for possible publication on WardheerNews.com. WardheerNews will only consider articles sent exclusively. Please email your article today . Opinions expressed in this article are those of the author and do not necessarily reflect the views of WardheerNews.
WardheerNew's tolerance platform is engaging with diversity of opinion, political ideology and self-expression. Tolerance is a necessary ingredient for creativity and civility.Tolerance fuels tenacity and audacity.
WardheerNews waxay tixgelin gaara siinaysaa maqaaladaha sida gaarka ah loogu soo diro ee aan lagu daabicin goobo kale. Maqaalkani wuxuu ka turjumayaa aragtida Qoraaga loomana fasiran karo tan WardheerNews.
Copyright © 2023 WardheerNews, All rights reserved