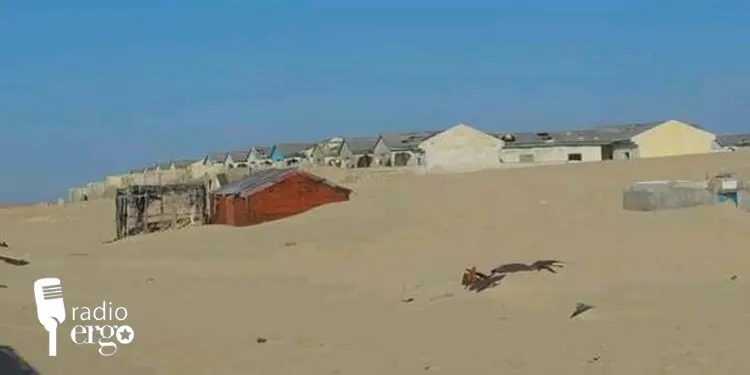 The small coastal village of El-hur on central Somalia's wind-blown coastline is being buried alive – or so it seems to the beleaguered residents.
Families who have lived in the village for decades have been forced to flee as buffeting sandstorms blown in from the Indian Ocean have buried homes and other buildings and continue to wreck livelihoods.
Abdi Ali Hussein and his wife and four children had to abandon their house on 28 September as sand had covered it from floor to roof.
Last year he had taken a $5,000 loan to build the new two-room house made of iron-sheets, after sand had buried their previous house in the village.
They are now huddled in a makeshift hut made of sticks and carboard not knowing what further damage the winds and sand may bring and unable to afford to rebuild.
Having lived in El-hur for 20 years, Abdi had to give up earning a living as a fisherman. He is hanging on in the village but moved further inland to try to make a go of herding livestock. However, a severe water shortage has made life extremely challenging.
"Most of the water wells have been buried, the sand has buried them. Now we have to get water from a well that is 20 kilometres away. A barrel of water reaches us costing six dollars and the reason why the water is so expensive is because it has to be delivered by vehicles," Abdi explained.
The shifting sand dunes have cut off the roads between El-hur and the main towns of Hobyo to the north and Harardhere to the south, leading to a rise in food prices.
Villagers say there is just one four-wheel drive vehicles that reaches El-hur usually once every two weeks bringing food supplies. The transporters charge $5 for 50 kilograms of food items including sugar or rice.
This is five times the normal rate of $1 charged to deliver goods between other districts in Galmudug state.
Abdi is among 150 families who have been displaced from their houses in El-hur by the sand dunes in the past two years.
Even the village's only school has almost disappeared under the sand.
"The school is closed, all the doors to the classes have been blocked shut by the sand. The students have abandoned the school and some have moved to Mogadishu. The problems will increase if we don't get any help," said Abdi.
It is estimated that up to 100 local fisherman have turned to nomadic pastoralism after being forced away from the coast.
Ahmed Abdullahi Ali was previously a fisherman in El-hur, but now keeps 50 goats for a living. Like Abdi, Ahmed has built three different houses and all were buried by sand over the past few years. The sand dunes followed him as he moved.
"The sand is moving and it gets blown in from the ocean as we're living in a coastal area. Wherever the sand is blown to, it's hard to go back to that area. The houses have been buried by the sand, so nobody can go there," he said.
Similar disastrous results of encroaching sand drifts have also affected the districts of Hobyo, Dhinowda, and Budbud. Along this stretch of the Mudug coastline, homes, hospitals, mosques, schools, and shops have been buried alongside people's hopes.
Environmental experts in Somalia have pointed to climate change and deforestation as the causes behind the sand drifts that are making these coastal areas uninhabitable.
A lecturer in environmental studies at Almaas University in Hodan, Mogadishu, Abdirahman Mohamud Diriye, called for a national plan to deal with the crisis.
"The sand dunes are moved by the winds that move the sand from one place to another. Secondly, this issue is worsened by deforestation. We need to plant trees because they act as a barrier against the wind, preventing the sand from shifting from one place and collecting in another area," he explained.
In order to make a concerted community effort to tackle the problems in a village such as El-Hur, he suggested the residents should first move to a safer place.
"First of all, people should move away from the area hit by the sand to at least one kilometre inland and set up temporary camps. Then it would be easier to come up with measures to deal with the sand," he said.
Source: Radio Ergo