W/Q Xasan Keynaan
28 Agoosto 2019, waxa ay ku beegan tahay sanad guuradii 2aad ee Garbaduubkii Muwaadin Cabdikariim Qalbidhagax. Laakiin dhacdadaa naadirka ahayd, saskii laga qaaday iyo mahadhooyinkay reebtay weli way ku taagan yihiin dadka Soomaaliyeed.
Qisada Qalbidhagax waxay noqotay mid ka gudawayn kana shisheysa duruufaha iyo waayaha qof (hal) muwaaddin. Waxay u xuubsiibatay qaddiyad ummaddeed oo ku guntan dareenka, quluubta iyo waayaha danwadaagta qaranka Soomaaliyeed. Sidaa darteed waa lagama marmaan in la xuso wixii dhacay laba sano ka hor, la is xusuusiyo in qisada muwaaadin Qalbidhagax ay tahay arin qaran oo guri walba iyo gole walba khusaysa, la is kana wareysto su'aalaha weli ka oogan.
Garbaduubkii iyo dhiibistii muwaadin Qalbidhagax
Madaxweyne Farmaajo, RW Kheyre, ku-xigeenkiisa ayaa 23kii Agoosto 2017 amray gawracato iyaga u adeegga inay soo garbaduubaan muwaadin Qalbidhagax isagoo ku sugan hoteel uu ka degganaa magaalada Gaalkacyo.
Dayuurad khaas ah ayaa Muqdisho lagu keenay saddex maalmood ka dib, isagoo jeebaysan oo macawis iyo garan qaba. 28dii Agoosto ayaa godkii lagu hayay oo madaxtooyada ku garab yaalla laga soo saaray.
'War ninka indhaha ka xira, war ninka indhaha ka xira,' ayuu amar ku bixiyay taliyihii hawsha maamualayay. Isagoo indhaha ka xidhan ayaa garoonaka caalamiga ah ee Adan Cadde la geeyay, waxaan loo gacan galiyay ciidamo Itoobiyaan oo markiiba u duuliyay Baydhaba, dabeedna Godey, Dire Dawa, Debra Zeit, ugu dambayna Addis Ababa.
Gawricii iyo nolol xabaalkii muwaadin Qalbidhagax
Hadday 28kii Agoosto ahayd maalin daran oo ay ummadda Soomaaliyeed sas ba'an ka qaadeen, 6dii Sebteember ayaa noqotay maalin ka sii daran. Waa maalintii Golaha Wasiirradda shir aan caadi ahayn oo degdega loogu yeedhay ayna soo sareen go'aannadii beenta iyo dhagarta badnaa, ee ay sida fudud oo durdurada ah ugu nolol xabaaleen muwaadinkii toban maalmood ka hor u garbaduubeen Itoobiya.
Saacad gudaheed ayay muwaadin Qalbidhagax uga xayuubiyeen astaamaha, xuquuqaha iyo hiddaha saldhigga u ah jiritaanka iyo karaamada waddaniga: isir, xorriyo, qaran, magac, amni, caddaalad.
Tirada intaa le'eg ee Golaha Wasiiradda, miisaankaana leh ayaan u kala hadhin waxna aan iska waydiin jariimadan. Dastuurka iyo shurrucda dalka iyo dawladda ma xakamayn waxay ku faleen ama u geysteen muwaadinka. Xilka iyo waajibaadka wasiir walba saaran kuma tixgalin.
Masiir qarannimo uguma gurman. Isir iyo magac Soomaaliyeed uguma hiilin. Xeer iyo tol-nimo ugama xishoon. Islaannimo iyo Alla ka cabsi ugama dhawrsan. Dareen baniiaadamna uguma damqan. Iyagaa soo xidhay, iyagaa  maxkamadeeyay, iyagaana daldalaad ku riday.
Hal wasiirad, Dr. Maryan Qasim, ayaa ka hortimid aadna uga gilgilatay garbaduubkii muwaadin Qalbidhagax. Labana wasiirna way ka aamuseen.
Kacdoonkii ka dhashay garbaduubkii muwaadin Qalbidhagax
28 kii Agoosto iyo 6dii Siteembar 2017 waxay ahaayeen kuwo taariikhda qaranka Soomaaliyeed ugu xusan maalmo madaw, maalmo ceebeed. Ummaddii Soomaaliyeed waxaa ku dhacay sas, argaggax iyo jahawareer. Waxaa ku habsaday masiibo ku noqotay filan waa, qaadan waa. Xeer iyo xudduud kasta oo lagu asturnaa waa lakala tuuray.
Xadgudubka baaxadda leh in lagula kaco qof muwaadin ah, Caasimaddii qarankana laga abaabulo lagana fuliyo, xukuumad Soomaaliyeedna ay horseed ka tahay waxay noqotay dhacdo dhabannohays iyo mahadho ku reebtay Soomaalida. Arrintan waxay damaqday dareenka, xasaasiyaadka, iyo hiddaha walaaleeyay oo mideeyay isirka Soomaalida, kana dhigay danwadaag iyo qaran leh magac, dano, saado, iyo masiir aan kala go'in, kala qaybsamin, kalana maarmin.
Boqollaal kun oo dalka iyo dunida dacalladeed kala jooga ayaa mar qudha ka kacay kana gilgishay, cod dheer iyo ficilba, gabboodfalka iyo ihaanooyinka ay xukuumad Soomaaliyeed kula kacday muwaadin Soomaaliyeed. Malaayin ayaa dareenkooda ku muujiyay xamaasad iyo taageero niyadda ah. Bannaan baxyo, dooddo, shirar, maqaallo, waraysiyo, muxaadarooyin, iyo farriimo iyo xogo goos goos ah oo qabsaday mareegaha internetka iyo baraha bulshada ayaa si isdaba jooga oo qiiro leh u dhacay. Malaayiin Soomaali ah aan hore u maqal magaca muwaadin Qalbidhagax ayaa isku bartay kuna baraarugay qaddiyadda Qalbidhagax.
Qaddiyadda muwaadin Qalbidhagax waxay kicisay mowjado iyo shucuur wadaninimo iyo dareen qarannimo oo aan dhawaan lagu arag waayaha Soomaaliyeed. Xukuumadda Madaxwayne Farmaajona waxay ku weyday kalsoonidii iyo taageeradii shacabka.
Go'aammadii iyo jawaabihii Xukuumadda Madaxwayne Farmaajo
Dhaqanka iyo dabeecaddaha lagu bartay Madxweyne Farmaajo iyo xukuumaddisu waxay ku salaysan yihiin 1) ismoogaysiin, 2) aamusnaan,
3) been, 4) dafiraad, 5) raadgadasho, 6) dabamaryeyn, 7) sir, 8) dhagar,
9) musuqmaasuq, 10) hawgallo qarsoodi ah, 11) abaabul iyo maalgalin kooxo dacaayad iyo barabagaan afuufa, 12) isla wayni, 13) awood sheegasho, iyo 14) xadgudubyo ka dhan ah dastuurka iyo shuruucda dalka.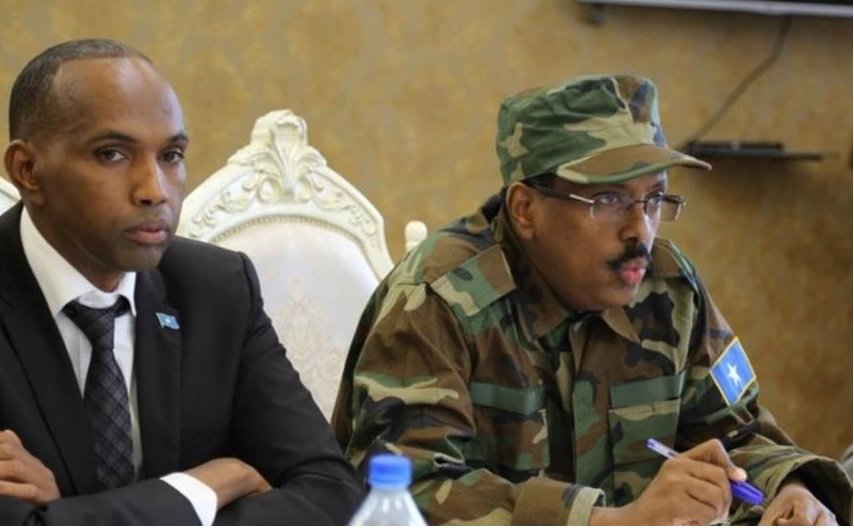 Xukuumadda Farmaajo Garbaduubka muwaadin Qalbidahagax waxay u abaabushay una fulisay si qarsoodi. Markii la waydiiyay way dafirtay. Markay odayaal iyo waxgarad Soomaaliyeed u tageen Farmaajo kana codsadeen inaan Muwaadin Qalbidhagax loo dhiibin Itoobiya, wuu meermeeriyay ugu dambayntiina been ayuu u sheegay.
Markay Itoobiya qarxisay sirtoodi, Farmaajo iyo Khaire waxay maleegeen shirqoolkii 6dii Sebteembar. Dembi ay galeen koox yar ayaa loo rogay mu'aamaro iyo dakane ay ka dambeeyeen xubnaha golaha wasiirrada dhammaantood. Dadaalladii baarlamaanka waxay xukuumaddu ku bixisay kharash badan si ay u kala daadiso, iyadoo adeegsanaysa xubno kamida baarlamaanka oo ay gacan saar hoose leeyihiin.
Go'aannaddi taariikhiga ahaa ee barlamaanka Farmaajo iyo Khaire waxay la wajaheen cadho, kibir iyo isla weyni. Waxaa la aaminsan yahay dagaalkii lagu qaaday Guddoomiye Jawaari lagagana takhalusay inay abaabushay xukuumadda oo weli ka cadhaysan go'aankii baarlamaanku ka gaadhay kiiskii muwaadin Qalabidhagax. Kacdoonkii iyo gilgilashadii bulshada Soomaaliyeed dhagaha ayay ka furaysteen, isla markaana waxay hoosta ka abaabuleen kooxo kira ah oo faafiya been iyo dacaayado rakhiis ah.
Markii Qalbidhagax la soo daayay oo uu xorriyaddiisi dib u helyay 28 kii Juun 2018, waxaa magaca xukuumadda Soomaaliya ku hadlay safiirka Itoobiya u fadhiya Muqdisho, isagoo sheegay in dawladda Soomaaliya ay kala hadashay Itoobiya siidaynta Qalbidhagax.
Su'aalaha Weli Taagan
Hase yeeshee Madaxwayne Farmaajo iyo xukuumaddiisa weli lagama hayo waxay ka mudnaayeen iyo jawaabihii ay ka sugayeen ummaadda Soomaaliyeed. Maxaa ku kallifay inay muwaaddin Soomaaliyeed gabboodfalka iyo ihaanada intaa le'eg kula kacaan?
Maxay xukuumaddu ugu hoggaansami la'dahay dastuurka iyo shuruucda dalka? Maxay u dhayalsanaysaa dhawaaqa iyo dareenka waadaniyiinta? Maxay xukuumaddu uga garaabi la'dahay haddii uu gef dhacay?
Madaxwayne Farmaajo ha xusuusnaado inaanay dhacayn in la illoobo qaddiyadan. Waxaa looga fadhiyaa inuu shacabkiisa hor yimaaddo oo uu ka garaabo wixii dhacay. Taasaa ku filan dadka intiisa badan. Weli waqti ayuu haystaa.
Xasan Keynaan
Email: [email protected]

---
We welcome the submission of all articles for possible publication on WardheerNews.com. WardheerNews will only consider articles sent exclusively. Please email your article today . Opinions expressed in this article are those of the author and do not necessarily reflect the views of WardheerNews.
WardheerNew's tolerance platform is engaging with diversity of opinion, political ideology and self-expression. Tolerance is a necessary ingredient for creativity and civility.Tolerance fuels tenacity and audacity.
WardheerNews waxay tixgelin gaara siinaysaa maqaaladaha sida gaarka ah loogu soo diro ee aan lagu daabicin goobo kale. Maqaalkani wuxuu ka turjumayaa aragtida Qoraaga loomana fasiran karo tan WardheerNews.
Copyright © 2019 WardheerNews, All rights reserved