By Adan Makina,
Editor's Note: It is a culture for WardheerNews to circumnavigate the globe for the sake of bringing to our readers prominent Somali personalities and non-Somalis who are making great strides in changing the living conditions of people from all walks of life. In a recent interview with Abdullahi Abdi of Allculturesareone that is based in Sweden, Mr. Adan Makina, WardheerNews Head of Interviews Section, took extra steps to search for the young philosopher and communication expert and consultant.
—————
WardheerNews (WDN): Mr. Abdullahi, welcome to WardheerNews, a digitized Horn of Africa News magazine that is committed to the dissemination of news and information, the publication of scholarly and academic papers, book reviews and interviews with high profile figures and whose goal is to stick to the values of moderation even though we value reasonable criticisms.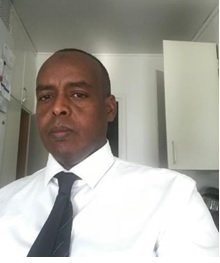 Abdullahi: Thank you Mr. Adan Makina for the invite. I Am honored for this opportunity.
WardheerNews (WDN): Before we delve into main factors that brought us together to confer on your organization, please share with our readers your background history especially your educational qualifications and other defining factors.
Abdullahi: My name is Abdullahi Abdi. I was born in the 70s and educated both in my home country and the country where I am currently domiciled. My educational backgrounds are bachelor's degree in philosophy and a MSC in Communications. I am currently engaged in consultancy in the fields of intercultural communications competence, diversity and inclusion.
WardheerNews (WDN): How is the living conditions of people from other continents in Sweden? I've been attracted to this question because of a previous interview An Interview with Dr. Marco Zoppi About His Upcoming Book–Horizons of Security I had with Dr. Marco Zoppi that appeared on this site where the interviewee seemed not to be satisfied with the way Somalis are treated in Scandinavian countries that incorporate Denmark, Norway and Finland.
Abdullahi: Thanks prof for this very pertinent and important question. As a researcher, and a student of intercultural communications, the guarantee of good living conditions is assured regardless of origin. The system is equipped with an extensive mechanism aimed at creating a level playing field. This includes but is not limited to an integration policy aimed at easing the integration of immigrants into the system. That said, challenges are there and the most notable ones are culture, language, lack of diversity and inclusion and of course the weather.
WardheerNews (WDN): What is the main reason for the establishment of Allculturesareone and are you the mastermind of its creation or you have other partners who are of Swedish descent? On the other hand, why did you choose to be part and parcel of this organization?
Abdullahi: The main reason for the establishment of the said organization is to provide consultancy and expertise in the field of diversity and inclusion. Despite the extensive efforts of all the concerned, a lot of ground needs to be covered in the mentioned areas. Am founder member and my expertise lies in education especially in the fields of intercultural communication competency (ICC).
WardheerNews (WDN): By naming it Allcuturesareone, is it specifically related to people of foreign cultures who sought refuge in Sweden?
Abdullahi: No, it is an organization that caters for all cultures, that is to say anybody or organization that needs a better understanding of intercultural communications–both at the individual levels and the public arena on the need of understanding of how other cultures function and exist. Diversity and inclusion cuts both ways and so is the need for the expertise we offer. The need for diversity and inclusion has exponentially increased due to demands for official requirements in engaging people of diverse backgrounds.
WardheerNews (WDN): Multiculturalism is superior to monoculturalism and that is why it is a requirement for every leader to be knowledgeable of multiculturalism. With the drastic rise of globalization and human interconnectedness, intercultural communication is also vital for organizations because of the various amalgamation of employees having differing cultures. Thus, to avoid cultural clashes among employees and broader society, those holding managerial positions are required to be efficient in intercultural communication skills. When an employee requests a day-off on a specific date, regardless of the nature of his/her absence that could be related to a religious ceremony or other factors, the manager has to oblige to avoid altercations. Does your organization recognize such issues?
Abdullahi: Oh yes, multiculturalism trumps monoculturalism any day, the beauty of multiculturalism is that there is always something new to try any time of the day, the culinary sphere is one area where people explore with curiosity. Cultural festivals attract people of diverse cultural backgrounds. In a multicultural society there is something new to learn for everyone. In Sweden there is a high level of engagement and participation at all levels of the society in matters of intercultural engagements. Companies invest a lot on the concept of diversity and inclusion.
WardheerNews: Do you coach and train?
Abdullahi: Yes. It is not only in Sweden but all countries around the world have the same policy. Integration is a prerequisite for a smooth function of societies. Integration means that the immigrants accept and still maintain their cultures and to achieve this the need for a common language becomes necessary. This has been identified as being the key to seamless integration. Assimilation on the other hand means a totally different thing altogether. Sweden is officially a multicultural society and for this to be possible integration is a must.
WardheerNews (WDN): What are the major preferences your organization considers most crucial in diversity and strategic communication?
Abdullahi: My organization considers the area of intercultural communication to be vital in the understanding and execution of robust diversity and inclusion. Despite the high levels of understanding in these areas, more is required and that is where our expertise and the expertise of other academics are required.
WardheerNews (WDN): What are the selective criteria for those who teach the different subjects your organization finds crucial in safeguarding all cultures as one entity?
Abdullahi: The main concept behind the inception of the organization is the need to cater for expertise in the fields of diversity and integration. In a multicultural society teeming with Multinational National Corporations (MNC), it is important that diversity and inclusion form an integral part in all the facets of the said organization's needs to incorporate diversity which is now an integral part of major organizations and that is where we come in.
WardheerNews (WDN): How old is your organization since its inception?
Abdullahi: We are in the inception period and are a year old. We are currently in the city of Gothenburg but are planning in the near future to expand and establish in other cities in Sweden and even beyond.
WardheerNews (WDN): Mr. Abdullahi, thanks for taking your special time in this engaging interview.
Abdullahi: Thank you sir for these engaging and valuable interviews.
WardheerNews
---
We welcome the submission of all articles for possible publication on WardheerNews.com. WardheerNews will only consider articles sent exclusively. Please email your article today . Opinions expressed in this article are those of the author and do not necessarily reflect the views of WardheerNews.
WardheerNew's tolerance platform is engaging with diversity of opinion, political ideology and self-expression. Tolerance is a necessary ingredient for creativity and civility.Tolerance fuels tenacity and audacity.
WardheerNews waxay tixgelin gaara siinaysaa maqaaladaha sida gaarka ah loogu soo diro ee aan lagu daabicin goobo kale. Maqaalkani wuxuu ka turjumayaa aragtida Qoraaga loomana fasiran karo tan WardheerNews.
Copyright © 2023 WardheerNews, All rights reserved