By Mohamed A. Fatah
Somalia needs a national salvation government to end the current political crisis, and build stakeholders' confidence and improves relations between President Mohamed Abdullahi Farmaajo, and the Presidents of Puntland and Jubaland. The Federal Government of Somalia (FGS) conflict with the Federal Member States (FMSs) has gone on for too long, delaying progress on peaceful resolution of key issues, exacerbating conflict, and fragmentation. To be clear, there is no military solution to the conflict in Somalia.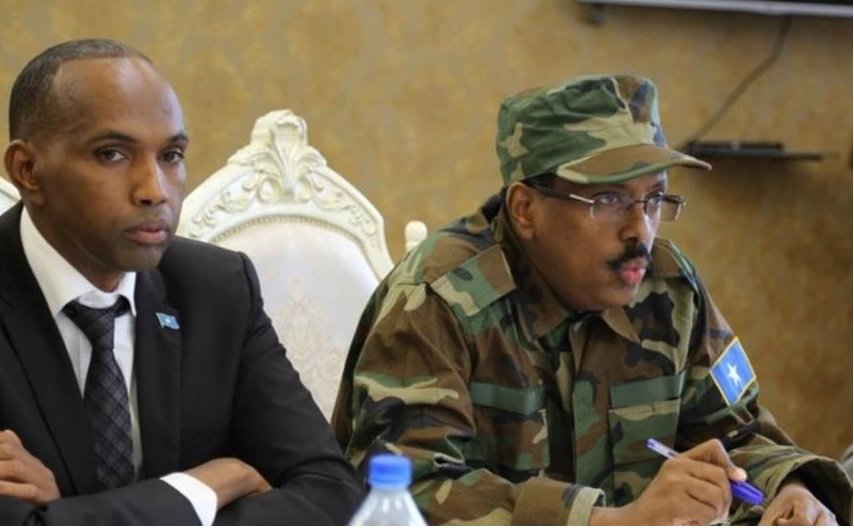 If not careful, the FGS – FMSs problems will further destabilize Somalia, pushing many clans and sub-clans away from the federal government, weakening federalism and security forces while empowering Al-Shabaab. It's an utter lunacy that FGS – FMSs are fighting and shedding blood now at a time when Somalia needs all of its resources to fight Al-Shabaab insurgents. Somalia will not achieve 2020 political and electoral objectives, as well as force generation required to reconstitute Somali Security Forces (SSF) to take security responsibility from the African Union Mission to Somalia (AMISOM).
Therefore, I call on the federal government and member states to be wise and pursue peaceful resolution and avoid fighting that empowers Al-Shabaab. Somalia has a lot more to lose as member states, political leaders, and International Community Partners confidence in the federal government has waned, leading to loss of FGS credibility, confidence, and trust. To be clear, Somalia and the Somali people lose and al-Shabab gains in any conflict between the government and member states.
The Somalis and international community are witnessing a nightmare scenario after fighting erupted in Jubaland between the government and Jubaland security forces. Although the FGS were the aggressors and started the fighting. However, it does not matter who started or who wins. The people of Balad Hawo and the Somali people lost. The New York Times, the Washington Post and Reuters reported the deepening crisis in Somalia, and how it is helping Al-Shabaab. The conflict only helps corrupt interests, proxies and extremists.
What should be concerning to all Somalis and International Community partners in the role of Qatar, Turkey and Ethiopia are playing destabilizing Somalia, creating wedges, amplifying and re-introducing historical clan and sub-clan grievances to weaken opposition to FGS. Turkey is training forces FGS is using in Galmudug and Jubaland, Qatar is secretly paying for the program and Ethiopia is leading and supporting them.
The Turkish training program has no Somali or international community oversight and has become a source of instability. The Turkish trained forces are used outside of the chain of Command and Authority. These forces have become a political tool that FGS leaders, especially Fahad Yasin uses to intimidate, and misuse state security forces to benefit the narrow interests of FGS, Qatar, Turkey, and Ethiopia.
I call on Somali political leaders at federal and state-level, parliament and International Community to ask questions about the Turkish training program and how these forces are currently being utilized by the FGS. We must know what safeguards are in place so these trained forces abide by the Somali constitution and rule of law. Without these safeguards, the Turkish trained forces will be seen as a political tool and a mercenary army.
Over the past week, I received more than dozen calls and emails from US policymakers, National Security Council staff, the Pentagon, congressional committees, the United Nations, the European Union and Washington-based Think Tanks asking questions about the fighting in Gedo and implications for efforts in Somalia and the region. The fighting that broke out in Galmudug and Jubaland is unfortunate and a disaster for Somalia, at a critical defining moment with far-reaching impact on partners' decision-making process, and confidence FGS and FMSs, negatively impacting Somalia in three important areas.
The United Kingdom is Somalia's penholder at the UN Security Council. There is no chance Somalia can convince permanent members to lift the UN arms embargo. With the debt relief, the US, the EU, and the UN lobbied the U.S. administration, the World Bank and the International Monetary Fund (IMF) to assist Somalia debt relief. The debt relief process is expected to take up to three years that could be stretched to a longer timeframe because of the fighting in Galmudug and Jubaland, delaying important steps required in the execution debt relief. Without a political agreement, the financial accountability and revenue sharing program required to facilitate the debt relief will not be achieved by Somalia.
Somalia became eligible for debt relief that could inject billions of dollars for security, reconstruction, and economic development. The barrier to debt relief was the outstanding loans and Somalia's default status. The US Embassy lobbied the administration and Congress on a bipartisan debt relief and cancellation. Just last week, the IMF secured sufficient pledges to provide $334 million in debt relief to Somalia. In addition to debt relief, Washington finalizing $1.5 billion in assistance to support the federal government and member states. All of that is now in jeopardy.
Finally, the crisis risks suspension of security and force generation programs. The U.S. recently resumed direct support to Somali National Army (SNA) after more than two years. The US suspended support to SNA except Danab in December 2017, because of corruption and self-dealing by SNA leaders. Washington provides support focusing on food, fuel, and stipends to units fighting Al-Shabaab. The administration has been working on expanding support to other forces, including programs to support up to 10,000 Somali Security Forces. However, because of the conflict, the US has shelved that program and another program to train, equip, support for new 7000 Danab forces. The fully-funded program requires FGS – FMSs agreement.
There is now serious doubt about whether Washington will continue these programs because of concern expressed about potential these forces could be used in FGS – FMSs conflict. The official refers to past US failures in Somalia. The Reagan administration armed Siad Barre government, delivering weapons to Mogadishu that played a role in the 1990s civil war. In 1982, Washington delivered over $20M in weapons and equipment to assist Somalia forces battling Ethiopia. These weapons included antiaircraft systems were heavily used in the 1990s civil war.
Somalia purchased over $100 million in Foreign Military Sales (FMS) and Foreign Military Finance (FMF) on loans and grants in the 1980s. Somalia still owes the money to the U.S. government. With Somalia subjected to the UN arms embargo, it's clear the nation lacks transparency; accountability, oversight, and institutions required to monitor and properly account for all weapons. The fighting in Galmudug and Jubaland sends the wrong message to governments who will vote on whether to remove the sanctions.
The FGS's decision to attack Ahlu Sunnah in Galmudug is very troubling. Although the group had many detractors, their ideology and opposition to violent extremism is what Somalia needs now to convince disaffected Al-Shabaab fighters, allied clans, and sub-clans who are the backbone and force multipliers to leave the group. We assess that with Ahlu Sunnah's demise, a more radical group or ideology could potentially fill the void left behind in Galmudug. If there is a lasting lesson to emerge from last week, it is that "It's much easier to start a war than it is to finish it." The fighting will only push sides further apart, benefiting Al-Shabaab.
US lawmakers believe that support to FGS was "too much too soon" and the federal government "has not earned it". They compare the situation in Somalia to Iraq and Afghanistan alleging US Embassy is making the same mistakes. The lawmakers are concerned the State Department and the US Embassy have not recognized the complexity and nature of the problem and they are falling into a trap. They are disappointed with US weakness and failure to manage and contain rising tension, and mistakes that made the situation much worse.
According to congress, the House Committees will soon hold a hearing to questions the US department and agencies before additional funds go to Somalia. Congressional staffs are expected to ask questions about US policy, strategy, and plans, and how conflict will impact on security and stability of Somalia.
According to officials, AFRICOM is hosting meetings this week to formulate new strategies and plans that will be presented to the National Security Council (NSC). The new recommendations will probably push for the creation of a coalition government for more inclusive administration to end the crisis and refocus on FGS on fighting Al-Shabaab. We recommend the "Kampala Accord" type agreement to facilitate the departure of FGS, and the formation of a new government that will work constructively with FMSs and IC partners.
The IC partners are not happy with the trajectory of the conflict and delayed implementation of important reforms the FGS committed to in the past. They see the disintegration of FGS if Puntland and Jubaland leave FMS status, sending Somalia back to the early 2000s. There is a realization the country could slide back to a civil war.
Although the Kheyre government has made progress on fiscal reforms toward debt relief with the World Bank and IMF agreements that boosted Somalia eligibility for significant debt relief, the process could stall because of climate of mistrust and turmoil, making it harder to agree on financial accountability and revenue sharing principles required to facilitate World Bank and IMF support. There is a chance Somalia will not meet political, security, economic, electoral and development goals, as well as debt relief, and transfer of security from the African Union Mission to Somalia (AMISOM) to Somali Security Forces.
To save Somalia, we must facilitate open dialogue and negotiations. For Somalis to close ranks and confront Al-Shabaab, a new government is urgently needed. The fastest way to restart negotiation and achieve 2020 goals is with a new coalition government. Some may fear the consequences of changing government at this late stage. We know both sides are not in the mood to negotiate and they will waste more time, delaying the election process unless there is a resolution and that can only be achieved with new leaders to bridge the divide and bring both sides closer. We recommend extension for the parliament and the president, pushing elections back 6-12 months to give new government and parliament time to pass legislation and organize credible elections.
The current process has failed and significant changes are needed. The sides have been fighting for the past two years and they are no closer to resolving their issues. Somalia is divided with leaders pursuing competing policies that run counter to the interests of Somalia. Supporting failed process in name of stability will not achieve the desire outcome, will delay progress, and exacerbate tension and divisions. Ultimately, we must recognize that stability will only come through an inclusive, representative, fair, and democratic process that protects the rights of all Somalis.
Mohamed A. Fatah
Email: [email protected]
________
Mr. Mohamed Fatah is a Somali-American executive with over 15+ years' experience in foreign policy, national security and regulatory compliance.
Mr. Fatah advised current and past Somalia governments on foreign policy, national security and diplomatic engagement with the international community. Prior to that, Mr. Fatah had a distinguished career in the U.S. Government where he served as Senior Advisor and Policy Coordinator. He routinely analyzed global issues of concern, resulting in clear, concise, analysis and briefings for the President of the United States, Vice President, Senior Policymakers, the National Security Council (NSC), and Congress. Mr. Fatah brings to any discussion an unparalleled depth of Somalia expertise, advising the Pentagon and the Congressional committees on political, security, development matters in Somalia and the Horn of Africa region.
---
We welcome the submission of all articles for possible publication on WardheerNews.com. WardheerNews will only consider articles sent exclusively. Please email your article today . Opinions expressed in this article are those of the author and do not necessarily reflect the views of WardheerNews.
WardheerNew's tolerance platform is engaging with diversity of opinion, political ideology and self-expression. Tolerance is a necessary ingredient for creativity and civility.Tolerance fuels tenacity and audacity.
WardheerNews waxay tixgelin gaara siinaysaa maqaaladaha sida gaarka ah loogu soo diro ee aan lagu daabicin goobo kale. Maqaalkani wuxuu ka turjumayaa aragtida Qoraaga loomana fasiran karo tan WardheerNews.
Copyright © 2020 WardheerNews, All rights reserved