By Faisal Roble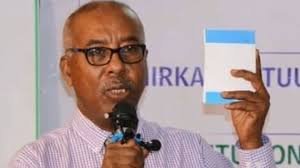 Lossing A Comrade when Not Expected is the toughest thing to digest. Such is the loss of Abdi Hosh. It is poetic justice that Abdirahman Hosh died on March 8th. It is a Women's Day and he was a champion of women's rights in an otherwise conservative society.
When, On Wednesday, March 7, 2019, my friend, Liban Nuur, called me from Dubai and said "we all are here (Dr. Ali Issa, Mohamed Abdi, Minister Qodax, Liban himself) to attend the wedding of our mutual friend's daughter, I told him "good luck."
I then asked where Hosh was. Liban said they all are here at Starbuck coffee shop. He added, "Faisal, our friend is not well!"
Then last night, Liban left me the unexpected message and the final verdict "we lost our dear friend and may Allah guide him to Jenah!"
For a moment, this seemed impossible! Well, it was possible and that was the never-to-change condition. Abdirahman Hosh was denounced clinically dead in hours after he was taken to the emergency room in Dubai, where he was getting ready to attend his daughter's wedding.
Boy, was he so proud of the wedding! He once asked me this:
Faisal, my daughter is marrying to a –reer-Waqooyi guy.
I said that was really great; do you know his family?
"No, but he is from Hargeisa.
Well, that is excellent. I know rer-Hargeisa and they're the best xidid, in-laws, I told him.
It was not meant for him to enjoy this rare occasion.
The sudden loss of Abdirahman Hosh was shocking news to a large sector of the Somali society and its friends. It represented a personal loss to me. Abdirahman Hosh has been a comrade-in-arms and a confidante to me. To say I will miss him is an understatement.
Somalis as Muslims are one of the most resilient societies to handle the death of their loved ones. That resilience is based both on the Islamic edict of Imaan (faith) and the pastoral hardships that dictates the Somali individual to always move on to the next endeavor lest life does not offer them the luxury to over-dwell on one loss.
Inaa lIa Laahi wa Inaa Ilayhi Rajun, or From whom we all come to Whom we return back to (to our creator) guides family members and friends on this mournful day of our devastating loss of our brother Abdiraham Hosh. In the pastoral culture, the person was called by his name when he was alive.
Once the ultimate befalls, he is referred to as "marhum," thus transitioning his identity to the hereafter community. As such, our beloved one has effectively transitioned from being Minister Hosh to "marhum Hosh."
I have known "marhum Hosh" since the1990s. I met him in Toronto, Canada, through mutual friends from Jigjiga. After an introduction by Abdullahi Omar Cabade, marhum Hosh right away recognized me and said that he follows me through my articles on the Ethiopian Review. From there on, we established a friendship based on ideology and world outlook about Somalia and the Horn of Africa. We both considered ourselves a bit tilted to the left, and even intensely discussed Marxist ideas.
In the mid-1990s, we once again met through an e-mail group that attracted a large number of Somali intellectuals. It was that group that gave birth to the now-defunct Israac or unity group, which by far attracted the largest single intelligent group of the Somali nation. In 2010, during the transitional government of Sharif Ahmed, we also belonged together another email group that we both left at about the same time.
Marhum Hosh is a bundle of intellect and an avowed reader. Never did he pass a day without reading several pages of a book. Not only that, he spread the word of how reading was good. I know tones of people that Hosh baptized to the culture of reading. Every now and then, he will tell me the behaviors of people who borrow his books. There is this particular friend of his who will borrow books but never return them. When I asked if that person reads, he will chuckle and say that his friend "never returns them."
More importantly, there is this large group of people he had influenced and had them devour on books. He even shared with me that he loaned or shared "Maxist' thesis on the Jewish Question" with this friend, now a president of a regional government, in order to soften the extreme and radical views on the wrong nationalism he detected in this person.
Hosh to me was a comrade and a confidant. He will always be there for discussion on matters that matter. He will also at times try to influence me and have me on his sides on many issues. Which I most of the time did not mind. However, we respected our differences on many issues. And we both considered the culture of having differences but working together on those mutual areas a healthy relationship.
Marhum Hosh had many people who had disagreed with him but never had enemies. What I envy about him is that he has such a magnanimous quality to reach out to those who disagree with him and soften the walls of separation. He also always meditated between me and many that disagree with me, and I will always remain indebted to him for that.
As many of you know, the last time I was in Mogadishu was in 1986, when I visited there as a graduate student at UCLA. I did so on the invitation of the late Hussein Adam, who had organized one of the last conferences on rural development before and after the civil war. I did not return back, until October 2017, only because Hosh invited me and persuaded me to come back home. He just had such a soft power to convince me and others when it comes to national matters and serving the community.
My late friend was a true bohemian for whom money meant nothing. At times I used to worry for him for he really never had the concept of saving money. If 10 people gather and eat at a restaurant, he was always the one picking up the check. The last time I met him in Djibouti (December 14-19, 2018), we had several outings and every time we eat, at times 4 or 7 people, he will pick the tap. I knew he did not have much money, but that was his way of enjoying life – being happy to the extent possible with his friends.
The late Abdiraham Hosh touched the Somali society in many ways – both small and big. His big touch comes as the minister for Constitution. The yet-to-be-completed constitution carries his mark and, when done and practiced, the Somali nation would be indebted to him. There is a wide belief that one of the hardest working cabinet members in Farmajo's administration, although he was not utilized to the extent possible. He was a giant legal mind with no equal in Mogadishu. The Somali federal government, the US mission in Somalia, several other instituions extended their condolences to the nation, his family and his freinds.
Rest in Peace (RIP) my good comrade.
By Faisal Roble
Email: [email protected]
———–
Faisal Roble, a writer, political analyst and a former Editor-in-Chief of WardheerNews, is mainly interested in the Horn of Africa region. He is currently the Principal Planner for the City of Los Angeles in charge of Master Planning, Economic Development and Project Implementation Division.
---
We welcome the submission of all articles for possible publication on WardheerNews.com. WardheerNews will only consider articles sent exclusively. Please email your article today . Opinions expressed in this article are those of the author and do not necessarily reflect the views of WardheerNews.
WardheerNew's tolerance platform is engaging with diversity of opinion, political ideology and self-expression. Tolerance is a necessary ingredient for creativity and civility.Tolerance fuels tenacity and audacity.
WardheerNews waxay tixgelin gaara siinaysaa maqaaladaha sida gaarka ah loogu soo diro ee aan lagu daabicin goobo kale. Maqaalkani wuxuu ka turjumayaa aragtida Qoraaga loomana fasiran karo tan WardheerNews.
Copyright © 2019 WardheerNews, All rights reserved