W.Q. Maxamuud Cabdillahi Axmed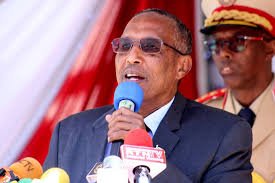 Waa dhif iyo nadir maalin aanay madaxda Somaliland ka soo yeedhin hadallo duraya Xamar iyo in Somaliland ka madax-bannaan tahay Soomaaliya. Marka aad maqasho erayadadooda waxa aad is odhan, haddaarka ay muujinayaan dartii, meelna iskama taabtaan maamullada Hargeysa iyo Xamar, laakin cusbo ku qaado weedhahooda.
Si aan u biniinixino dulucda maqaalka, bal aan marjac ugu noqono warbixin ay soo wada saareen Wasaaradda Maaliyadda ee Dawladda Federalka Soomaaliya iyo Bangiga Adduunka ee "Multipartners Fund", taas oo aad ka daalacan karto iskaashiga lacageed ee ka dhexeeya Xamar iyo Hargeysa.
Warqaddani u ma ay qalin qaadan in ay faahfaahiso ama ay ka faalooto warbixintaa dheer oo ilaa 112 bog ah. Waxa kugu filan adigoo halacsada tixraaca hoose ee warqaddan. "Multi-partners Fund Report" waa warbixin lagu qiimeeyey mashaariicdii deeqaha caalamig ah ee ay wada fuliyaan saddexanka (troika) – Muqdisho, Hargeysa iyo Garoowe – oo weliba isku-duwiddooda (coordination) uu leeyahay xafiiska Ra'iisal Wasaaraha Dawaldda Federalka Soomaaliya.
Haddaba maqaalkani waxa uu kor-ka-xaadin doonaa kaalinta Hargeysa ay ka ciyaarto dhurashada kaalmada caalamga ah ee loo soo mariyo Xamar. Haddaad maqasho madaxda Hargeysa oo ku faanaysa barnaamijka shaqo-abuurka dhallinyarada, ogow in lacagtaasi ka timi mashruuca STEP (Skills Training Entrepreneurship Project) oo ay Somaliland qayb-libaax heshay (40%). STEP waa deeqo (Grants) ay mayalka u hayso Dawladda Federalka Soomaaliya.
Deeqaha saddexanka waxa kale oo ka mid ah: maalgelinta SICRP (Somali Investment Climate Reform Program) oo Somaliland ka heshay $2.8m, Puntland-na $1.7m iyo Xamar oo qayb u heshay $3.1m. Ma yareysan Hargeysi! Waxay mar kale saddexanku wadaageen mashruucyada maalgelinta kaabayaasha magaalooyinka (Somali Urban Investment Planning): Xamar $2.43m, Garowe $1.63m, iyo Hargeysa $1.68m.
Ma aha arrimuhu lacag qaybsi keliya, wada-shaqayn joogta ah ayey leeyihiin Wasaaradda Maaliyaada Dawladda Federalka iyo Wasaaradda Maaliyadda Somaliland. Tusaale ahaan Bishii November 2017 waxa isku mar Hargeysa iyo Xamar lagaga wada dhawaaqay sanduuqa taakulyanta mushtarka Soomaaliyeed (Somali Business Catalystic Fund). Hadda dhadhami erayga Soomaliyeed!
Dhegaha dadku in badan bay maqleen Guddoomiyihii Bangiga Dhexe ee Somaliland ayaa Nairobi kula kulmay madaxda Bangiga Adduunka, waxba ha sii biciidsan, fadlan u faham in Bangiga Dhexe ee Hargeysa uu ka mid yahay mashruuca CBS and SFI (Central Bank and Service Finance Information), kaasoo ka caawima bangiyada dhexe ee Hargeysa, Garowe iyo Xamar arrimaha teknolijada elektronika (ICT), la shaqaynta xawaaladaha, mushahar bixinta, ururinta cashuuraha iyo tababarada shaqaalaha xisaabaadka; iyadoo la kaashanayo shirakado caalami sida SFMIS Designer TA iyo PcW. I tus halka ay lacagi taallo!
Ku darsoo mashruucan kore ee bangiyada dhexe, waxa uu toos u hoos yimaadaa barnaamijka loogu yeedho "Fiscal Federalism" oo ka dhigan in Hargeysa ka mid tahay Dawladda FederalkanSoomaaliyeed; marka ay timaado arrimaha lacagta.  Ugu dambayn waxay dawladda Madaxweyne Biixi ay tiraab dheer ku sheegtaa "Tiro-koobka Shaqaalaha dawladda", waxba ha ku tigaalin, u garo inay tahay uun maalgelin Xamar soo martay, Hargeysana timi, oo dhan $10m. Waa guulaha ugu waaweyn ee Md. Biixi ku faano. Waxaase uu dadka ka qariyey in uu Xamar u xisaab celiyo! Ogow iskaashigu kuma koobna wasaaradaha maaliyadaha ee waxa iyana wada-shaqayn dhow leh wasaaradaha qorshaynta. Xasuuso qiyaas-tirookoobkii UNPFA ee dalka oo dhan ka dhacay sannadkii 2014-15, Somaliland-na ka qayb-gashay, waxaa si weyn u difaacay wada-shaqayntaas wasiir Sacad Cali Shire oo markaa ahaa wasiirka Qorshaynta, imikana ah wasiirka Maaliyadda. Sacad waa wasiir lagu kalsoon yahay sir hayntiisa iyo ilaalinta xogaha xasaasiga ah. (Faahfaahinta tirokoobka ka daalaco tixraaca hoose).
Haddaba iskaashigani cidla kama unkamin ee waa is-afgaradyadii ka soo baxay wadahadalladii Istanbul iyo Djibouti ee sannadihii 2014 iyo 2015, kuwaas oo ku qotomay wadaagga caawimada caalamiga ah. Runtiina Somaliland waa laga qayb-geliyey, waana ay ka qayb-gashay. Dawladda Xamarna kama waasho ee way u xilqarisaa. Talow sidaasi Somaliland miyey soo dhoweynaysaa mise way lu'goynaysaa.  Waqtigaa sheegi haddii Eebbe idmo.
Haddaba isku soo wada duuboo, dhibka jiraa waa: Somaliland dhuumasho ayey quruskeeda deeqaha caalamiga ah kaga soo qaadataa Xamar, shacabkeedana Xamar iyo Soomaaliya ayey u caydaa. Madaxweyne Biixi aflagaaddo iyo eedayn buu mar walba u miisaa Xamar iyo dawladda Federalka ah, wasiiradiisuna waxay ku hadaaqaan, "waxa loo kala bixi Somaliland iyo Somali-Weyn", oo macnaheedu yahay: qofkii dhaliishayada sheegaa Xamar buu la socdaa. Shacabkuna badi way ka daba-jiibiyaan, iyagoo leh, "Xamar dooni mayno". Eed ma leh shacabku. Sir ma qabe Allow sahana!
Sow gar ma noqon haddaba in markaa la yidhaa, "ogow dhuumashada qaar uu dhabarku muuqdaa waa dhib iyo hadimee, waa dhib iyo hadimee".
Wa Bilahi Towfiiq
W.Q. Maxamuud Cabdillahi Axmed
London, UK.
Email: [email protected]
Tixraac
Multi-partner fund : progress report – 1st July 2017 – 31st December 2017 (English)
POPULATION ESTIMATION SURVEY 2014
---
We welcome the submission of all articles for possible publication on WardheerNews.com. WardheerNews will only consider articles sent exclusively. Please email your article today . Opinions expressed in this article are those of the author and do not necessarily reflect the views of WardheerNews.
WardheerNew's tolerance platform is engaging with diversity of opinion, political ideology and self-expression. Tolerance is a necessary ingredient for creativity and civility.Tolerance fuels tenacity and audacity.
WardheerNews waxay tixgelin gaara siinaysaa maqaaladaha sida gaarka ah loogu soo diro ee aan lagu daabicin goobo kale. Maqaalkani wuxuu ka turjumayaa aragtida Qoraaga loomana fasiran karo tan WardheerNews.
Copyright © 2019 WardheerNews, All rights reserved