By Hassan M. Abukar
For the last several weeks, Mogadishu has experienced a string of bombings by Al-Shabaab, a mutiny in certain divisions of the Somali National Army (SNA), a brawl in the Federal Parliament, and two diplomatic meltdowns in foreign affairs.
The spike of violence in Mogadishu in March alone was unprecedented, consisting of a barrage of bombings and political assassinations. "The situation in the city has gone from bad to worse," said a former government official in the Ministry of Security. "People in the capital are very worried, including those in the government."
The government's response was akin to imposing a national emergency: it closed roads, undertook security sweeps in some neighborhoods, blamed Al-Shabaab and the opposition groups for fomenting and undertaking a terror campaign, and made a cosmetic leadership changes in the SNA, police, and intelligence services. Some politicians in the city voted with their feet by fleeing in droves to Nairobi for safety. The security situation in Mogadishu, a city of two million residents, was further mitigated by the closing of roads, thereby creating undue hardships on the daily lives of citizens. Likewise, the SNA and police were unable to safeguard the country due to issues of salary payments, desertion, mutiny, and the leadership crisis.
Mutiny in the Army
In March, 2019, Somalia experienced a mutiny by some soldiers in both the Lower Shabelle and Middle Shabelle regions. Some of these forces deserted their military bases because they hadn't been paid for months and their food rations were cut off. The soldiers' meagre salary of $100 per month added more anxiety by the delay in their salary payments. To add insult to injury, Prime Minister Hassan Kheyre was incandescent with anger. Kheyre denied the soldiers from getting their salaries and said that those who did not get their salaries are the ones who were not registered. Kheyre's statement was contradictory because it acknowledged the existence of soldiers who have not yet been registered but were still working.
Within a week of Kheyre's strong denials came another shocker. President Mohamed Farmajo gave a speech to a group of military officers at the Defense Ministry and admitted in language that was clear, direct, and unequivocal that salaries have not been paid for four months. Instead of taking full responsibility for the government's failure to pay its soldiers, he fulminated against the armed forces for not keeping their end of their bargain by wiping out Al-Shabaab in two years.
The soldiers' mutinous acts raised questions about the inability of the federal government to defeat Al-Shabaab, which has been flexing its muscles by capturing more territories and intensifying its violent terror campaign in the capital. The situation was aptly captured by a short skit by Abwaan Dhiirane, a Somali comedian, titled, "A Neglected Soldier Cannot Defend a Nation."
All These Military Promotions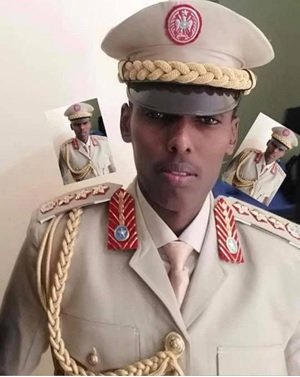 Farmajo, critics say, weakened the army by promoting young, uneducated, and inexperienced officers. The president appointed Odowaa Yusuf Raage, a 31-year-old, as a Brigadier-General and army commandant. Raage lacks military officer training and experience. According to Mohamed H. Ingiriis, a doctoral candidate at the University Oxford who has also written academically about the Somali military, and is a fierce critic of Farmajo and his government, "Raage was first trained in Uganda as a VIP bodyguard for the presidential palace during the government of President Sheikh Sharif Ahmed, then be became a Major during the regime of President Hassan Sheikh. President Farmajo made him Lt. Colonel in 2018 and in that same year, he was promoted to Brigadier-General without ever becoming a full colonel."
Brigadier-General Zakia Hussein Ahmed also serves as the deputy chief of national police. She is a young woman with only four years of experience with the force. According to Ingiriis, "Somalia is basically for mafia networks and their clan or marriage relations." It is one thing to give leadership to the young but it is crude policy to set the young up for failure when they are thrust into leadership positions that they cannot handle. A current government advisor concurs with Ingiriis on the issue of military promotions.
Dr. Abirahman Baadiyow, an advisor to Prime Minister Kheyre, a former presidential candidate, and a former military officer in the government of Siad Barre, described an incident regarding the scarcity of qualified military officers in the country. Baadiyow once walked into the office of the president, who was flooded with a stack of case folders. "They are all folders of military officers waiting to be approved for promotions," the president told him.
The government's policy of promotions is: a) an attempt not to appreciate education and experience in favor of youth and inexperience; b) a gross undermining of military training, education, and hierarchy; and c) valuing loyalty over competency.
Robbing a Runner
Maryan Nuux Muuse, a young Somali runner, participated in a co-ed sports tournament on April 6, 2019. She was leading the race when suddenly she saw two other female runners in a military vehicle. Initially she thought they were injured, but several minutes later, Maryan was in for a big surprise: she was informed that the two young ladies she saw in the military vehicle were declared the winners of the race. Shocked and dejected by what she saw as a blatant fraudulent act, Maryam went to the media and reported what she had witnessed.
Khadija Mohamed Diriye, Minister of Sports and Youth Affairs, issued a statement and promised an urgent investigation. After a few days, Maryan was officially declared as the winner of the race. She was elated and begrudgingly thanked the government. Maryam's case seemed at best a minor incident in a city that was gripped by fear of terrorism, but it was symptomatic of the larger issue: the extent to which the tentacles of corruption have permeated many facets of Mogadishu's life.
Freelancing in Foreign Policy
Recently, Somalia has made headway in being elected to chair the meetings of the Arab League and the country improved relations with Ethiopia and Eritrea. Mogadishu has deftly handled Kenya's recent periodic bullying tactics regarding the maritime dispute case between the two countries before the International Court, and surprisingly has shown diplomatic restraint regarding the Ugandan President Yoweri Museveni's penchant for repeatedly calling Somalia a "failed state."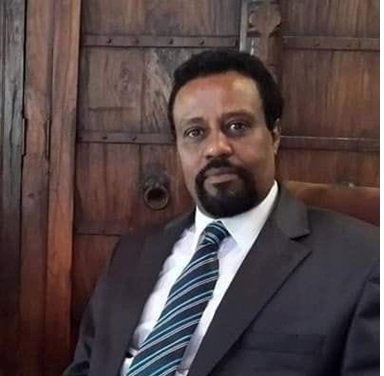 However, two diplomatic incidents rocked Somalia when Fadumo Mohamud, the country's Ambassador to Switzerland, abstained from a United Nations resolution condemning Israel for annexing the Golan Heights in Syria, In response, Abdullahi Dool, then the Director of the Office of the Foreign Minister, tweeted: "I support the diplomatic ties between Israel and Somalia. It is long overdue. Establishing diplomatic relations does not harm anyone but promote peace and cooperation." Dool was not yet finished. In another tweet, he condemned the "Palestinians" for being "worst enemies" to themselves and said that they should be "condemned each time they attack civilians. It is in our interest to welcome Israel."
Since the 1960s, Somalia has always condemned Israel for occupying Arab territories; hence, the UN abstention seemed to be an anomaly. Somalia declared that the UN vote was a mistake and recalled Ambassador Mohamud from Geneva and fired Dool.
Ambassador Mohamud was remorseful for her diplomatic snafu, according to some media reports, and was replaced with Ebyan Ladane Salah, the country's ambassador to India. Regardless, Dool was defiant and unapologetic. He told The Times of Israel, "I am owed an apology."
A Brawl in Parliament
Somalia's federal parliament has lost its relevancy. Last year, President Farmajo orchestrated the removal of speaker Mohamed Jawari and Mohamed Mursal as his replacement. Whereas Jawari was defiant about the government's attempts to make the legislature kowtow to the executive branch, Mursal is doing the regime's bidding. Last month, parliament had to recess in one session because many politicians fled to Nairobi and hence there was no quorum. The biggest surprise was the brawl that took place several weeks ago when one legislator called another as "being an Al-Shabaab." The accuser is a parliamentarian who is also a member of the cabinet. His dual roles are not strange because almost 65 legislators (out of 275) serve in the cabinet. The incident was a testament to the level of acrimony between government supporters in the parliament and opposition groups.
Within that week, another incident raised eyebrows in the legislature. Hussein Arab Isse, a legislator from what is now called Somaliland (a breakaway region), threatened that he and his colleagues from the north would leave parliament if the federal government does not include them in the talks between Hargeisa and Mogadishu. Left unsaid was the fact that Isse and his colleagues from the north cannot set foot in the very region they hail from because of their membership in the federal parliament. Moreover, the federal government has neither a strategy to deal with the secessionist region nor future plans for talks, and it remains unclear why Isse would bring up the issue of Somaliland in the first place.
The dysfunction of the federal parliament is disheartening, as this body is unlikely to do its job of checks and balances. A government official said that more than 100 legislators receive a monthly stipend from the executive branch, ranging from $2,000 to several thousand—depending on one's rank or importance. It is unfathomable that the current parliament will be an agent of change in the foreseeable future. Apart from a few opposition voices, it has become an extension of the executive committee.
In a nutshell, the situation in Mogadishu is disquieting. Last year, Farmajo described the opposition leaders as being "angry politicians." However, now, there are soldiers, police officers, citizenry, Bajaaj operators, members of the international community, and some neighboring countries that are all angry. In short, the current state is an amalgam of security failure, inept leadership, poor planning, and—like a horror film—the worry about what will happen next. The situation in Mogadishu is so dire that the liberal interpretation of "Nabad" (Peace) and "Nolol" (Life) loses meaning.
Hassan M. Abukar is a writer and can be contacted at: [email protected].
---
We welcome the submission of all articles for possible publication on WardheerNews.com. WardheerNews will only consider articles sent exclusively. Please email your article today . Opinions expressed in this article are those of the author and do not necessarily reflect the views of WardheerNews.
WardheerNew's tolerance platform is engaging with diversity of opinion, political ideology and self-expression. Tolerance is a necessary ingredient for creativity and civility.Tolerance fuels tenacity and audacity.
WardheerNews waxay tixgelin gaara siinaysaa maqaaladaha sida gaarka ah loogu soo diro ee aan lagu daabicin goobo kale. Maqaalkani wuxuu ka turjumayaa aragtida Qoraaga loomana fasiran karo tan WardheerNews.
Copyright © 2021 WardheerNews, All rights reserved