W/Q Maxamuud Cabdillaahi
Dawladda Turkiga ayaa dhowaan u magacawday Danjiriheedii hore Jamhuuriyadda Federalka Soomaaliya Md. Olgan Bekar, in uu noqdo ergayga dhexdhexaadinaya Soomaaliya iyo Soomaaliland; taas oo ay soo dhoweyeen labada dhinacba. Ilaah Mahaddii. Kolkaa waajib ayey noqotay in dood iyo munaaqasho laga sameeyo iyadoo la adeegsanayo warbaahinta casriga ah.
Inkastoo warqaddani aanay u qalin qaadan in ay dib u jaleecdo taariikhdii la soo dhaafay ee Soomaaliland iyo Soomaaliya; haddana waa lagama maarmaan in far waaweyn lagu sunto in Jamhuuriyaddii Soomaaliyeed (Somali Republic) ee dhalatay 1dii July 1960, ay ka soo dhexbaxday midowgii Soomaaliland iyo Soomaaliya. Waraabe ma xado.
Jamhuuriyaaddaasi waxay shaqaynaysay, ilaa xad, tan iyo bilwagii sannadkii 1991; taas oo kaliftay in dhowr bilood kadib, isla sannadkaas, Burco lagaga dhawaaqo gooni isu taagga Soomaaliland; laakiin ilaa hadda, meelnaba kama helin ictiraaf caalami ah.
Nasiib wanaag waxa la helay fursaddii wada-hadaladii (Soomaaliland iyo Soomaaliya) ee sannadkii 2012; oo ay fududeeyeen dalalka Ingiriiska iyo Turkiga; ma se noqon qaar ay midho la taaban karaa ka soo baxeen. Ka qayb-gelayaashii kulamadaas waxa ay sababta fashilka ku sheegaan in dhiggooda dhinaca kale markaas aanay xal diyaar u ahayn. Waa marmarsiiyo xil-ka-carar ah.
Midho la'aanta kulamadii London iyo Istanbul waxa loo celin karaa in laga meeraystay – kas ama kas-darro mid ay tahayba, in toos loo abbaaro barta arrinku yahay: aayaha Jamhuuriyaddii Soomaaliyeed ee dhalatay 1960kii. Milal korkii bay dhayeen markii ay ku haraadeen qodobo farsamo: wadaagga caawimada caalmiga ah, duulista hawada, ka wada-shaqaynta arrimaha nabadgelyada iwm. Maxay ku dambeeyeen? waxba la'aaan.
Dawladdii Siilanayo waxa u muhiim ahaa keliya helitaanka caawimo caalami ah, toos ama dadab; si lagu helo sina kuma xuma. Dawladdihii Xasan Sheekh iyo Sheekh Shariif na, waxayka ahayd uun: iska dejiya cadaadiska Turkiga iyo Ingiriiska. Kaba sii daran. Allow noo sahal.
Labada dhinacba waxay ka warwareegayaan falanqaynta aayaha Jamhuuriyaddii Soomaaliyeed ee dhalatay 1960kii. Mowqifka ay had iyo jeer, Xamar cuskato ee ay kor u yeedhisaa waa mabda' midnimada; halka ay Hargeysi-na kor u tidhaa ixtiraamka "ikhtiyaarka aayo ka tashiga shacabka". Waa labo mabda' oo is diidan laakin la iswaafajin karo. Arrinka larogrogo ee Rabbina aqbalaa waa rumoobaa.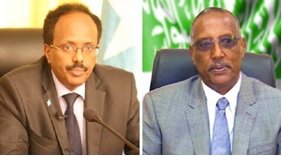 Dhibka ka iman kara in dib loo dhigo ka wada-hadalka aayaha mustaqabalka iyo xalka kama dambaysta ah (final settlement), ka dheeho mashaqada joogtada ah , murugada iyo xanuunka badan, ee dhextaal Falastiin iyo Israel, maalin walbana aynu ku argano telefishanada. Waa dhunkaal laga leefay heshiiskii Oslo 1993, ee aayaha kama dambaysta ah ee Falastiin dib loogu riixay.
Mabda'a Midnimada
Waa mowqif muhiim ah marka la eego dhinaca taariikhda: in Soomaalidu ahayd dulmanayaal ku nool Geeska oo ay dakanooyin badani ka soo gaadheen boqortooyada guunka ah ee Xabashah (Abyssinia) tan iyo jabkii Axmed Gurey ee qarnigii 16aad horaamihiisii. Dhulka Xabasho ka badbaaday waa intii reer Yurub gacanta ku dhigeen (Somaliland, Somalia iyo Djibouti), oo ay labada hore noqdeen Jamhuuriyadda Soomaaliyeed; taasoo hooy u noqotay 5tii Soomaaliyeed, sida himiladu ahayd.
Intaas waxa raaca in taariikhda muslimiinta Geeska Afrika (Somalia, Ethiopia & Djbouti) ay hoggaamiso Soomaalidu, lana odhan karo midnimada Jamhuuriyadda Soomaaliyeed ayey ku xidhan tahay islaanimada Geesku. Runta kama foga, tii Alle maqane, qofka yidhaa haddii Jamhuuriyaddii Soomaaliyeed ee dhalatay 1960kii meesha ka baxdo, Islaanimada iyo Soomaalinimada, labadaba, waa loo yaabaa. Dembi kama raacin, gefna ma geysan, qofka ku dooda sida ay muhiim tahay isku haynta Jamhuuriyah Soomaaliya, iyadoo la raacayo hanaan cusub.
Ikhtiyaarka aayo ka-tashiga
Sida aan kor ku xusay ma aha mid la qarin karo in Jamhuuriyaddii Somaaliyeed ka dhalatay midowgii mustacmaraddii Talyaniga (Italian Somaliland) iyo muxaafadadii Ingiriiska (British Somaliland). Xataa markii ay burburtay dawladdaasi 1991kii, waxa la odhan jiray Jamhuuriyadda Dimuqraadiga Soomaaliyeed. Halkaa ka garo in erayga "Somalia" loo isticmaali jirey uun si afgaabsi ah ee aanu ahayn magaca rasmiga ah ee Jamhuuriyadda. Waxa ay gobonimadu ku jirtaa in la yaqiinasado in Soomaliland taariikh ahaan tahay dhigga Somalia; laguna ixtiraamo.
Haddadan dawladda Federaalka Soomaaliya waxay ka kooban tahay dawlad goboleedyada: Puntland, Galmudug, Hirshabelle, Koofur Galbeed iyo Jubbaland. Kolkaa gar bay noqotay in waddo kale la raaco, taas oo ah in maamul goboleedyadaas kore, oo ay metesho dawladda dhexe ee federaalka, iyo Somaliland ka wada hadlaan aayaha Jamhuuriyaddii Soomaaliyeed; beesha caalamkuna gogol ayey u fidisay.
Mowqifka ikhtiyaarku waxa uu cuskanayaa in Jamhuuriyaddii dhalatay 1960kii, dabeetana shir la isugu yimi Burco April 1991kii beelaha Soomaaliland isku raaceen ka noqoshada midowgii dhacay 1960kii, samaysteena dastuur cusub oo afti loo qaaday, iskun raaceen; laakiin ma dhicin in su'aal keligeed gooni u taagan, oo ku saabsan ka baxa Jamhuuriyaddii Soomaaliyeed, inta si' xor ah looga dooday, qof-qof loogu codeeyey (referendum). 28 sanno ka dib Soomaaliland ma helin aqoonsi caalami ah, Dawaldda Federalka Soomaaliyana ku ma khasbi karto midnimo aanay raali ka ahayn. Xalku waa waajib saaran madaxda maanta. Kala- laalaad (in limbo) waa la dhaamaa.
Iswaafajinta midnimada iyo ikhtiyaarka ma sahlana iswaafajinta labada mabda' ee isku lidka ah. Haddaba si loo dhexdhexaadiyo aan miciin ka dalbado labo mabda' oo kale: waajibaad iyo ixsaan-wal-caddaalah. Waa labo qiyam oo diinta islaamka ku weyn. Dhawridda wada-jirka waa ku waajib muslimiinta oo dhan, gabood-falka iyo dulmiguna waa ka maanac muslimminta oo dhan.
Gabood-fal iyo dulmi waa lidka erayga ixsaan-wal-caddaalah. Hadafku waa u adeegga maslaxadda guud. Xamar waxa ku waajib ah inay dhegysato tabashooyinka iyo rabitaanka Soomaaliland, ka garowdo tacaddiyada ay tirsanayso, u buriso intii suuragal ah. Hargeysana waajibkeedu waa in aanay ka irdhoobin ereyada midnimada. Erayaga midnimo waxa lagu beddeli karaa "qaranimo-wadaag iyo wadajir", eryaga ikhtiyaar waxa beddeli kara "ka-wada-tashiga aayaha".
Tusaale ahaan, bal eeg kaalinta Scotland kaga jirto Boqortooyada Midowday ee Ingiriiska (United Kingdom). Scotland waxa ay leedahay baarlamaan u gaar ah, waxa ay dawladda dhexe u dhaaftaa uun difaaca, arrimaha dibedda, lacagta iyo arrimo kale oo tirsan. Waa mabada' qaranimo wadaagga iyo wada-jirka, oo ka dheegmaya waajibka.
Waxa intaa u dheer, Scotland waxa ay dalban kartaa afti, bishardi in dawladda dhexe ee London ay maqbuul tidhaa. Waxa intaas u dheer in dadka Scotland ku nooli, calaa madax/qof, lagu kharash gareeyo in ka badan inta ku soo hagaagta qofka ku nool England (Barnett Formula); waxa intaa u sii dheer in ay saami dheeri ah ku lahaayeen xildhibaanada Baarlamanka dhexe ee Westminster, marka loo eego tirada dadka. Waa qiyamka ixsaanka oo u adeegaya maslaxadda guud. Ogow Scotland waxay dheerigaa ku heshay iyadoo leh taariikh u gaar ah, iyo mowqac juqraafiyeed oo istarategi (strategy) ah, oo eegaya badda Waqooyi (North Sea) iyo hilowga loo qabo wadajirka.
Gunaanad
Marka dib loo jaleeco falanqaynta kore waxa lagala soo dhex bixi karaa:
In jiilalka dambe looga tegin dhib aanay iyagu abbuurin. Xalka madaxda maanta ayuu saaran yahay.
Si loo soo celiyo kalsoonida waa in la galo muddo xadidan oo ay Soomaaliland iyo Soomaaliya ku wada joogaan " Qaranimo wadaag", oo uu ka dhexeeyo kursiga Qaramada Miidoobay, ilaalinta xuduudaha, cirka, dhulka iyo badda iyo ansaxinta heshiisyada caalamaiga ah. Waxaa hawshaas agaasimaya "golaha qaranimo wadaagta Soomaaliland iyo Soomaaliya".
Heerka 2aad ee taas kore looga gudbayaa waa "Qaranimo wadaag dastuuri ah", kaas oo u oggolaanaya in Soomaaliland ama Soomaaliya dalban karto afti ay kaga baxayso qaranimo wadaagtaas, bishardi in labada baarlamaan ama dawladood ba ansixiyaan dalabkaas.
Xidhiidhka Scotland la leedahay London ayaa noqon kara model la raaci karo.
Waan yaqiinasanahay in qodabadaas kore faahfaahin badan u baahan yihiin.
Qodabadan kore bir laguma goyn, waa laga doodi karaa – taasoo ah ujeedada waraqaddan.
Maxamuud Cabdillahi
Email: [email protected]
---
We welcome the submission of all articles for possible publication on WardheerNews.com. WardheerNews will only consider articles sent exclusively. Please email your article today . Opinions expressed in this article are those of the author and do not necessarily reflect the views of WardheerNews.
WardheerNew's tolerance platform is engaging with diversity of opinion, political ideology and self-expression. Tolerance is a necessary ingredient for creativity and civility.Tolerance fuels tenacity and audacity.
WardheerNews waxay tixgelin gaara siinaysaa maqaaladaha sida gaarka ah loogu soo diro ee aan lagu daabicin goobo kale. Maqaalkani wuxuu ka turjumayaa aragtida Qoraaga loomana fasiran karo tan WardheerNews.
Copyright © 2019 WardheerNews, All rights reserved