W.Q. Xuseen Maxamed Cabdulle "WADAAD"
Maana-faay waa Buug Sheeko-faneed Casriya, soona ifbaxday xilli baahi loo qabay. Waxay ahayd tii nooceeda ugu horreysay Deegaannadeeda, waxayna noqotay curaddii sheeko qoraaleedka casriga ah ee Soomaalida. Waxaa ka farcamay oo waddadeedii qaaday kuwa badan oo iyana galay taariikhda Sheeka qorista Soomaalida.
Sheekada ama Qisada MAANA-FAAY, ma ahayn oo keliya in ay waddo cusub u jeexday sheeka qoristeenna balse waxay farta ku fiiqday wax badan oo horteed aan laga hadal lana tilmaamin.
Qorayaashu kala culus kalana heli og cinwaannada ay wax ka qorayaan, kuna kala geddisan hababka iyo wadiiqooyinka ay u maraayaan wax gudbinta, wax qorista Afraxse tiisu waa mid gooniya.
Dr. M.D.Afrax, oo ah qoraha Qisada MAANA-FAAY, Waa Halyey Jebiyay albaab xirnaa oo in badan oo qalinley ahi ka baqayeen in ay ku dhiirradaan, kuwaas oo ku quus qaatay "Ishii ow Weeroow ka laalaaday", kolkey wax qorayaana Shuka huwinayay waxa ay gudbinayaan, Maana Faayse wixii lala ganbanayay ayay Daahir Yaa Shams ka dhigtay.
Adduunyadu, waxay isku raacday 1948dii Baaqii Jamciyadda Quruumaha ee ahaa Xuquuqal Insaanka, kaas oo u ogolaanayay in qof kastaa xor u yahay cabbirka aragtidiisa "Qowllan wa Kitaaban" Hadal iyo Qoraalba. Balse waxa nasiib darra ah in illamaa maanta aanan waddamo badan laga ogoleyn xorriyadda cabbirka Aragtida. Xilligii MAANA-FAAY soo if baxdayna waxaa reebanaa fikir kasta oo ka hor imaanayay aragtidii XHKS ama aan ahayn wax lagu buunbuuniyo Waxqabadkii Kacaankii.
Uma jeedo, umana socdo in aan waayihii Hantiwadaagga Cilmiga ku dhisan ka faalloodo waxna ka sheego, balse waxaa uun aan rabaa in aan ifiyo Xaaladda sida ay aheyd soo ifbixiddii Qisada Maana, iyo qoraaggu dhiirranaanta uu muujiyay xilligaas.
Qisada MAANA-FAAY, maxey ka hadleysaa oo ay ugu noqotay taajka Qisooyinka qoran ee Soomaalida?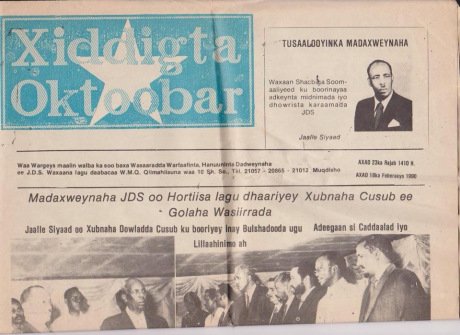 Qisadaan, waa qiso ay ka dhex buuxaan qisooyin kala socda haddana wada socda oo soo wada jiidanaya dadyoow kala geddisan "kala cumri, kala aqoon, kala garasho, kala mansab ah", taas oo mid walbaahi ka helaayo wax gaar ah oo uu isagu xiiseynayo, waana tii keentay in maalmaha ay Xiddigta Oktoober ku soo baxeysay suuqa laga waayi jirin Wargeyska oo dhan.
Aniga, waxaan ogahay dad ku waayay shaqadoodi dawladeed aqrinta iyo xiiseynta Qisada MAANA-FAAY.
Qisadaan MAANA-FAAY, Waxay ka hadlee dhaqan jiray oo u baahnaa in laga guuro, si asluubeysan oo dedgan ayayna bulshada ugu baraarujineysay, Waa dhaqankii "Maqabbiyannimada", kaas oo xadgudub ku ahaa Xuquuqdii Gabdhaha, sababayna in Gabadha kolka Naaskeedu soo kobco Mininka lagu oodo, loona diidayay in ay waxbarato ama iridda gurigooda dhaafto. Waxuu ahaa dhaqan adag xilliga Sheekadu curatay. Si gaara Dhaqankaas aad ayay u ifisay Qisadaan.
Dhinac, waxay ka ifisay Jaceyl iyo kalgacal qoto dheer oo sheekadu ku dhammeysay farax iyo yiddidiilo mug leh oo u soo muuqatay Lammaane is calmaday dhib iyo rafaad badanna isu maray. Waxeey muujisay culeyska Jaceyka iyo waayihiisa iyo Xikmaddii aheyd "Waxaan loo dhibtoon lama dheefsado". Dadku dhinac waxay sheekada kala socdeen Jaceylka mugga leh ee dhex marayay Axmed Jaamac iyo Maana-Faay.
Ka rogoo, haddana laba saare, dadka qayb kale waxeey kala socdeen naqdin iyo iftiimin ballaaran oo qoraagu toosh Lix qaada uga daba qaatay Kuwa magaca kursiga dawladeed ku dhaca hantida ummadda, waxuuna ifiyay qaabka iyo falalka foosha xun ee ay ku kacayeen qaybo ka mida madaxda Bulshada, kuwaas oo lahaa garbo ka daafaca wax ka qabadka waxa ay sameynayeen, si isku kalsooni ku jirtana u fala xumaanta ay doonaan.
Kuwa noocaasa waxaa tusaale noogu filan tusmada iyo tilmaanta ay qisada ka bixineyso Maareeye Jaamac Dhegeey oo ah Eng. Axmed Jaamac Aabowgiis.
80kii Kolkaan aqrin jiray Qisada MAANO, waxaan is dhihi jiray goormaa lala boodi doonaa Saaxiibkaa Afrax, weliba marka uu farta ku godayo Jaamac iyo nuuciisa. Hadda Jaamac, maahan ruux jira waxuuse u taagnaa dad badan oo ku kaca ficilladaas qisadu ku tilmaameyso, waana tan sheekadu gabagabada soo roojiheyso CEEB iyo LAMA ARAG.
Doc kaleeto haddana igala arage, Qisadu Waxay farta ku fiiqday dhaqan bulshada ku soo badanayay oo ku saabsanaa Qayilaad, Tumasho, Kufsi, Boob iyo wax kaloo badan. Waxaad eegtaa Kaalinta ay ku leedahay Qisada BAYDDAN-Shabeel. Waxaad arkee Fataalnimada iyo sida gabdhaha yaryar ee reerahoodu Iskuulka ama suuqa u dirsadaan loo shirqoolo, looguna gacan geliyo Odayo Tuugo ma xishoodayaal ah oo u tafaxeytay kuna shooba xummaanta, kuwaas oo sheekadu tilmaameyso masiirka u dambeeya, ugana dhigeyso digniin kuwa kaloo badan oo ku soo jiro jidkaas fisqiga iyo xumaanta ah.
Qisada MAANA-FAAY, Waxeey ku baraysaa wax badan oo aad u baahan tahay. Waa hubanti kolkaad kala furto inuu baalba kan xiga kuu dhiibayo illamaa aad is tiraa Goormeey dhammaatay, oo aad dib ugu noqoshadeeda biloowdo, Silsillad xiran oo gunudiba tan xigta si xeeladeysan kuugu sinto adigoon dareemin.
Ugu dambeyntii, waxaan leeyahay Hambalyo Walaalkeey/Saaxiibkeey Afrax iyo Maxamed Cartan (LOOHPRESS) oo si qurxoon u soo daabacay Daabacaaddaan 4aad ee MAANA-FAAY.
W.Q. Xuseen Maxamed Cabdulle "WADAAD"
Email: [email protected]
---
We welcome the submission of all articles for possible publication on WardheerNews.com. WardheerNews will only consider articles sent exclusively. Please email your article today . Opinions expressed in this article are those of the author and do not necessarily reflect the views of WardheerNews.
WardheerNew's tolerance platform is engaging with diversity of opinion, political ideology and self-expression. Tolerance is a necessary ingredient for creativity and civility.Tolerance fuels tenacity and audacity.
WardheerNews waxay tixgelin gaara siinaysaa maqaaladaha sida gaarka ah loogu soo diro ee aan lagu daabicin goobo kale. Maqaalkani wuxuu ka turjumayaa aragtida Qoraaga loomana fasiran karo tan WardheerNews.
Copyright © 2020 WardheerNews, All rights reserved