Garoowe (WDN)- Xabaddo aad u xooggan ayaa caawa laga maqlayay magaalada Garoowe, ka gadaal markii uu iska horimaad ka dhacay xarunta Baarlamaanka Puntland, kaasi oo u dhaxeeyay ciidamo taabacsan gudoomiyaha Baarlamaanka iyo kuwo ka socday madaxtooyada Puntland.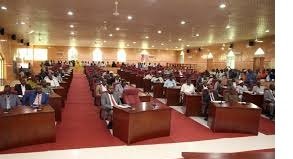 Wararka naga soo gaadhay nawaaxiga iska horimaadka, ayaa sheeegaya in ciidamada ka socday Madaxtooyadu ay isku dayeen in ay la wareegaan Baarlamaanka, halka kuwa illaalada ka ahaa ay is hor taageen. Sadex qof ayaa la sheegaya in ay ku dhinteen, uu mid yahay ganacsade, halka labada kale ay ka soo kala jeeda labada dhinac iyo dad dhaawaca oo aan wali la xiqiijin tiradooda.
Waxa beryahanba jiray warar sheegaya in xiisado siyaasadeed iyo isfahamdaro ka  dhex abuurantay Madaxweynaha Puntland Md. Siciid Cabdulaahi Deni iyo Gudoomiyaha Baarlamaanka  Md. Cabdixakiim Maxamed Axmed ( Dhoobo), iyada oo la sheegay in uu jiray qorshe lagu tuurayo gudoomiyaha Baarlamaanka Puntland.
Xildhibaanada wada mooshinka ka dhanka ah gudoomiyaha, ayaa la sheegay in ay gaadhayaan 31 xildhibaan, iyada oo maanta gudoomiyaha Baarlamaanku uu sheegay in Golaha uu galayo fasax sadex beri ah, oo ka bilaabanta Khamiista bishan 7da ilaa 11 isla bishan. Arinkaasi oo dad badani u arkeen, in uu oga gol lahaa si uu u baajiyo mooshinak xil ka qaadista.
Hadda xabadii maqalka rasaastu wuu is taagay, walise ma cadda in labada ciidan ay is hor fadhiyaan oo la kala dhex galay.
WardheerNews
---
We welcome the submission of all articles for possible publication on WardheerNews.com. WardheerNews will only consider articles sent exclusively. Please email your article today . Opinions expressed in this article are those of the author and do not necessarily reflect the views of WardheerNews.
WardheerNew's tolerance platform is engaging with diversity of opinion, political ideology and self-expression. Tolerance is a necessary ingredient for creativity and civility.Tolerance fuels tenacity and audacity.
WardheerNews waxay tixgelin gaara siinaysaa maqaaladaha sida gaarka ah loogu soo diro ee aan lagu daabicin goobo kale. Maqaalkani wuxuu ka turjumayaa aragtida Qoraaga loomana fasiran karo tan WardheerNews.
Copyright © 2020 WardheerNews, All rights reserved