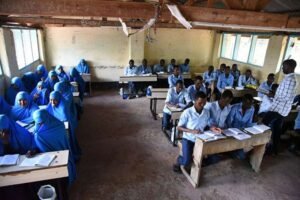 Students at Hagadera Secondary School in Dadaab Refugees Complex in northeastern Kenya. The Nairobi Action Plan requires host countries to improve access to education for both refugees and host communities. PHOTO | JARED NYATAYA | NMG
By FRED OLUOCH
East African heads of state will be required to present their progress reports on the implementation of the Nairobi declaration on refugees at the African Summit that begins on February 10.
The declaration, known as the Nairobi Action Plan, was passed in March 2018 and requires host countries to improve access to education for both refugees and host communities, promote self-reliance among refugees by creating opportunities for business, and promote business activities in refugee hosting areas for the benefit of host communities.
The theme of the 32nd AU summit is "Refugees, Returnees and Internally Displaced Persons: Towards Durable Solutions to Forced Displacement in Africa."
East Africa will be under close scrutiny, being the host of the highest number of those who have fled their homelands, at 4.9 million.
In January, Ethiopia's parliament passed a law giving the almost one million refugees in the country the right to work and live outside of camps, attend regular schools, formally register births, marriages and deaths, and gain access to financial services such as bank accounts.
The country holds Africa's second largest refugee population after Uganda, with more than 900,000 people — who have fled conflict, drought and persecution in neighbouring countries such as South Sudan, Sudan, Somalia and Eritrea — living in 20 camps across the country.