Garoowe (WDN)- Golaha Baarlamaanka Puntland oo maanta cod u qaaday qaabka ansixinta xubnaha  Golaha Wasiiradda ee Dowladda cusub ee Puntland, ayaa isku raacay in si wadar ah loogu coddeeyo  oo aan xubin xubin loo kala ansaxin, Golaha Wasiiradda la filayo in uu Madaxweyne Siciid Deni soo dhiso.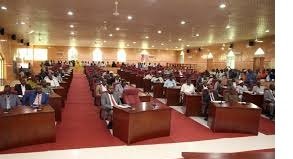 Natiijadii coddeyntaasi oo uu sheegay Gudoomiyaha Golaha Baarlamaanka Puntland, Md. Cabdixakiim Maxamed (Dhoobo), ayaa sheegay in 26 ay u coddeeyen in si wadar ah loogu ansixiyo Golaha Wasiiradda cusub, halka 24 xildhibaaan, xubin xubin ay u coddeeyeen, iyada oo 3-na amustay, hal xildhibaana  aanu codeyn.
Madaxweyne Deni, oo la filayo in uu si dakhso ah u soo saaro liiska xubnaha Golihiisa Wasiiradda, ayaa dad badani aaminsan yihiin in aan isbadal dhab ah laga filan. Taasi oo dhabar jab ku noqon doonta hawlaha adag ee u baahan wax ka qabashada ee hor yaala shacbiga Puntland.
WardheerNews
---
We welcome the submission of all articles for possible publication on WardheerNews.com. WardheerNews will only consider articles sent exclusively. Please email your article today . Opinions expressed in this article are those of the author and do not necessarily reflect the views of WardheerNews.
WardheerNew's tolerance platform is engaging with diversity of opinion, political ideology and self-expression. Tolerance is a necessary ingredient for creativity and civility.Tolerance fuels tenacity and audacity.
WardheerNews waxay tixgelin gaara siinaysaa maqaaladaha sida gaarka ah loogu soo diro ee aan lagu daabicin goobo kale. Maqaalkani wuxuu ka turjumayaa aragtida Qoraaga loomana fasiran karo tan WardheerNews.
Copyright © 2019 WardheerNews, All rights reserved