AAN YARA DALXIISNO
W.Q. Siciid Jaamac xuseen
Safar.. safar.. safar.. safar..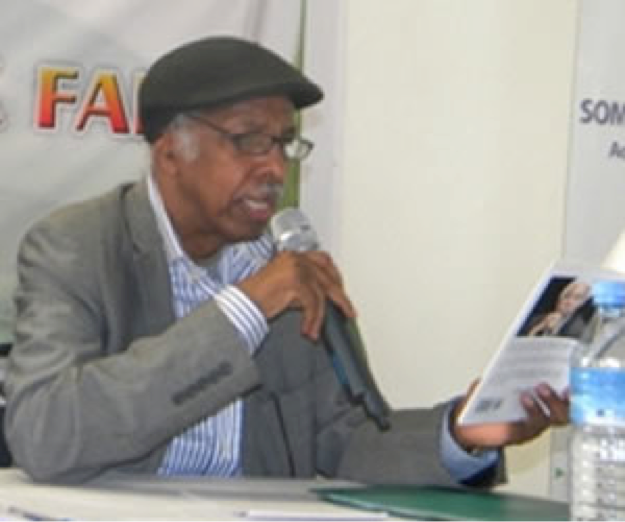 Qofka noloshiisu waa safar aan kala go' lahayn. Safar malyuun weji leh ayaa bani'aadmigu maalin walba galaa, oo kala kaan ah, kala maan ah.. kala midab ah, kala dhadhan ah, kala waayo ah, kala door roon
oo dareemmo kala duwan qofka ku beera. Safarro aan isku socdaal ahayn oo kala hayaan iyo hiraal durugsan. Kuwo badda loo fuulo, kuwo berriga loo raaco, kuwo hawada sare la cirjiidho. Kuwo qaxar iyo kadeed laga la kulmo, iyo kuwo rayrayn iyo raxmaad laga dheefo.
Waa baadigoob isdaba jooga oo qofku ugu jiro siduu cucubka iyo ciriiriga nolosha uga bixi lahaa oo sareedo la mahadiyo ku gaari lahaa. Dabiicadda qallafsanaanteeda, dabaylaheeda, danabyadeeda, daacuunkeeda, duufaankeeda, iyo dadcunkeeda in laga reeyo oo guul laga soo hooyo, waxaa kun jibbaar ka adag kan qofku kula jiro naftiisa hawaawigeeda iyo hankeeda waalan sidii loo xakamayn lahaa. Aniguna maalmahan ayaan ka soo jeestay safar aan beryahan isku jirney oo imminka aan dhinac isaga riday.
Qoraalladaydii "Safar Aan Jaho Lahayn", ayaa buug lagu soo daabacay (Ponte Invisibile). Munaasabaddaa darteed, ayaan go'aansaday in aan dib u milicsado wixii aan safarro galay, tan iyo hanaqaadkaygii, iyo kuwa aan wax ka qorayba. Dhawrkan gaagaaban ayaan ka soo xulay, si inta xiisayn kartaa ila wadaagto oo lur-maalmeedka isku dhadhanka ah, ee caajiska badan uga yara nasato.
CAJAB
SHEEKOOYINKA dalmareenku curiyaan, xiisahooda wax u dhigmaa ma jiraan. Usafarka dal cusub, la-kulanka dad cusub, barashada dhulkooda, dhaqankooda, hab-nololeedkooda, dareenkooda iyo dadnimadooda, anshaxa iyo adduun-araggooda, waxay kugu dhoweeyaan garashada addduunka aynu ku noolnahay sirtiisa aan salkeeda la gaari karayn. Degaankaagii, dalkaagii iyo qarankaagii aad beri beryaha ka mid ah u haysatay inay adduunka ugu sitaan, ayaad ka kortaa oo aqoon iyo waaya-arag kororsataa.
Bas ayaa na lagu qaaday oo diyaaraddii garoonka nagu sugaysay na loo geeyay. Kursi daaqadda xiga ayaa diyaaraddii la iga fariisiyay. Diyaaraddii ayaa nala haaddey iyadoo guux iyo reen waalan isku daraysa. Kolkay majaraheedii hawada si qummaati ah u qabsatay, ayaan u soo jeestay inaan farshaxanka derbiyada gudaha kaga dheehan ka daymo sugto. Daawashadaa aan u holladay la igu ma simin.
Yaabkayga! Kursiga iga horreeya dhabarkiisa ayaan ku arkay weedh Af-Soomaali ku qoran: "Suunka xiro. Sigaarka dami". Kan barbarkiisa ayaan eegay. Af-ingiriisi iyo Af-carbeed ayay ku qoran yihiin. Diyaaraddii ayaan soo dhexmaray, kuraasta oo dhan waxaa ku qoran weedho Af-carbeed iyo Af-ingiriisi ah. Aniga keliya ayaa Soomaali diyaaraddda kala socda. Wiilkii i soo kaxeeyay siduu ii fariisiyay kursiga keliya ee Af-soomaaligu ku qoran yahay ayaan fasiraad u waayay oo iga mashquulisay ka-bogashada quruxdii derbiyada diyaaradda ku xardhanayd.
Lix saacadood iyo lix kun oo kiloomitir ayaa diyaaraddu hawada nagu la soo jirtay aan hakad iyo joogsi toonna lahayn. Magaaladii London ayaa sidii maro la waray na hoos timi. Ballaarkeeda, qaab-dhismeedkeeda, iyo mulacyaynta webiga Thames ayaan indhaha la raacay iyadoo, sida safar soo dhowaaday lagu yaqaan, uu dareen cusubi igu dhashay. Kurisigii weedha Af-soomaaligu ku qorrayd iyo wiilkii gargaaraha ahaa ee halkaa i fariisiyay marna maskaxdayda kama ay bixin.
LOOLLAN
DUNIDA aynu ku noolnahay dhererkeeda, dhumucdeeda, iyo qaradeeda, marka la fiiriyo kawnka ku weegaaran, waxaa lagu qiyaasaa inay kaga aaddo irbad caaradeed wax ka sii yar. Taariikhdu waxay caddaysay dunideenan aynu u jeednaa, siday maanta u taal, dadkeeda, duunyadeeda, degaankeeda, iyo cimiladeeda kala nooca ahi mar qura in aanay ku iman. Kumanyaal malyuun oo sano ayay ku soo gaartay xaaladda ay eeggan ku sugan tahay. Qoyanta badda iyo qallaylka dhulka ayaa ugu weyn inta ugu hor abuurmay. Dhaxan samhariira ka qabow ayaa bilawgii labadooda kor saarraa. Gudcur damdaguugan ahina sida bustaha ayuu ugu hullaabnaa. Midiba meesheeday yuururtay, ku yoongaysnayd, girifgirifna awoodi karayn, jeer fallaaro xiimaya oo dab xanbaarsani qorraxda kaga yimaaddeen oo tartiib tartiib uga xayuubiyeen cullaabtii dusha ka fuushay.
Wahabkii ayaa kolkaas ka duulay. Indhihii ayaa u dillaacay, agagaarkooda ayay fiiriyeen. Mid waliba baaxaddeeda ayay markii ugu horraysasy aragtay, isu bogtay, ismahadisay oo isla baxday. Labadoodii ayaa isu muuqday, isu bo'ay oo isku baxsaday. Midiba tan kale inay dunida ka tirtirto ayay goosatay. Dagaal iyo loollan joogtaysan aan kala go' lahayn, damayn, hakanayn, daalayn, nasanayn, wahsanayn, mar kasta dardar hor leh soo curinaya ayaa ka dhex aloosmay. Labadaas garba-weyne ayaa isqabdhaafay, quwad isu sheegtay, keligood isla qooqay, isu qaatay in aan wax la baaxad ahi ifkaba jirin jeer QOFKU iskeenay adduunka xilli aan dhowayn, dhawr malyuun oo sano ka hor.
EREYGA QORAN
GEEDDIGA bani'aadmigu soo maray marna ma ahayn mid toosan oo sahal ah. Mid gedgeddoon iyo qalqallooc badan ayuu ahaa oo bani'aadmigu uu kala kulmay hoog iyo halaag, silic iyo saxariir aan la soo koobi karayn. Nolol astaamaheeda ugu waaweyn lagu tilmaami karo inay ahaayeen baahi, cabsi, welwel iyo walbahaar joogta ah oo dhinac walba mugdi ka hareereeyo ayuu bani'aadmigu soo jibaaxayay, jeer uu hawlgal, halgan, nafhur, iyo baadidoon dheer ka dib, si isdabajoog ah u haleelay amuuro dhawr ah oo u suurageliyay inu nafleyda kale oo idil ka soocmo, kana gacan sarreeyo.
Nabad uu dugsado, awood uu dareemo iyo itaal uu isbido uga ma horrayn maalintuu qofku dabka hantay ee dhimbiishiisa belbeliyay, iyo maalintuu birta tuntay ee ugaarsiga xawayaanka kale u foof tegay. Hase yeeshee, marka laga hadlayo qofka ilbaxnimadiisa – samaynta iyo saamaynta dadnimadiisa, waxaa raadraaceeda taariikheed loogu tegayaa xilligii uu soo ifbixiyay ereyga qoran. Maalintaa laga bilaabo bani'aadmigu wuxuu u gudbay taariikh hor leh oo tuu hore u soo maray si walba uga geddisan.
BADDA
HUGUNKA iyo guuxa habeen iyo maalin loogu tegayo badda xeebaheeda, si kastoo dhawaaqaas argagaxa lihi bartuu ka soo yeerayo la isku khilaafi karo, misna la dhaafin waa in lagu fasiro cartan iyo colaad, faan iyo baan, car iyo wir, iyo cayaar wigloo Caynkaas u taal.
Biyaha badweynta dhibcahoodu fallaaraha qorraxda ee sayn-fardoodka ka miiqan ayay sallaan ka dhigtaan, salooshaan, kor u raacaan, samada u baxaan, isqaybiyaan, afarta beeni jaho kala aadaan, cirka sare isku shareeraan. Cudbi la kala fiiqay sidiisii ayay hawada hoose u eg yihiin. Kor markay u kacaan, xayr bay shabbahaan aan midabkeeda dhayda laga garan. Sida shabaagta ayay isdareeriyaan, isdaadiyaan, iskala waraan. Way si maaxaan, jiitaan, jiciirtaan, cirka sare ku sii libdhaan. Cod cod fariistay caynkii teel teel u kala tagaan. Midab sagal ah ayaa dhaycaddaantoodii ku dhafma. Heerkii u dambeeyay ayay u gudbaan. Way isu sanqadaan, isu soo dhowaadaan, feeraha isku qabtaan, foocsamaan. Buuro sal ballaaran cirka ka dhistaan, midab doorsoomaan oo madow dugul ah isu rogaaan.
Iftiinka qorraxda ayay gadaal u diraan, dhulka ka celiyaan oo diirimaadkeeda u diidaan. Guux iyo gunuunuc bilaabaan, hillaac iyo onkod isku daraan oo dhulka kor kaga yimaaddaan iyagoo mahiigaan ah. Badweeyntu baaqaas ayay haleeshaa, garataa oo u guuxdaa, dhinaceeda iska diyaarisaa, giir iska kicisaa gadoodaa, coof yeelataa cartantaa, xumbaysaa xamaakiir dhigtaa, xawaaraysaa oo xeebta isku qaaddaa.. itaalkeeda ku sii daysaa say dhulka dib ugu riixdo oo meel durugsan kaga soo harto.
JIILAALKA
BISHII Noofambar ayaa London noogu soo gashay. Xagaa damcay inu geesa bixiyo ayay soo af-jartay. Si weyn ayaa looga raystay dhidid iyo dhegdheggiisa, daal iyo caga-jiidkiisa, caro iyo camalxumadeeda. Maalmahan iyadoo aan weli casar la gaarin, ayaa daruuri cirka isdhaamisaa oo isku jiq siisaa. Jawiga ayaa dhaxan qaboobi isbuuxisaa. Baabuurta ayaa nalalkooda shitta, saacado ka hor iyadoo aan qorrax-dhac la joogin.
Xilligan oo kale, dadku waxay caado u leeyihiin inay soo xidhaan dharkii qaboobaha loogu tala-galay. Mana illaawaan inay dallado qaataan, say uga gaashaantaan jawiga Ingiriiska ee aan cidina cimiladiisa sii sheegi karin siduu isu geddin doono iyo goor uu da'i doono toonna. Inta dibed-baxa dantu ku khasabtay iyo kuwo iska jecel inay ka niib keenaan waxa jawigaasi la gurxamaayo, midkoodna anigu kama tirsani. Waxaan door bidaa in aan roobabka da'aya, cirka qawdhamaya, dabaylaha fooryaya, iyo shimbiraha buulashooda ku cararaya inaan daaqadda gurigayga ka fiirsado, anigoo u qashuucaya baaxadda ay dabiicaddu leedahay, lana cajabsan gadgaddoonka awooddeeda.
DALMAR
TAN IYO SAAKA siday tuulada uga soo jarmaadeen, wax dhaqaaqa, dad iyo xoolo toonna, lama ay kulmin. Ban bacaad isku sii-deys ah ayay ka dhammaan waayeen. Daal, harraad iyo gaajo isagoo bestiis ah ayaa Dalmar badda guuxeedu u baxay. Run iyo been kay tahay wuu kala garan waayay. Tii naftiisu jeclaysanaysay ayuu laabta u badiyay. Markaas ayaa ninkii ildarraa nolol cusubi ku dhalatay uu dardar hor leh iyo laba-lugoodin bilaabay. Saaxiibkiisii daba hablaynayay maskaxdiisuu ka baxay. Dhawr saacadood ayuu sidaas ku waday isagoo isla maqan. Qorraxdii baa darruuri qarisay. Dhulkii baa midab dugul ah hullaabtay. Dabayl dhaxan qabow xanbaarsan ayaa dhinaca bariga kaga soo butaacday. Harraadka hayey iyo baahida lafaha ka cuskatay ayaa u sii kaday qarqaryada sida ba'an u haleeshay.
Caga-jiid ayuu xeebtii ku soo gaaray. Dhulka isku siman taagsin ka joog dheer ayuu salka dhigtay, lugaha soo laabtay, oo gacmaha dul saaray. Badda mawjadeeda iyo cirka cimiladiisa ayaa reen iyo gurxan isugu jiibiyay aad mooddid inay ku diganayaan xaaladda uu Dalmar ku sugan yahay. Daruurtii korkiisa isdhaamisay ayaa mar qura sidii calool dooxantay ku soo furantay. Hoglo roob ah, hillaac walac leh, iyo onkod qararaclaynaya ayaa ku wada kulmay intuu rakada fadhiyay. Calool maran, maskax welwelsan, iyo saaxiib lagu tilmaami karo qallad qoolka loo suray ayaa u weheliyay gadoodka cirka ka aloosmay. Sida la fili karo ma qarqarin, ma kogin, sida saaxiibkiis bohol yar isku ma xabaalin isagoo ilkaha isla dhacaya, ee intuu u bogay, u riyaaqay , u muraaqooday baaxadda ay dabiicaddu leedahay ayuu ku dhex libdhay hugunkeeda aan kala go'a lahayn. Isaguba miyaanu dabiicadda ka mid ahayn.
MAANKA
MAANKA bani'aadmiga lama soo taaban karo salkiisa. Muggiisa lama qiyaasi karo. Wax walba inu ka faalloodo ayuu isku dayaa. Cucubka wuu ku curyaamaa. Cabsida iyo abhinta wuu ku naafoobaa. Is-dhiibidda wuu ku hagaasaa. Marna se ma joojiyo baadigoobka uu u heellan yahay. Safar iyo sahan joogtaysan ayuu ku jiraa. Sohdin baacin kartaana ma ay jirto. Kumanyaal sano oo la soo dhaafay, ayuu run ka jirtey baaraa, oo ka niib keenaa habkii, qalabkii iyo waayihii xilligaas fog lagu noolaan jirey.
Kumanyaal sano oo soo socda, ayuu sii oddorosaa dhacdooyinka iman doonaa yaabka iyo cajaaiibka ay leeyihiin. Falagga korkeenna meeraya ayuu fiiriyaa, faaqidaa intuu ka kooban yahay, tiradooda, kala fogaantooda, weynaantooda, cimiladooda kala duwan, oo fallaara xiimaya ku sahmiyaa intaan loo guurin.
Dhulka hoosteenna goglan, ayuu qaradiisa weyn hoos u quusaa, oo uur-ku-jirtiisa daalacdaa una kala soocaa, siigo, ciid, dhoobo, dhadhaab, biyo, gaas.. betrool, dheeman, iyo malyuun shey oo weli isku moordhaysan. Misna maskaxda madaxiisa yar ku jirta, waxaa lagu tilmaamaa inta uu tan iyo haatan ka isticmaalay waxay ku aadaysaa wax irbad caaradeed le'eg marka loo eego inta weli u dihin. Miyay markaa la yaab leedahay inu qofku haweysto inu boqortooyadiisa kawnka ku simo. KII IS-DABRAAYA YEELKADIISA !!
La soco qayta 2aad
W.Q. Siciid Jaamac Xuseen
Email: [email protected]
____________
Siciid waa qoraa deggen magaalada London, UK, oo si joogto ah wax ugu soo qora degelka WardheerNews, waana guddoomiye xigeenkii hore ee Naadiga Qalinleyda Soomaaliyeed.
---
We welcome the submission of all articles for possible publication on WardheerNews.com. WardheerNews will only consider articles sent exclusively. Please email your article today . Opinions expressed in this article are those of the author and do not necessarily reflect the views of WardheerNews.
WardheerNew's tolerance platform is engaging with diversity of opinion, political ideology and self-expression. Tolerance is a necessary ingredient for creativity and civility.Tolerance fuels tenacity and audacity.
WardheerNews waxay tixgelin gaara siinaysaa maqaaladaha sida gaarka ah loogu soo diro ee aan lagu daabicin goobo kale. Maqaalkani wuxuu ka turjumayaa aragtida Qoraaga loomana fasiran karo tan WardheerNews.
Copyright © 2019 WardheerNews, All rights reserved