Muqdisho (WDN)- Xukuumadda Soomaaliya ayaa u magacowday
Md. Cabdiraxmaan Maxamed, Gudoomiyaha Bangiga Dhexe ee Soomaaliya. Md. Cabdiraxmaan ayaa horey u ahaa lataliyaha xaga arimaha Dhaqaalaha ee Xafiiska Raysal Wasaarah DFS.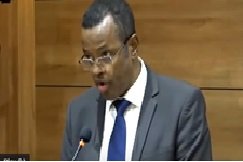 Jagada Godoomiyaha oo dad badani u tartameen, lana hadal hayay in la siiyo qof Ajnabi aha, ayaa la sheegay in cadaadis ka yimid xaga shacbiga, DFS ay ka noqotay goáankii ahaa in jagadaas la siiyo qof ajnabi ah, oo u dhashay dalka Ingriiska.
Magacaabista Gudoomiyaha Bangiga Dhexe, oo sida uu dhigayo Dastuurka Soomaaliya, ku timaada magacaabis madaxweyne, ayaa gabi ahaanba la baalmaray, ka gadaal markii uu hormuud ka noqday RW Kheyre, isaga oo watay qorshe lagu siiyo qof u dhow.
Md. Cabdiraxmaan oo saxiib dhow la ah RW Xasan Kheyre,  ayaa la sheegay in aanu ku jirin dadkii u tartamay jagadaasi, hase yeeshee ka mid ahaa gudigii loo xil saaray in ay soo xullaan qofka loo qaadanayo jagada Gudoomiyaha.
Md. Cabdiraxmaan ayaa wararku sheegayaan in aanu wax khibrad iyo aqoon  ah u lahayn arimaha dhaqaalaha, iyo shaqooyinka Bangiga Dhexe
(macroeconomics), balse horey uga soo shaqeeyay Wasaaraddii Maaliyadda ee Dowladdii Soomaaliya, sidoo kale waxa uu ka soo shaqeeyay Dahabshiil, iyo Hay'adda Qaxootiga ee Norway.
Magacaabista Md.Cabdiraxmaan ayaa ay meel mariyeen Golaha Wasiirada, hase yeeshee u baahan ansaxinta Madaxweynaha.
WardheerNews
---
We welcome the submission of all articles for possible publication on WardheerNews.com. WardheerNews will only consider articles sent exclusively. Please email your article today . Opinions expressed in this article are those of the author and do not necessarily reflect the views of WardheerNews.
WardheerNew's tolerance platform is engaging with diversity of opinion, political ideology and self-expression. Tolerance is a necessary ingredient for creativity and civility.Tolerance fuels tenacity and audacity.
WardheerNews waxay tixgelin gaara siinaysaa maqaaladaha sida gaarka ah loogu soo diro ee aan lagu daabicin goobo kale. Maqaalkani wuxuu ka turjumayaa aragtida Qoraaga loomana fasiran karo tan WardheerNews.
Copyright © 2020 WardheerNews, All rights reserved