Muqdisho (WDN) – Faahfahinno dheeraad ah ayaa kasoo baxaya qaraxyo waa weyn oo saaka gilgiley magaalada Baladweyne ee xarunta gobolka Hiiraan, halkaasi oo ay ku dhinteen kuna dhaawacmeen masuuliyiin ka tirsan maamulka Hirshabeelle iyo dad shacab ah oo tardoodu gadahyso 20 qof.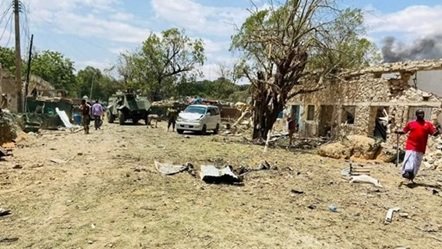 Wararka aynu helayno ayaa tilmaamaya in qaraxyadaasi ay ku dhinteen masuuliyiin kala duwan oo ay ku jiraan wasiir iyo madax kale oo ka tirsan maamulka Hirshabeelle.
Dadka ku geeridooda qaxyadaani ismiidaaminta ah waxaa ka mid ah gudoomiye ku xigeenkii gobalka Hiiraan Abuukar Maadeey iyo wasiirkii caafimaadka Hirshabeelle Dr. Sakariye Hurre.
Si rasmi ah looma xaqiijin karo illaa iyo iminka qasaaraha qaraxyadaani ay geysteen kuwaasi oo loo adeegsadey 2 gaari oo kuwa xamuulka ah, oo laga soo buuxiyey walxaga qarxa. Waxaa qaraxaaasi lala beegsadey xerada weyn ee Lama Galaay ee magaalada Baladweyne ee xarunta gobolka Hiiraan.
Maxamed Cumar
WardheerNews, Muqdisho
---
We welcome the submission of all articles for possible publication on WardheerNews.com. WardheerNews will only consider articles sent exclusively. Please email your article today . Opinions expressed in this article are those of the author and do not necessarily reflect the views of WardheerNews.
WardheerNew's tolerance platform is engaging with diversity of opinion, political ideology and self-expression. Tolerance is a necessary ingredient for creativity and civility.Tolerance fuels tenacity and audacity.
WardheerNews waxay tixgelin gaara siinaysaa maqaaladaha sida gaarka ah loogu soo diro ee aan lagu daabicin goobo kale. Maqaalkani wuxuu ka turjumayaa aragtida Qoraaga loomana fasiran karo tan WardheerNews.
Copyright © 2022 WardheerNews, All rights reserved