W.Q. Khaliil Cabdiraxmaan Xasan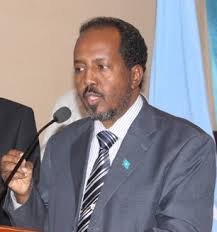 Way adkayd in la sii saadaaliyo waxa laga filan karo, madaxweyne Xasan Sheekh Maxamuud, markii xilka madaxweynenimo loo doortay, maadaama aannu ahayn shakhsi hore siyaasadda murugsan ee Soomaalida ugu soo dhex jiray.
Taasi waxay u ahayd faa'ido isagoo isla markaana ay u dheerayd fursado kale oo ay ka mid ahaayeen xilligii KMG oo laga gudbay, xaaladda waddanka oo ka soo raynaysay iyo beesha caalamka oo iyana taageero la garab taagan.
Niyadsami iyo farxad aan la soo koobi karin ayay ku soo dhaweeyeen guud ahaanba shacabku doorashada madaxweynaha cusub iyagoo islamarkaana yididiilo iyo rajo weyn ku abuurtay.
Haseyeeshee waqti badan kumay qaadan Soomaali badani in ay candhuuftooda dib u liqaan, muujiyaana saluugga iyo shakiga ay ka qabaan madaxweyne Xasan iyo qaabka uu wax u wado.
Muddo kooban guddaheed waxaa dadka badankiisa u caddaatay xadgudubyada dastuuriga ah ee uu ku kacayo madaxweyne Xasan iyo hamuunta uu u qabo in uu awoodda oo dhan gacantiisa ku soo ururriyo gar iyo gar darraba.
Ku dhawaaqistii goloha wasiirrada iyo qaabkii ay u dhacday waxay muwaadiniinta Soomaaliyeed geliyeen dareen shaki leh iyo in ay iska weydiiyaan su'aalo badan.
Haddaba anigoo ka mid ahaa dadkii ay la yaabka ku noqotay sida ay wax u socdaan ayaan dareenkayga ku muujiyay  xilligaas maqaalkii halkudhiggiisu ahaa Meeyay  Ra'iisalwasaarihii Soomaaliya?
Maroorsiga xilka iyo awooddihii dastuuriga ahaa ee ra'iisal wasaaraha ee dharaartaa shacabku ku soo baraarugay waa ta galaafay 14 bilood ka dib markii uu isku dayay ra'iisalwasaare Saacid in uu gacantiisa dib ugu soo celiyo inkastoo ay u muuqatay in uu isagu sidaas raalli ku ahaa markii hore.
Xilligaas ka dib hawlihii xukuumaddu waxay noqdeen kuwo laga hago xafiiska madaxweynaha iyadoo jagada ra'iisalwaasruhuna ay iska ahayd uun mid maqaarsaar ah.
Shaqadii ra'iisalwaaruhu waxay ku soo koobantay ka qaybgalka xafladdaha ay urrurada haweenku samaystaan iyo la sheekaysiga dhalinyarada shaqada la'  ee darbiyada caasimadda yuurura.
Malaha waxa keliya ee u dhinnayd madaxweyne Xasan waxay ahayd in uu guddoomiyo fadhiyada ay maalinta khamiist ku sheekaystaan golaha wasiirradu.
Shir kasta oo dibadda ah madaxweynaha iyo saaxiibaddiisa ay aadka isugu dhawyihiin ayaa tagayay. Sidoo kale agaasime hay'adeed, safiir, wasiir , ra'iisal wasaare iyo wafti kasto oo shisheeye oo soo booqda caasimadda Muqdisho maqaamkiisu heerkuu doonaba ha gaadhsiisnaadee waxaa qaabilayay inta badanna shir jaraa'id la qabanayay madaxweyne Xasan Sh. Maxamuud.
Arrimahaasi waxay marar badan foolxumo iyo sumcad darro ku ahaayeen magacii iyo maqaamkii madaxweynenimo oo ay meel hoose dhigeen.
Xilalka madaxweynaha iyo ra'iisalwasaarahu waa kuwo uu si cad u kala qeexayo dastuurka KMG ah ee Jamhuuriyadda  Federaalka Soomaaliya.
Waxaa la yaab lahayd khilaafkii soo kala dhexgalay ra'iisalwasaaraha iyo madaxweynaha oo ra'iisalwasaaruhu ku tilmaamay mid dastuuri ah in halkii ay xildhibaannada baarlamaanku ka fiirin lahaayeen qoddobada dastuuriga ah ee la isku hayo in ay codka kalsoonida u qaaddaan ra'iisal waaraha sidaana uu xilkii ku waayo.
Waxaa xusid mudan in arrintan ay madaxweynaha u suurtogelisay isagoo ku bixiyay lacag badan oo laaluush ahaan loo siinayo xildhibaannada laguna iibsanayo codkooda.
Yeelkeede, waxaa haddaba la isweydiinayaa mar haddii uu madaxweynuhu magcaabay  ra'iisalwaare cusub in uu hawshiisa faraha uga qaadi doonno iyo in uu sidii looga bartay iska maamulan doono?
Haddaba magacaaabista golaha wasiirrada cusub ee hadda shacabku sida aadka ah ugu dhegtaagayaan, waxa ay ifafaale u noqon doontaa sida uu ugu madaxbannaan yahay adeegsiga awooddihiisa dastuuriga ah ra'iisalwasaaraha cusub Md. Cabdiwali Sheekh Axmed.
Madaxweyne Xasan oo ay maskaxda u sidaan wasiirrada awoodda badan ee urrur diineedka Damul Jadiid oo ahaa kuwii galaaftay Ra'iisalwasaare Cabdi Faarax Shirdoon way adagtahay in uu  aqbali doonno haddi aan lagu soo darin xubnahaas xukuumadda cusub.
Mooshin ay abaabulayeen xildhibaanno doonayay in aan dib loo soo celin wasiirradii xukuumaddii Saacid, ayaa ilo wareedyo lagu kalsoonyahay ii xaqiijiyeen inuu  saqiiray oo ay fashililiyeen kaadiriinta Damul Jadiid.
Haddaba marka aan fiirrino qaabka ay hadda wax u socdaan, waxaa muuqanaysa in madaxweyne  Xasan aannu weli ka waantoobin falalkii gurracnaa ee looga bartay muddadii uu xilka hayay.
Waxaa durtaba soo baxaya warar aan la xaqiijin oo sheegaya in ay ra'iisalwasaarraha cusub iyo madaxweynuhu isku khilaafsanyihiin dib u soo celinta xubnaha Damul Jadiid iyo wasiirrada kale ee aadka ugu dhawaa madaxweynaha.
Waxaa lagamamaarmaan ah in madaxweyne Xasan xoogga saaro, waqtigiisa qaaliga ahna u huro sidii uu isugu soo dhaweyn lahaa beelaha Soomaaliyeed ee colaaddu kala irdhaysay, kana shaqeeyo bogsiinta boogihii ka dhashay dagaalada sokeeye oo u muuqda kuwo soo labakacleeyay intii uu ka arriminayay Villa Soomaaliya, halka uu dayaarad guudkeed iyo shir dibadeed oo aan shaqadiisa ahayn ku luminayo waqtigiisa.
Waxaa hubanti ah in ra'iisalwasaare la bedelaa aanay wax macno ah ku fadhiyin inta madaxweynuhu uga hoggaansamayo dastuurka uu ku dhaqankiisa dhaarta  Kitaaabka gacata u saaray.
Sidaa darteed waxaa isweydiin mudan in ra'iisalwasaare Cabdiweli ku adkaysan doonno u madaxbaannida gudashada xilalkiisa dastuuriga ah iyo in xaalku noqon doonno magacaabista xukuumadda Damul Jadiid waxaa i bartay isha Cali ka lulata!
W.Q. Khaliil Cabdiraxmaan Xasan
Email: [email protected]
---
We welcome the submission of all articles for possible publication on WardheerNews.com. WardheerNews will only consider articles sent exclusively. Please email your article today . Opinions expressed in this article are those of the author and do not necessarily reflect the views of WardheerNews.
WardheerNew's tolerance platform is engaging with diversity of opinion, political ideology and self-expression. Tolerance is a necessary ingredient for creativity and civility.Tolerance fuels tenacity and audacity.
WardheerNews waxay tixgelin gaara siinaysaa maqaaladaha sida gaarka ah loogu soo diro ee aan lagu daabicin goobo kale. Maqaalkani wuxuu ka turjumayaa aragtida Qoraaga loomana fasiran karo tan WardheerNews.
Copyright © 2019 WardheerNews, All rights reserved