Muqdisho,  Madaxweynaha Jamhuuriyadda Federaalka Soomaaliya Mudane Maxamed Cabdullaahi Farmaajo iyo Ra'iisul Wasaaraha Jamhuuriyadda Federaalka Dimuqraadiga ah ee Itoobiya Mudane Abiy Axmed ayaa goor dhaw u ambabaxaya magaalada Nayroobi halkaas oo ay wadahadallo saddex geesood ah kula yeelan doonaan Madaxweynaha Kenya Mudane Uhuru Kenyatta.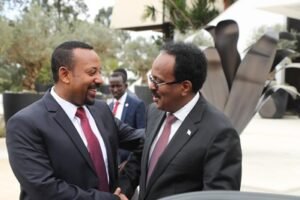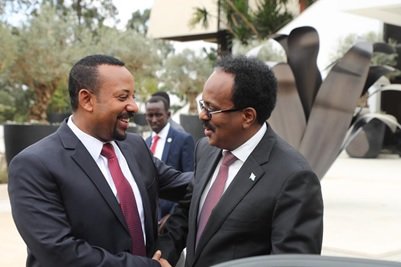 Wadahadalladii u socday Madaxweynaha iyo Ra'iisul Wasaaraha ayaa goor dhaw soo gabagaboobay, waxayna isla garteen in soo celinta iyo xoojinta xiriirka diblomaasiyadeed ee Soomaaliya iyo Kenya ay muhiim u tahay guud ahaan gobolka.
Wadahadalladii ay madaxdu yeesheen gelinkii hore ee maanta ayaa waxaa la isla soo qaaday xoojinta xiriirka labada dowladood iyo dardargelinta isdhexgalka dhaqaale ee gobolka si loo abuuro jawi ganacsi iyo maalgashi oo waxtar u leh shucuubta gobolka.
Madaxweyne Farmaajo iyo Ra'iisul Wasaare Abiy Axmed ayaa sidoo kale isla gartay muhiimadda ay leedahay in dalalka gobolku yeeshaan wadashaqayn xooggan iyo in arrimaha diblomaasiyadeed lagu xalliyo isfaham iyo wadahadal.
Madaxda labada dal ayaa ka wada hadlay sare u qaadidda wadashaqaynta ka dhexaysa Dowladda Federaalka Soomaaliya iyo Maamulka Somaliland si loo xoojiyo midnimada dadka Soomaaliyeed.
Labada dhinac ayaa ugu danbayntii isla meeldhigay iskaashiga dhinaca Amniga ee dalalka gobolka iyo dardargelinta dagaalka ka dhanka ah kooxda Al Shabaab oo u taagan gumaadka shacabka aan waxba galabsan iyo curyaaminta dowladnimada Soomaaliyeed.
DHAMMAAD
Wixii faahfaahin ah, fadlan kala xiriir
Xafiiska Warfaafinta & Xiriirka Warbaahinta,
Madaxtooyada Jamhuuriyadda Federaalka Soomaaliya
E-mail: [email protected]
---
We welcome the submission of all articles for possible publication on WardheerNews.com. WardheerNews will only consider articles sent exclusively. Please email your article today . Opinions expressed in this article are those of the author and do not necessarily reflect the views of WardheerNews.
WardheerNew's tolerance platform is engaging with diversity of opinion, political ideology and self-expression. Tolerance is a necessary ingredient for creativity and civility.Tolerance fuels tenacity and audacity.
WardheerNews waxay tixgelin gaara siinaysaa maqaaladaha sida gaarka ah loogu soo diro ee aan lagu daabicin goobo kale. Maqaalkani wuxuu ka turjumayaa aragtida Qoraaga loomana fasiran karo tan WardheerNews.
Copyright © 2019 WardheerNews, All rights reserved