W/T Cabdirashid Khaliif Xaashi
Jiiftadan waxay jawaab u tahay silsiladda jiiftada "Adduun Qaliban" oo uu tiriyey Abwaan Xuseen Cabdi Xalane oo aan saaxiib nahay.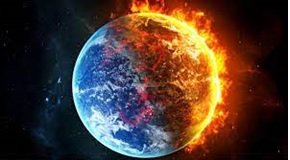 Xalanoow qiyaamaha
Intaan buunka qayladi
Qabuuraha la soo fagin
Qofna aanu harinoo
Aadanaha qaawani
Qorax laysa soo tubin
Qaxar aan yaraynoo
Midi uu mid kale qarin
Qac middii tiraahdana
Qalbiyadu ruxmaayaan
Yaa Qaadir soo diray
Qaflad si anan loo gelin
Jooga qaaba-qoys iyo
Qalqalada agteedaba
Rasuulkuna qir oo yiri
Qof ahaantay imadkay
Qiyaamaha hortiisay
Qiraal keeda ay tahay
Qaybaha kaleetiyo
Calaamadaha u qaaskaa
Qiyaamaha dhawaantiis
Qollateyn ka badab tiro:
Qatli inuu ka-kow yahay
Qowmu luudku laba yahay
Riba layska qaatiyo
Zakadoo la qariyiyo
Beentoo qul-qulaysiyo
Carabtoo qof iyo qolo
Qasriyada ku faan iyo
Qalcaddayda yaa dheer
Taydaa ka qiro weyn
Qasadkoodu badi noqon
Qaybahaasi tage oo
Qodob-qodob u aragnaye
Qoraxdoo la weecshiyo
Qiiqii dukhaaankiyo
Dijaal oo quraa haray!
Qaska aad ka qooftoo
Qoonsatay Xuseenow
Qallibnaanta dunidaan
Odayada u qabar tiri
Qaylo dhaanta gaarsii
Maqaawiirta qoladeen
Xogi kama qarsoonee
Qalbigay adkaysteen
Qaneecay ka qaateen
Xadiis qiimi loo weyn
Suubanuhu laga qoray
Asoo buunku qaylshey
Shaqadii qabyo ahayd
Laan qurac hadday tahay
God-na loo qodaayey
Inaan laga qawaafine
Biyo lagu quweeyo
Qasdi loo hagaajo
Waa waajib qabadoo
Quusi noocba ay tahay
Qiil inaanba loo hayn
Id-qaan hawli qabad tahay
Qodab kale mid aad tiri
Shabaabkaan qalloocane
Baadda qaadanaayee
Quraankana akhrinayoo
Qawlkii Rasuulkana
Uga qiil dayaaya
Dhiigga ay qubaayaan
Qodab iiga soo mari
Iyagaas qudhooduna
Qiyaamaha horriisaba
Qawaariji inay iman
Dunidana qasaayaan
Muslim lagu qataaray
Dhiigooda qubayaan
Quraankaaba sheegoo
Qadar kale ka soo qaad
Qodob kale Xuseenow  
In kastoo qalooc-iyo   
Adduun qaalma rogadkiis   
Qaadaa dhigtoo tiri   
Rashiidoow u qiil bixi 
Qodabada su'aalaha 
Uma qaadan quusee   
Anigaad i qodaysaye   
Iga qabo qiraal kale
Si kastoo qallooc-iyo
Qaladaadku uu koro
Dulmi looba qiil dayo
Al shabaabku qaraxyada
Qur-gooyada ay badiyaan
Soomaali qoyskeed
Qof intuu ka nool yahay
Qaran-jabid ma iman karo
Qasadkennu wuu jiri
Qaalib baynu noqon abid
Qoomiyad dhanoo idil
Ciyaal inay qafaalaan
Qoofal ay surtaanoo
Qabbaaanimo u hayatan
Nolashay ku tahay qadaf
Qodobkaas-na iga qoro
Qaybtayda jiiftada,
Halkaas baan qotomiyee;
Aw-xirsi! ka sii qabo.
Cabdirashid Khaliif Xaashi
---
We welcome the submission of all articles for possible publication on WardheerNews.com. WardheerNews will only consider articles sent exclusively. Please email your article today . Opinions expressed in this article are those of the author and do not necessarily reflect the views of WardheerNews.
WardheerNew's tolerance platform is engaging with diversity of opinion, political ideology and self-expression. Tolerance is a necessary ingredient for creativity and civility.Tolerance fuels tenacity and audacity.
WardheerNews waxay tixgelin gaara siinaysaa maqaaladaha sida gaarka ah loogu soo diro ee aan lagu daabicin goobo kale. Maqaalkani wuxuu ka turjumayaa aragtida Qoraaga loomana fasiran karo tan WardheerNews.
Copyright © 2023 WardheerNews, All rights reserved