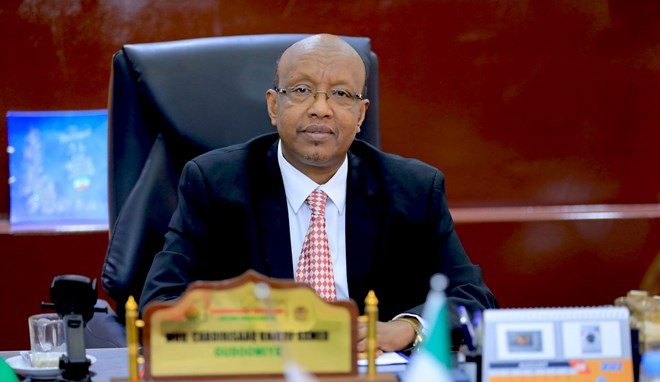 Guddoomiyihii Golaha Wakiillada Somaliland Md. Cabdirissaq Khaliif Axmed ayaa sheegay in uu dhammaanba xilalkii uu ka hayay Somaliland iska casilay.
Guddoomiye Cabdirisaaq Khaliif oo muddooyinkii u dambeeyay ku sugnaa magaalada ay colaaddu ka taagantahay ee Laascaanood ayaa horey u sheegay in uu la mawqifyahay garaadada beeshiisa oo iyagu si cad uga horyimid maamulka Somaliland ee uu xilka ka hayay.
Xeer ilaalinta Somaliland ayaa hore ugu gudbisay Golaha Wakiillada ee Somaliland in la laalo xubinnimadiisa Golaha Wakiillada, waxaana dacwadda xeer ilaalinta oo uu ku saxiixan xeer ilaaliyaha Somaliland Cabdiraxmaan Jaamac Hayaan lagu eedeeyay 'inuu jabiyay dastuurka Somaliland.
Golaha wakiillada Somaliland ayaa la filayaa in ay dhawaan buuxin doonaan jagada uu banneeyay Cabdirisaaq Khaliif iyadoo shakhsiyaadka la hadalhayo in ay beddeli doonaan uu ka mid yahay Yaasiin Xaaji Maxamuud Xiir (Faratoon) oo jagadaas hore ugula tartamay Cabdirisaaq Khaliif.
WardheerNews, Hargeysa
---
We welcome the submission of all articles for possible publication on WardheerNews.com. WardheerNews will only consider articles sent exclusively. Please email your article today . Opinions expressed in this article are those of the author and do not necessarily reflect the views of WardheerNews.
WardheerNew's tolerance platform is engaging with diversity of opinion, political ideology and self-expression. Tolerance is a necessary ingredient for creativity and civility.Tolerance fuels tenacity and audacity.
WardheerNews waxay tixgelin gaara siinaysaa maqaaladaha sida gaarka ah loogu soo diro ee aan lagu daabicin goobo kale. Maqaalkani wuxuu ka turjumayaa aragtida Qoraaga loomana fasiran karo tan WardheerNews.
Copyright © 2023 WardheerNews, All rights reserved