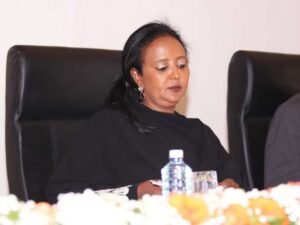 Education CS Amina Mohamed during a press conference at KICD, Nairobi, on January 2, 2019. /DOUGLAS OKIDDY
No Form One student selected to join Arabia Girls Secondary School in Mandera county had reported by Friday.
All 52 students selected to join the girls' school near the Kenya-Somali border did not report over what villagers described as insecurity.
Twenty of the selected girls are residents who studied at nearby primary schools, while the rest are from across the country.
The school has only four TSC teachers.
Teachers said the school is on the verge of closing with no students reporting.
They accused the Ministry of Education of neglecting the region.
Arabia Girls Secondary School suffered an exodus of teachers last year when the TSC moved two teachers to their counties of origin and others were relocated to different schools in Mandera county.
This followed al Shabaab attacks.
Education officer Rashid Happi urged the principal to register students in their villages.
He said the issue could be resolved during the second selection process that began on January 11.
"I advised the school principal, Issa Yarrow, to absorb the students who completed primary school in Arabia as we await the eligible, selected ones on Monday," Happi said.
Students started reporting to school on Monday last week.
Source: The Star