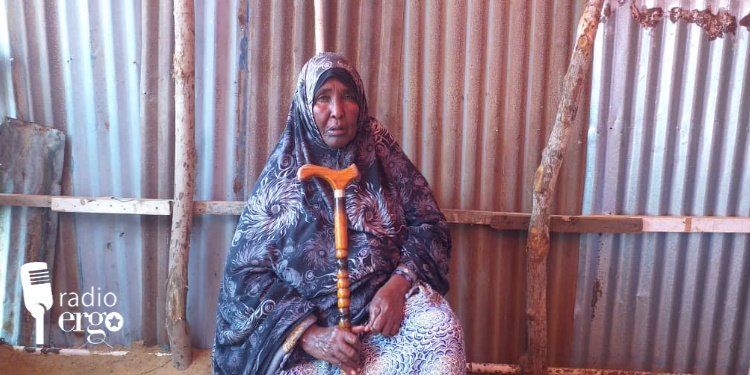 Halimo Bilow Ali, 68, is among 180 people living with various forms of disability in Dhimris IDP camp on the outskirts of the Somali capital Mogadishu, whose daily struggles have multiplied with recent heavy rain.
The flooded roads in Garasbalay district where the camp is located made it impossible for her to go out begging as she normally does.
"I used to ask people for help, and usually got one or two dollars, but the rains have now blocked everywhere. If I go out, I fear I might fall. I have not gone out for five days now and I haven't been able to cook anything for the last 24 hours," said Halimo, who lost her right leg 12 years ago when a shell landed on her house in Bay region.
"I only have this set of clothes that I am wearing now. I have no decent shelter, no food, and no bed. I sleep on these rags," she pointed out.
The nearest water point for Dhimris camp, which is occupied entirely by disabled people, is about one kilometre away. In addition, there are also no toilets.
Halimo moved from their home in Ufurow, in Qansahdhere district, where she had a three- hectare farm after three years of successive failed rains.
"I used to grow beans, maize, wheat, and peanuts and look how I am today! I beg people for food. I never in my life thought of coming to Mogadishu," she said.
Halimo lives in a small shelter made of sticks and clothes tied together, which her neighbours set up for her. Two of her four children are living in Dadaab refugee camp in Kenya, another is living in Yemen as a refugee. She left her fourth married daughter back in Ufurow. None of her children can help her as they are also struggling.
"My daughter has children, and they all need bus fare to reach here. I told her I will send you money when I reach the city and get help. She calls me every day asking me to send her money
and here I am with nothing at all for survival. I was hoping life would be better here in Mogadishu and I would get help. I never thought it would turn out this way," she said.
Most women in Dhimris camp earn a living from irregular laundry jobs that pay around $2-$4.
Khadija Adan Hussein, 64, a mother of five, tried her hand at laundry jobs but could not keep up. Being almost blind in one eye, she is now dependent on the two or three dollars brought home by her son working as a bus tout. She has no shelter of her own and is being hosted by another family who arrived in the camp before them.
"We have no food, we need shelters, toilets, and education for our children. We are short of everything," Khadija said.
"Parents with children have nothing to do but cry when it rains, the cold is too much. We the older ones could put up with the cold but the children can't. When it rains during the day, you can run to a neighbour's house but when it rains during the night, that is the worst, there is nowhere you can go!" she said.
Khadija and her children fled the drought in Goof Gaduud, 30 kilometres from Baidoa, after losing their herd of 58 cows. Before the drought, they had enough food and never needed help to survive. Now, however, when her son returns without any money, she is forced to fill the gap by going to beg in Banadir shops.
With the flooded streets making evening begging impossible, they are forced to depend on whatever their hosts can share.
Dhimris IDP camp is one of four camps outside Mogadishu that is home to disabled people. The camp chairman, Abdullahi Mohamed Ali, who is blind, explains why they group together.
"A person living with a disability can't have the same opportunities as those who have no special needs, that is why we thought that we could be of help to each other," he said. Since March, when they arrived here, they have not received any assistance.
Source: Radio Ergo