By Maakhir United Council (MUC)
Introduction
Secessionist 'Somaliland' has, ever since the Somali State imploded in 1991, been trying to get international recognition as a separate, sovereign country. There is no door it has not knocked, no resource it has not tapped, no lobbying it has not made, and no forum to which it has not appealed.  But it has been consistently failing because it has built its case on fundamentally flawed grounds.  (For the answers to its baseless contentions and background please see, THE ILLUSORY "SOMALILAND":   SETTING THE RECOR D STRAIGHT.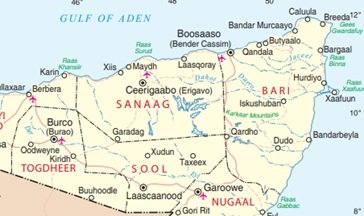 The most fallacious argument of the so-called 'Somaliland' is that the Somali clans in Northern Somalia (the erstwhile British Protectorate of Somaliland) came together in 1991 following the collapse of the Somali State and opted unanimously to secede from Somalia and to stand on their own as a free, sovereign and separate nation. Nothing could be farther from the truth. The incontrovertible fact is that the clans in that part of Somalia have, one and all, opted, on their own free will and without any pressure or preconditions, to unite with the UN Trust Territory of Somalia upon Independence in 1960.
The secessionist Administration in Hargeisa has been attempting to camouflage the realities in Northern Somalia by claiming that the entire territory of the former British Somaliland is effectively under its control and administration, knowing full well that its control is limited only to areas almost entirely inhabited by Isaaq, the clan spearheading the secession.   However, the clans of Awdal, Sanaag and Sool regions  (i.e. the Warsangeli, Gadabursi and Dhulbahante) have continued all along to speak loud and clear to refute that claim and to state clearly and without any equivocation or prevarication that they are against secession and are, therefore, part and parcel of a united Somalia.
That reality – unpalatable to the secessionists – is what impelled the so-called 'Somaliland' to arm itself to the limit of its capacity and adopt a belligerent stance with a view to conquering those areas and subjecting their clans to its will.  The SNM attacked and occupied Awdal region with the help of Mengistu's regime as early as 1991, killing a great number of innocent people.  But Mengistu fell immediately after that. They nevertheless attacked Sool and Sanaag (Warsangeli and Dhulbahante areas) in the East that early but were unable to occupy them.   Since then Northern Somalia enjoyed relative peace and 'Somaliland' has ever since been claiming the credit for it.  It was in fact rewarded generously for it by the international community by way of funding development projects, in order to encourage its Administration to pursue a policy of peaceful coexistence among the clan.  
Aid As A Peace Dividend
The rationale for the flow of aid to 'Somaliland' and Puntland was to promote peace and democracy and direct the attention of those war-torn areas in the South of the country to the benefits of living in peace.  The international community has been closing their eyes to the repeated aggressions of 'Somaliland' against the Warsangeli and Dhulbahante clans because of their anti-secessionist/pro-unity stance.  Foreign aid has actually allowed 'Somaliland' to find resources for raising a well-equipped army (by local standards) and some countries, such as the UK and Ethiopia, have even given them military training, equipment and arms ostensibly for keeping the peace. 
'Somaliland' has a record of continual aggressions, which cannot be denied. 'Somaliland' launched attacks on Sool Region over a period of time and finally managed to occupy Las Anod city – the regional capital – on October 15, 2007. The city has since then been under occupation. Repeated attacks have more recently been made in 2012 on Kalshaale, Meygaagle, Buhoodle and other Dhulbahante areas causing heavy casualties on both sides. In early 2007 six 'Somaliland' ministers tried surreptitiously, under heavy escort, to make an incursion into town of Dhahar, but were chased out by clan militias. In consequence, Somaliland deployed heavy forces on the western border of Sanaag immediately thereafter. Fortunately, the situation was diffused by the intervention of sage Erigavo notables of all clans who did not want their area to become a battleground between warring parties.
The Current Tension
The Somaliland Administration deployed military forces near Yube town, a Warsangeli territory on March 11, 2019. The Warsangeli community and traditional elders has demanded the withdrawal of Somaliland forces out of the area and respect of the peace agreement signed by the Sanaag communities to coexist peacefully and which has allowed the communities to enjoy peace of the past twenty-eight years.  The Somaliland administration has thus far refused to heed the traditional elders request to withdraw their forces. The Somaliland administration is therefore violating the peace agreement signed by Sanaag communities in 1991 and thus contributing to the reactivation of hostilities and armed conflicts among the Sanaag communities. We urge the international community to pressure the Somaliland administration to withdraw its forces immediately and to stop using military forces to destabilize the region.  
 Direct Humanitarian Aid
There is currently a drought throughout Somalia and the regions of Sool & Sanaag are hit especially hard because of the absence of direct aid and assistance. We urge the international aid organisations to pay particular attention to the severe shortages in water, medicines and other essential supplies. Moreover, we advise that aid be supplied directly to these regions and not through Somaliland who used aid as a weapon of oppression for the last thirty years.
The image presented by Somaliland to the world that Sanaag and Sool regions are unsafe for international aid organisations is totally false. Any threat to peace or unrest in these areas can only come from Somaliland. We urge the international community to rethink aid delivery to Sool and Sanaag regions. These regions trust and identify themselves more with Puntland than Somaliland, so it would be more beneficial to these communities if aid was coordinated with Puntland Authorities. The conflict in Somalia is about the limited resources that exist in the country as much as it is about clan allegiance. The Northern areas of Sanaag, Sool, and Cayn have been designated as "disputed areas" by the international community. This resulted in the unfortunate denial of the flow of direct aid to these areas. It was the responsibility of the Federal Government to reject this unfair labelling and to applaud their strong support for unity and refusal of secession. They should have been rewarded for their noble stance instead of being punished, which constitutes an indirect support for Somaliland policies.  
The birth of Maakhir United Council (MUC)
We are happy to inform all Somalis who aspire for peace and unity about the formation of Maakhir United Council, with the purpose of prompting Maakhir and Sanaag community's political aspirations. Our mission is to achieve self-determination, freedom and human security for Maakhir community in Sanaag region of Somalia.
We urge the international community to send clear message to 'Somaliland' authorities to desist from its nefarious activities and military incursions into Sanaag region. For it is a renegade entity that commits series of aggressions against pro-unity clans and occupies their land on the pretext of a blatantly false claim to 'territorial integrity'. Should it refuse to listen, sanctions should apply; otherwise, it will continue to be a negative force subverting the efforts of the national government as well as those of Puntland to mobilize resources to fight Al-Shabaab.
Maakhir United Council (MUC)
Awad Abdirahman Hersi – Chairman
Omar Mohamoud Irbad – Vice Chairman
Mohamed Mohamoud Kitaable – Treasurer

Global meeting 13th April 2019
For further information
contact:   [email protected]g      
[email protected]
---
We welcome the submission of all articles for possible publication on WardheerNews.com. WardheerNews will only consider articles sent exclusively. Please email your article today . Opinions expressed in this article are those of the author and do not necessarily reflect the views of WardheerNews.
WardheerNew's tolerance platform is engaging with diversity of opinion, political ideology and self-expression. Tolerance is a necessary ingredient for creativity and civility.Tolerance fuels tenacity and audacity.
WardheerNews waxay tixgelin gaara siinaysaa maqaaladaha sida gaarka ah loogu soo diro ee aan lagu daabicin goobo kale. Maqaalkani wuxuu ka turjumayaa aragtida Qoraaga loomana fasiran karo tan WardheerNews.
Copyright © 2020 WardheerNews, All rights reserved