Muqdisho, (WDN)- Warar xogogaal ah oo soo gaadhay WardheerNews, ayaa sheegaya in beesha caalamku ay soo gaadhsiisay Dowladda Federaalka Soomaaliya farriin ku aadan in ay faraha kala baxdo qalalaasaha Maamul Goboleedyada xubinta ka ah Dowladda Federaalka Soomaaliya, isla markaana u guntato sidii ay ula shaqeyn laheyd, loona xalin lahaa wixii isafgaranwaa ah ee jira ama soo foodsaara.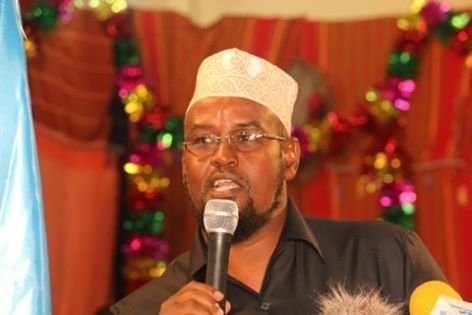 Wararkaasi ayaa waxaa kale oo ay sheegayaan in khadlka teleefanka uu Wasiirka Arrimaha Dibadda ee Biritayn ( Ingiriiska)  Md. Boris Johnson,  kula xidhiidhay Raysal Wasaare Xasan Kheyre, ugana digay Dowladda Federaalka in ay khalkhal iyo burbur geliso ama ku abuurto Maamul Goboleedyada Soomaaliya, balse looga baahan yahay in wada shaqeyn iyo nabadeyn waarta oo ka fog isqabqabsi kula dhaqanto, Islamarkaana si dhexdhexaadnimo ah u xaliso wixii khillaaf ah ee soo dhex gala mas'uuiyiinta maamulladaasi.
Wararkaasi  ayaa waxay intaa ku darayaan in Safiirro matalaya ilaa 10 waddan, ay la kulmeen Md. Kheyre, iyaga oo u gudbiyay farriin u dhiganta ama la mid ah ta Wasiirka Arimaha Dibadda ee Ingiriisku la wadaagay Raysal Wasaare Kheyre.
Ismaandhaafka Dowladda Federaalka iyo Maamul Goboleedyada xubinta ka ah, ayaa ka dhashay khilaafka Dowladdaha Khaiiljka ka taagan, kaasi oo ay Dowladda Federaalku sheegtay in ay dhexdhexaad ka tahay, halka Maamul Goboleedyadu qaarkood sheegeen in danahoodu  ku jirto in ay la saftaan xulafada Sacuudiga iyo Imaaraadka,
Arimahaasi ayaa keenay in loolan siyaasadeed ka dhex dhasho Maamul Goboleedka Galmidug, kaasi oo horseeday isqabqabsi u dhexeeya Madaxweyne Axmed Ducaale Xaaf, iyo M/ xigeen Axmed Xaashi Carrabey iyo Gudoomiyaha Golaha Baarlamaanka oo dhinac ah. Xaaf ayaa ku eedeeyay in Dowladda Federaalku ay ka dambeyso khilaafka hadheeyay Galmudug. Dhinaca kalena iyada oo ay isa soo tarayaan wararka sheegaya in laga wado Madxtooyada Soomaaliya (Villa Soomaaliya) abaabul ka dhan ah oo xukunka lagaga tuurayo Shariix Xasan, M/weynaha maamulka Koonfur Galbeed.
Iyada oo doorkii Dowladda Federaalku ee majaraha hoggaanka Soomaaliya uu fadhiid noqday (leadership role),  ayaa M/weynaha Jubbaland Md. Axmed Maxamed  (Madoobe) ku baaqay shir nabaddeed iyo dhexdhexaadin ah, kaasi oo uu u fidiyay dhammaan Maamul Goboleedyada. Shirkaasi oo ay beesha Caalamku soo dhaweysay, ayaa la sheegay in ay ka cadhaysiisay Dowladda  Federaalka, oo la sheegayo in ay hadda waddo arimo dhan ka ah shirkaas oo lagu burburinayo.
Shirkaasi ayaa lagu wadaa in maalinta Sabtida ah ee bishan Oktoober  7-da uu ka qabsoomo magaalada kismaayo.
Dhamaan ummadda Soomaaliyeed iyo Beesha Caalamka, ayaa indhaha ku haysa shirkaasi, oo lagu wado in ay Maamul Goboleedyadu kaga arinsadaan wada shaqeynta Dowladda Dhexe sida uu dastuurku ka qabo, xalinta  wixii caqabado jira iyo danaha guud ee ka dhaxeeya Maamul Goboleedyada.
WardheerNews
---
We welcome the submission of all articles for possible publication on WardheerNews.com. WardheerNews will only consider articles sent exclusively. Please email your article today . Opinions expressed in this article are those of the author and do not necessarily reflect the views of WardheerNews.
WardheerNew's tolerance platform is engaging with diversity of opinion, political ideology and self-expression. Tolerance is a necessary ingredient for creativity and civility.Tolerance fuels tenacity and audacity.
WardheerNews waxay tixgelin gaara siinaysaa maqaaladaha sida gaarka ah loogu soo diro ee aan lagu daabicin goobo kale. Maqaalkani wuxuu ka turjumayaa aragtida Qoraaga loomana fasiran karo tan WardheerNews.
Copyright © 2018 WardheerNews, All rights reserved