By Liban Ahmad
Whenever Al-shabaab targets Somali civilians in Mogadishu many people selectively pin the blame on the Federal Government. They wonder why Al-Shabaab still has the ability to launch attacks similar to 2009 Shamo Hotel attack in Mogadishu. In 2009 Al-shabaab controlled more than two-thirds of the capital. Territorial control gave the group an advantage to target government areas easily then. When the TFG and Amisom succeeded to liberate Mogadishu in 2011, Al-shabaab began to resort to attacks against civilians. Al-shabaab has adopted a strategy aimed at reversing security improvements caused by its defeat in the capital. In this sense Al-shabaab is an anti-change agent in Somalia.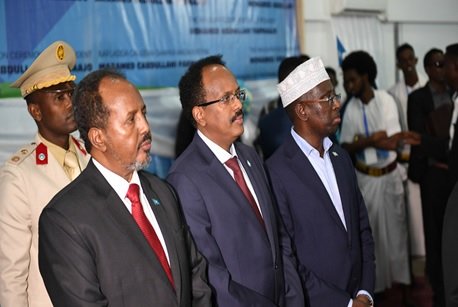 Anti-change agents are diverse groups with opposing agendas. Present or past political leaders at a national or a federal member state level may have an anti-change trait with Al-shabaab in common despite their protestations against terror tactics of the group. The leader who embezzled public money to enrich his family does more harm to stabilisation efforts than Al-shabaab does. Wherever Al-shabaab has a presence, it is exploiting the venality of the Somali political class.
In 2012 when the Federal Government of Somalia replaced the Transitional Federal Government it was not easy to dismiss the hope that the status of the new government would enable the new leadership to raise funds for Somali security forces whose dependency on Amisom has not waned. It is a common knowledge that the government of President Hassan Sheikh Mohamud failed to create an inclusive national army. Contingents known as Somali National Army are clan militias in the government payroll.
At the May 2017 London Somalia Conference participants unveiled a security architecture but the capacity of the Somali Army to defeat Al-shabaab is constrained by absence of political consensus on what an inclusive Somali National Army should be like. Two stumbling-blocks to forming an inclusive Somali Army are corruption and the political power of major clans who benefit from the 4.5 power-sharing mechanism.
Puntland State, for example, has not been able to address the problem of ghost soldiers. In 2014 when the former Puntland President, Dr Abdiweli Ali Gaas, proposed a system to weed out ghost soldiers he had inherited from his predecessor, a senior commander and his troops had mutinied. In Lower Shabelle Somali National Army contingents are former clan militias controlling the region.
Anti-change agents nip any reform initiatives in the bud. They lack the credibility to come up with genuine proposals to reform Somali security forces and oppose and reforms aimed at professionalising the Somali National Army.
Anti-change agents demand absolute loyalty from clansmen and clanswomen. This type of loyalty bars followers from asking questions about how politicians and their family members acquired wealth or why politicians misappropriate money intended for salaries or construction of a health centre. They condition their followers to accept injustice against citizens particularly minorities. The values of a changemaker run counter to the values of an anti-change agent. One reason why Somali changemakers are making any discernible progress is that they are playing in a field whose rules have been devised by anti-change agents.
Continued political ineptitude of the Somali political class means mounting opportunity cost for the Somali people. Funds that could have been spent on reconstruction, job creation and institution-building now go to Amisom. By the time Amisom withdraws its peacekeepers donor fatigue might set in. Since May 2013 Somalia's international partners managed to raise more than US$ 3.5 billion for Amisom.
Against this backdrop the plan to hold one person, one vote in Somalia in 2021 is a pipe-dream to make an epic political failure pass for an accomplishment. Somalia can have change agents when Somalis stop relying on anti-change agents who thrive on clan rivalry and unaccountability to retain the unenviable privilege to embezzle public funds. Twenty eight years after the overthrow of the military dictatorship the Somali quagmire has mutated into multifaceted crises.
In February 2019 the Federal Government of Somalia celebrated its second anniversary. It has two years before its mandate ends. Despite facing relentless opposition by anti-change agents led by a former President of the FGS under a nativist platform based on the claim that Mogadishu is a clan fiefdom, President Farmaajo-Prime Minister Kheire government has proved detractors wrong several times . Before 2021 the FGS leadership can inject into Somali politics an ethos that puts political accountability at the centre of Somali political life. Political leaders who owe their status to the might of their respective social groups retain values of former warlords— impunity, marginalising minorities, rule of the clan clique above the rule of law.
The financial reforms, facilitating the release of Somali prisoners in foreign jails, lobbying for debt relief, reducing the number of ghost soldiers in the Somali Army are commendable achievement that other post-2000 Somali governments were not able to chalk up. However the Federal Government of Somalia has national partners who are anti-change agents. One bold step the government can take is to start a national conversation on the plight of Somali minorities whom 4.5 power-sharing mechanism places them in second class citizenship category. It is a morally urgent initiative that will realign Somali politics for better. It takes a changemaker to effect that change.
Liban Ahmad
Email:[email protected]
---
We welcome the submission of all articles for possible publication on WardheerNews.com. WardheerNews will only consider articles sent exclusively. Please email your article today . Opinions expressed in this article are those of the author and do not necessarily reflect the views of WardheerNews.
WardheerNew's tolerance platform is engaging with diversity of opinion, political ideology and self-expression. Tolerance is a necessary ingredient for creativity and civility.Tolerance fuels tenacity and audacity.
WardheerNews waxay tixgelin gaara siinaysaa maqaaladaha sida gaarka ah loogu soo diro ee aan lagu daabicin goobo kale. Maqaalkani wuxuu ka turjumayaa aragtida Qoraaga loomana fasiran karo tan WardheerNews.
Copyright © 2019 WardheerNews, All rights reserved