Tog-Wajaale (WDN)- A fire has engulfed the main market in the bustling commercial city of Tog-Wajale, situated on the border between Ethiopia and Somaliland. The fire reportedly began around 7:30 pm in the evening and, still continues to rage, having not yet been brought under control.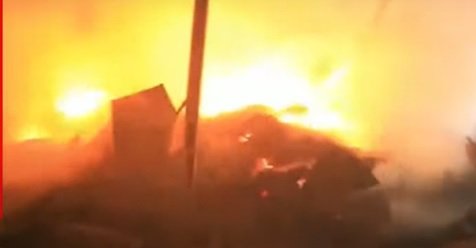 This destructive blaze has consumed a significant portion of the market where a wide range of goods, including clothing, utensils, electronics, and other merchandizes are sold.
WardheerNews, in contact with individuals from Wajale town via phone, has reported that fortunately, no casualties have been recorded thus far. However, the fire has inflicted substantial damage to properties and merchandise.
Unconfirmed accounts suggest that the fire source was from a pile of burning garbage in the dry river that runs through the city, acting as a physical boundary between Somalia and Ethiopia.
In response to this disaster, emergency support teams from the cities of Hargeisa and Jigjiga have rushed to the scene in an attempt to extinguish the fire, which continues to spread despite their efforts.
It is unfortunate to note a concerning trend of large commercial markets in Somalia falling victim to devastating fires, resulting in significant economic losses. Just earlier this year, on April 1st, the Waaheen Market in Hargeisa was consumed by flames that destroyed property worth up to $2 billion .
Furthermore, on July 8, 2023, the "Taiwan" market in Jigjiga, the administrative center of the Ethiopian Somali regional government, suffered a similar fate, incurring substantial losses. Similarly, commercial markets in the cities of Bosaso, Kismayo, Mogadishu and Harar have also faced destructive fires in recent times.
The escalating frequency of such incidents in Somalia and the Somali region of Ethiopia can be attributed to inadequate urban planning, including poorly developed infrastructure such as roads a lack of proper fire suppression equipment, fire engines, trucks and trained workforce.
Unfortunately, it appears that the affected cities have yet to formulate comprehensive plans to address these pressing issues, leaving their valuable markets and businesses vulnerable to such recurring tragic events of massive fires.
WardheerNews,
Hargeisa