W.Q. Dr. Maxamed Daahir Afrax
Markii dhawaan la iiga nixiyey geerida Xaamud Jaamc Xuseen (1947 – 2019) waxan garwaaqsaday in uu wali igu dambeeyo dareen ka damqada wararka naxdinta leh, ka dib sannadihii faraha badnaa ee ay dhegteyda ku soo shubmayeen wararka qalbiga damqa ee ka imanaya Soomaaliyey ama ku saabsan geerida haldoorkii aqoonta ee aan wehelka iigu ahaa waran-la-yuururka quus-diidka ah ee sama-doonka qalinka.
Horaa loo yiri 'geeriyi aqoon bay kugu dishaa'. Damqashada aan ka tiiraanyooday geerida Xaamud Jaamac waxay ka dab-qaadanaysey aqoontii dheerayd ee aan u lahaa marxuumka iilka u hoydey; aqoontii aan u lahaa duntiisa, dadnimadiisa, durugsanaanta aqoontiisa, dad-jacaylkiisa bulsheynimo, dadaalkiisa xuma-diidnimo iyo dowrkii libaax ee qalinkiisa dahabiga ah uu ka soo qaatay dararinta maskaxda aadmiga iyo doojinta aqoonta.
Aqoontaas durugsan ee aan u lahaa iyo maqaamka sare ee an ku qiimaynayo waxaa ila wadaaga oo sidayda iyo si ka sii qota dheer u yiqiin boqollaal, amaba kumanaan waxgarad iyo aqoon-dhaari ah oo ku kala nool daafaha dunida, siiba dunida Carabta iyo inta akhrisata dhiganayaasha Af-carabiga ku qoran; siiba aqoonyahanka iyo akhris-jecesha reer Yemen, kuwaas oo markay geeridiisa maqleen tiiraanyadii qalinka kula boodey baroor-diiq buux-dhaafisay baraha bulshada iyo baahiyeyaasha warka.
Sagootiska Xaamud iyo diiwaangalinta taariikhdiisa waxaa qalin ilmaynaya u qaatay qorayaasha caanka ah ee ay ka midka yihiin Dr. Cumar Cabdulcasiis (oo durba bilaabay inuu buug dhan ka qoro), Dr. Caydurus Nasar, Maxamed Cabdulwahaab Ashaybani, Salim Al-Faraas, Nasar Mubaarak Ba-Adib, Xasan Cabdulwarith, Jamal Xamdan, iyo qaar kaloo badan. Waxaa kaloo dhambaallo tacsi iyo ammaan ah ku sagootiyey madaxweynaha Yemen, Cabdu-rabuh Mansur Hadi, Ra'iisulwasaaraha Yemen iyo madaxweynihii hore, Cali Nasir Maxamed.
Anigu, in kastoo aan Xaamud isku baranay saqaafadda Carabiga ah (العرببة الثقافة) iyo ardaayada ururrada qorayaasha iyo suxufiyiinta Yemen oo aan labadayaduba muddo dheer ka tirsanayn, haddana sababta koowaad ee an eraygaygan sagootiska iyo xusuusta ah Af-soomaaliga ugu qorayo waxa ay tahay in aqoonyahankaas xusuusta iyo xurmaynta muddan aan baro qoladii uu ka dhashay ahna qolada ugu aqoonta yar: Soomaali, siiba Soomaalida waxgaradka ah ee qiimaysa akhriska iyo aqoonta.
Nasiibdarrooyinka Soomaali ahaan inna haysta, kana midka ah caqabadaha noo diiddan inaan hore u socono waxaa ka mid ah in aanaan aqoonsan haldoorkeena, kii aan naqaanna aynaan qiimayn. Qaar ka mid ah uun baa markii ay geeriyoodaan oo keliya la xusuustaa oo la ammaanaa, ama la siiyaa qaddarin laga gaabiyey xilligii ay u baahnaayeen.
Xaamud Jaamac Xitaa geeridiisii ka dib Soomaali ahaan nagama helin xusuus iyo xaq-soor, balse nasiib-wanaag wuxuu ka helay ummado kale oo aqoonta qiimeeya asagana yiqiin waxa uu gudo iyo waxa uu galo. Halkan akhristaha Soomaaliga ahi wuxuu la soo boodi karaa su'aasha ah, aan xusuusannee horta kumuu ahaa Xaamud Jaamac Xuseen?
Qoraalkan kooban qaybta ka harsan waxan isku dayayaa inuu noqdo mid ka jawaab su'aashaas la garaysan karo.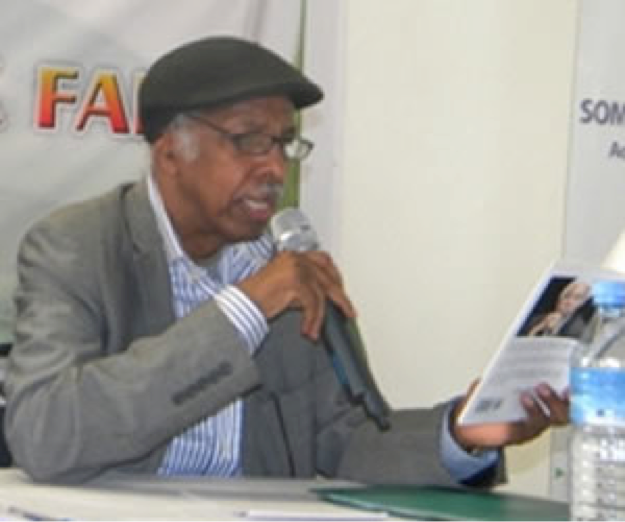 Xaamud Jaamac Xuseen wuxuu ahaa aqoonyahan Soomaali ah, aabbe iyo hooyo Soomaaliyeed dhaleen, ku dhashay, ku barbaaray, wax ku bartay, kuna geeriyoodey magaalada Cadan, dalka Yemen.
Wuxuu ahaa da'dii ku xigtey Siciid Jaamac Xuseen, oo dadka qaar u yaqaaniin Siciid Gucmudi, aqoonyahanka caanka ah, qoraaga aan hubo inay si wanaagsan u yaqaaniin guud ahaan Soomaalida akhriska jecel gaar ahaanna waxgaradka ku taxan degelka WardheerNews oo ah madal-aqooneed oo uu wax badan ku faafiyey.
Intiina Siciid taqaan, Xaamudse an aqoon tilmaanta Xaamud waxaa loogu soo koobi karaa waa uun Siciid oo ka saan-gaaban ama ka socod yar! Micnaha halka Siciid ka yahay dal-mareen isaga kala gooshay qaarado kala fog, cagta soo mariyey dalal an tiradooda la koobi karin (eeg buuggiisa caanka ah Safar aan Jaho lahayn), ku kala noolaaday waddammo kala duwan, ka soo bilow Yemen oo uu ku dhashay, kuna bilaabay waxbarasho iyo barbaarid; ku Soomaaliya oo uu uga soo guuray; ku sii xiji Itoobiya, Yemen mar kale, Ingiriiska.
Dhanka kale Xaamud wuxuu ku nagaaday Cadantii uu ku dhashay, waliba xaafad lagu magacaabo Kareyter ama Cadan-weyn oo ah xuddunta magaalada. Toddobaatan iyo labadii sano ee uu ifka joogey meel aan Cadan ahayn Xaamud cagta ma saarin, marka laga reebo booqashooyin uu ku gaarey kagana soo noqday dalalal aan badnayn. Halka Siciid soo qabtay xilal fara badan: sarkaal sare oo dowladeed, guddoomiye gobol, hoggaamiye urur siyaasi ah, iwm, xaamud iskuma lurin raadin jagooyin rasmi ah.
Wuxuu ka door-biday in uu waligi ahaado aqoonyahan madax bannaan, asagu is dira, bad-weynta aqoonta iskiis u dhex mushaaxa, ummaddana si deeqsinimo ah uga haqabtira. Halka Siciid ka yahay aabbe qoys aad u ballaaran oo imminka durriyaddiisii iyo durriyaddoodii labaataneeye sii caga-cagaynayaan, Xaamud wuxuu door biday in uu dhanka guurkana ka madax bannaanaado. Marka ay saaxiibbadiis guur la soo hadal-qaadaan wuxuu ku kaftami jirey, 'aniga waxan is guursannay buuggaag iyo akhris iguna filan.'
Intaas marka laga reebo inta kale Xaamud wuxuu la wadaagey walaalkiis Saciid. Qofkii labadii yiqiin shaki kama gali jirin inay yihiin laba da'ood oo isku xigey. Xaamud wuxuu lahaa dhammaan sifooyinka Siciid lagu yaqaan, sifooyinka ay ka midka yihiin dunta dahabiga ah ee dabci-wanaagga, dad-la-dhaqanka uu cid walba ku soo jiito, cadow-yarida, codkarnimada, kaftanka, akhris iyo aqoon-baafin an dhammaad aqoon, sheekada macaan, qoraallada ka sii macaan, baaxad-weynida aqoonta uu u leeyahay baxarrada culuunta kala duwan, iwm.
Xaamud intaas waxaa u sii dheeraa wuxuu ahaa shakhsi aad uga fog ka-daba-orodka dhaldhalaalka beenta ah, ka fogaanta munaafaqnimada, yasidda is-tustuska iyo isla weynida, dufan-jecelnimada iyo hawo-raaca intaba. Wuxuu lahaa hab-dhaqanka falaasifadii hore, waana astaanta lagu garto aqoonyahanka dhabta ah.
Dhinac kale, Xaamud Jaamac (AUN) ka sokow dadaalka aqoon-faafinta, siiba tarjumadda oo uu khabiir ku ahaa, qoraallo badan iyo buuggaag kala duwanna ka tarjumay Af ingiriisi oo u rogay carabiga oo uu mufti ku ahaa, wuxuu ahaa abaabule iyo suxufi aad u firfircoon. Wuxuu wax ka asaasay muddo bandanna hawlohooda iyo sixitaanka qoraalladooda ku foognaa majallada Al-xikmah ee ururka Qorayaasha iyo hal-abuurka Yemen(اليمنيين والكتاب الادباء اتحاد ); jariidadihii Al-Tajamuc, Al-thowri iyo kuwo kale.
Wuxuu wax ka aasaasay Xisbigii Al-tajamuc ee uu hoggaamiyaha ka ahaa Allaha u raxmee, Cumar Al-Jawi oo sannado fara badan ahaa hoggaamiyaha Ururka Qorayaasha Yemen. Cumar Al-jaawi iyo dhammaan qorayaasha waaweyn ee Yemen ayuu Xaamud Jaamac wuxuu la ahaa saaxiib an laga ag waayin oo ay aad u jecelyihiin kaftankiisa iyo gole-jooggiisa. Waxay ku kaftami jireen 'Soomaaligaas madow ayaa wax badan macallin noogu ah'. Oraahda ah 'Yaa Soomaali' ayay mar walba kaftan ahaan ugu xadantayn jireen.
Haddaba, innagoo ah 'Soomaalida' lagu riixayey ama lagu suntayey miyaaney ceeb innagu ahayn in aynaan warba u hayn, in aynaan ka qayb-qaadan xurmayntiisa iyo xusuus-ka-qorkiisa!
Shaki kuma jiro Xaamud Jaamac Xuseen in uu ka mid ahaa haldoorkii ummaddaan ka dhasay, ummadaha kalena ka dhex arkeen in uu ka dhashay ummad haldoor leh. Sidaa awgeed wuxuu naga mudanyahay in aynu xusuusanno, ku faanno, kuna dayano.
Allow kuu naxiiro!
Dr. Maxamed Daahir Afrax
Email: [email protected]
---
We welcome the submission of all articles for possible publication on WardheerNews.com. WardheerNews will only consider articles sent exclusively. Please email your article today . Opinions expressed in this article are those of the author and do not necessarily reflect the views of WardheerNews.
WardheerNew's tolerance platform is engaging with diversity of opinion, political ideology and self-expression. Tolerance is a necessary ingredient for creativity and civility.Tolerance fuels tenacity and audacity.
WardheerNews waxay tixgelin gaara siinaysaa maqaaladaha sida gaarka ah loogu soo diro ee aan lagu daabicin goobo kale. Maqaalkani wuxuu ka turjumayaa aragtida Qoraaga loomana fasiran karo tan WardheerNews.
Copyright © 2019 WardheerNews, All rights reserved