By Osman Hassan
A joint mission by IGAD, the sub-regional organisation for the Horn of Africa countries, and UNSOM, the UN Assistance Mission in Somalia, have visited both Garawe and Hargeisa to seek acceptance of the peace proposals earlier called for by aid-donor countries and Mr. Michael Keating, the Special Representative of the UN Secretary-General for Somalia who heads UNSOM. Following their mission, the communiqué they issued on first August suggests that the delegation have succeeded in their mission (more of this later). What the communiqué leaves out is as important as what it says. And for that we have to thank Faisal Ali Waraabe, the UCID leader, ever ready to pose as the voice of the secessionist enclave. In his briefed to the media he said that the meetings touched on their justification for what they say precipitated their capture of Tukaraq but otherwise dwelled on the peace plan presented by the Mission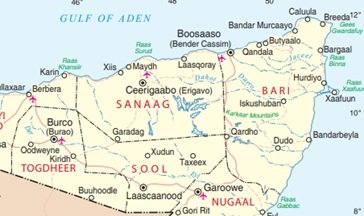 Beginning with the justification, which the main focus of my intervention, Faisal said their occupation of Tukaraq was in response to an unacceptable provocation from Somalia when a "man named Jamal" illegally entered [their] Sanaag region". This is an outrageous utterance when one looks at it from two different angels: First, on the legal question of who should not enter Sanaag: this is the ultimate double talk (Iska hadlow Ina Igare) from a renegade enclave masquerading as an independent country, but which for all its theatrical pretensions is part and parcel of Somalia. What legitimacy has a renegade entity, itself an outlaw, to challenge a citizen of Somalia – in this case the Minister of Planning and International Cooperation of the internationally recognized federal government of Somalia –to enter any part of his country and worse to go to war to prove their point in which hundreds of people died and all for nothing as they are now forced to withdraw from Tukaraq according to the peace plan they accepted.
Secondly, it is also ludicrous when his remarks (which are shared by the authority and the wider public in the enclave) are seen in the Somali cultural clan context which no doubt many Somalis will do: here is a man with all due respect who hails from the Ciidagale sub-clan of Isaaq, and an immigrant from Awaare in Ethiopia at that, and yet has the audacity to deny Jamal Mohamed Hassan, a royal-blooded man from the Warsangali clan, to exercise his God-given right to go to his region of origin for whatever reason whenever he wants. One recalls Ismail Mirreh's poem: "Ragow kibber ka waa lagu kufaa kaa ha la ogaado" (O men!, beware the perils of arrogance)
It is as if the indigenous people in the SSC regions are guests in their own territories by grace of the occupying one-clan secessionist enclave, and can be denied their inalienable birthright to return to their regions whenever the occupying clan willy-nilly sees them as agitators challenging their legitimacy in the SSC regions as Jamal's return is perceived. That is what the colonialists used to do to banish political activists and what the Israelis now routinely do to the Palestinians.
If there is a true provocateur form any side, it is the one-clan secessionist enclave which, having already occupied most parts of Sool and oppressed its people, added more injuries and insults by invading Tukaraq, the last free area of the region. This was an action chosen at a time when the president of Somalia, Farmaajo, was visiting close to the Tukaraq area. Their obvious intention was to inflict maximum humiliation on him and his government and expose his impotence for all to see to do anything about their provocation in the territories they occupy.
Faisal's perception of Jamal as an alien in his own region has a far more deeper sinister connotations eloquently expressed prior to the Kalshaale fighting in 2010 by Haji Abdi Waraabe (the clan's wise man) in his now famous maxim that the SSC lands are immovable but its people disposable, i.e. can be ethnic-cleansed (Dhulku ma guuro ee dadkaa guura). His threat did the rounds in the enclave at the time and still rings in many ears in the SSC regions. Indeed, much land in Sool and Sanaag have already been forcefully acquired through ethnic cleaning since the collapse of the Somali State in 1991 as recently attested by Suleiman Mohamoud Aden (Suleiman Gaal), the Speaker of their "Senate" House. Unless stopped, the SSC people will not only lose their freedom but also their land – just like the Palestinians.
Osman Hassan
Email: Osman Hassan2 @gmail.com
————–
Osman Hassan is a seasoned journalist and a former UN staff member. Mr Hassan is also a regular contributor to WardheerNews.
Related articles:
–Fllacious claims to bygone artificial colonial borders By Osman Hassan
–The SSC Liberation is in full swing By Osman Hassan
–Crisis group briefing no 141: A welcome but tardy threadbare warning By Mohamed Abdullahi
---
We welcome the submission of all articles for possible publication on WardheerNews.com. WardheerNews will only consider articles sent exclusively. Please email your article today . Opinions expressed in this article are those of the author and do not necessarily reflect the views of WardheerNews.
WardheerNew's tolerance platform is engaging with diversity of opinion, political ideology and self-expression. Tolerance is a necessary ingredient for creativity and civility.Tolerance fuels tenacity and audacity.
WardheerNews waxay tixgelin gaara siinaysaa maqaaladaha sida gaarka ah loogu soo diro ee aan lagu daabicin goobo kale. Maqaalkani wuxuu ka turjumayaa aragtida Qoraaga loomana fasiran karo tan WardheerNews.
Copyright © 2019 WardheerNews, All rights reserved