By Sharon Wanga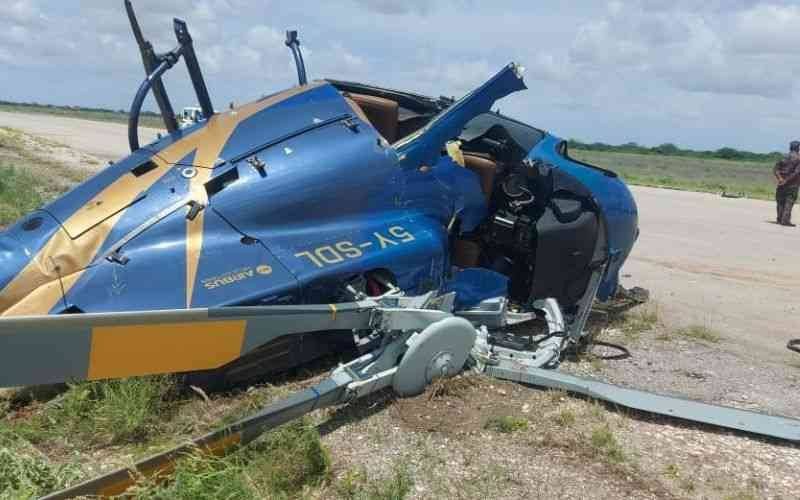 A teacher who was distributing the Kenya Certificate of Secondary Education (KCSE) papers died on Tuesday, November 21, after he was struck by a helicopter blade in Ijara, Garissa County.
Garissa County Commissioner Solomon Chesut confirmed the incident.
"It was an unfortunate accident to some extent but also pure ignorance because we don't know what he (the teacher) was doing there," he said.
According to Chesut, the teacher was standing by the propeller of the helicopter when a tail rottery stuck him.
According to a police report, Ahmed Noor Ismael, a deputy head teacher at Masalani Primary School had just finished opening the examination storage container at the Deputy County Commissioner's office and was heading back to the chopper.
"The said aircraft had come to collect some examination materials from the Ijara sub-county KNEC container for onward transmission to Garissa KNEC headquarters. The deceased passed the tail rotary area marked 'danger' and he was hit in the head and right hand which was holding the phone. The head was blown up leaving a gaping wound and the brain matter was strewn all over the scene and the right hand was shattered," the report stated.
His body was then moved to the Ijara sub-county hospital for postmortem and preservation as the DCI followed up on the matter.
The incident comes after two helicopter accidents in the neighbouring Wajir County took place yesterday.
A helicopter carrying three people including Arbajahan MCA Abey Jimaale crashed at the Wajir runway as it was taking off.
The three were rushed to the Wajir County Referral Hospital with head injuries where they were treated and referred to Nairobi.
Later in the evening, a plane belonging to Kenya Defence Forces crashed when taking off. The chopper was supplying food items to flood-affected victims in Buna town, Wajir.
Due to the heavy rains in the Northeastern region roads have been rendered impassable, and the government has been using helicopters to ferry exams and other forms of aid.
Source: The Standard