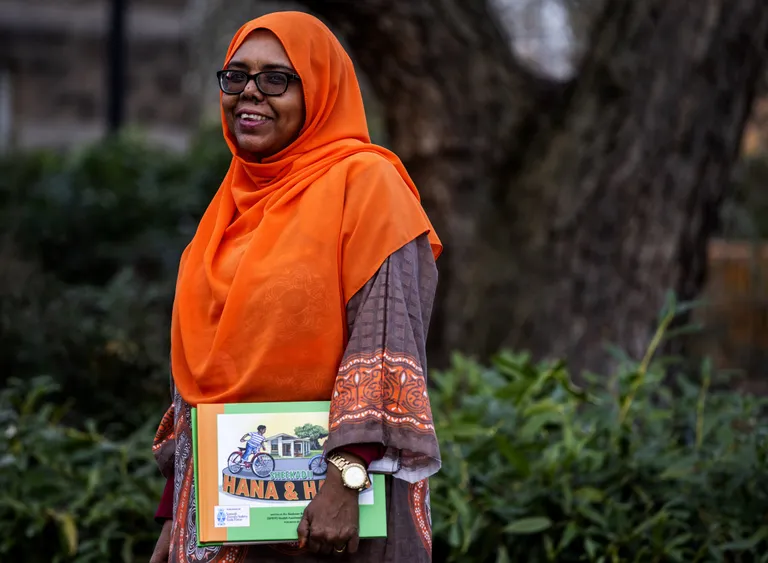 By Alexandra Yoon-Hendricks
A story about a monkey outsmarting a deceitful crocodile sounds like a typical children's book readily available on library shelves.
But traditional Somali fables like "Daanyeerkii Caqliga Badnaa" are hard to find in the United States — particularly bilingual versions in both Somali and English.
Several Somali families in Seattle have come together to change that.
The Somali Family Safety Task Force has published five new original bilingual children's storybooks, written collaboratively by a group of local residents. The project was funded by a grant from King County's Best Starts for Kids initiative as well as private donations.
The Seattle region is home to the third-largest Somali community among metropolitan areas, according to a 2014 U.S. Census Bureau report. At Seattle Public Schools, Somali is the third most commonly spoken language among students after English and Spanish.
In total, about 1,120 students say Somali is the first language they learned, and about 970 say Somali is the language they speak at home, according to district spokesperson Tim Robinson. 
The nonprofit organization has printed 1,000 copies of each children's storybook to be distributed to libraries, schools and members of the public in Seattle and beyond. If a title starts to sell out, the Somali Family Safety Task Force plans to print additional copies, staff said.
Organizers and parents say the books will help children feel closer to their heritage as they build their Somali language skills. Depicting Somali cultural values like self-reliance, determination and trust, the books also will show Somali American children "a story of themselves," said executive director Farhiya Mohamed.
The new titles soon will be available at Seattle Public Schools and libraries. To purchase any of the new books, priced at $20 each, email [email protected]. Each order includes an audiobook version.
Over plates of bur and cups of hot tea, Somali families from around the Seattle area met up at NewHolly Gathering Hall last Friday to celebrate the launch of the new books.
"We learn … from the past," Hamdi Abdulle, executive director of African Community Housing and Development, told the crowd.
"If you don't read, you don't know the juicy stories, the knowledge, the things that you need to nurture your life, your own life first, and then pass on to your children." 
It's not the first time the community organization has produced children's books to serve Somali families. Starting in 2018, the group created three board books for preschoolers to learn letters, numbers and the names for animals in Somali, in collaboration with local mothers and children. It was borne out of a desire to preserve the Somali language among children born and raised in the Seattle region.
"Everybody was buying, it was very popular, inside of Seattle, outside of Seattle," Mohamed said.
Demand was so high that community members immediately knew they wanted to create additional books, particularly bilingual stories for older children, Mohamed said. 
Fadumo Mohamud bought two new children's storybooks for her 20-month-old daughter during the celebration event. While Mohamud has purchased other bilingual books online in the past for her daughter, "How long can you read the same books over and over?" she said.
"She's going to have to learn Somali, so I have to do everything I can to start promoting that really young," Mohamud said.
The story idea for each book came, in part, from conversations among women who regularly meet at NewHolly Gathering Hall to weave baskets, sip tea and share memories of their past lives in Somalia, senior coordinator Fartun Omar said.
While some of the books are traditional Somali folk tales with moral lessons, others are based on the real lives of Somali women living in Seattle, building an intergenerational connection between elders born in Somalia and young children born in the United States, Omar said.
One of the tales, about a young girl who longs for a doll but whose family cannot afford it, was inspired by one resident's own experience. The young girl's mother ends up making a doll out of corn husks and dyed rags, delighting the daughter.
"It tells [children] the world is not a simple place," Omar said, referring to the story's moral. "Even if things are going smoothly, in about some time, things will go south so they have to use their own imagination and motivate themselves to create a path for their future."
Another book tells the story of how Seattle-based artist Hawo Ali discovered her love of painting. Ali used to take her daughter to art classes, but when she lost interest, Ali decided to take her place.
Despite Ali's friends initially telling her not to waste her time on art class, Ali kept at it. Her art now hangs in displays around the city, such as Seattle Children's hospital. 
Ali's personal motto serves as the title of the book based on her journey to become an artist: "dadaalaa wuu gaaraa," meaning "she who strives, succeeds!"
Lukman Abow remembers wandering the shelves at the Broadview library branch struggling to find children's books written in Somali while other kids could easily check out books in other languages like Spanish and Mandarin.
With the publication of these new books, Abow said Somali children will be able to learn their family's language and cultural values, to understand their grandparents' jokes and to enjoy their aunts' tales.
"Let's not underestimate the power of these books," Abow said during the celebration event. "They're not just a bunch of pictures and words on a page, they're a portal to a world of wonder, a treasure trove of knowledge." 
Source: The Seattle Time