By Ahmed Ibrahim, Ph.D
Somalia is on a dangerous precipice. The government is overwhelmed by the growing number of Al-Shabaab attacks. Nevertheless, with over five months after being re-elected, President Hassan Sheikh has facilitated the emergence of failed security and a government based on the structure of patronage and the absence of accountable administration, nepotism, clannism, and the marginalization of stakeholders. Regrettably, cronyism and corruption in Somalia are no longer considered taboo; they have been ingrained in the culture as an accepted norm.
Despite lofty promises of "Somalia at peace with itself and the world," little progress has been made on security issues. The conflict with al-Shabaab is raging again. The strategy to use the Ma'awisley militia as the main force against al-Shabab, undermines the Somali security forces.
On 29 October 2022, al Shabaab carried out the second worst terrorist attack in Somalia – two truck bombs that killed over 200 people and injured nearly 300 in Mogadishu. The twin bombings targeted the Ministry of Education. The terrorist attacks are a sobering reminder of the threat Somalia faces from al-Shabaab. As our hearts and prayers go out to those who lost loved ones, the attacks highlight the failure of the current and former government's war on al-Shabaab.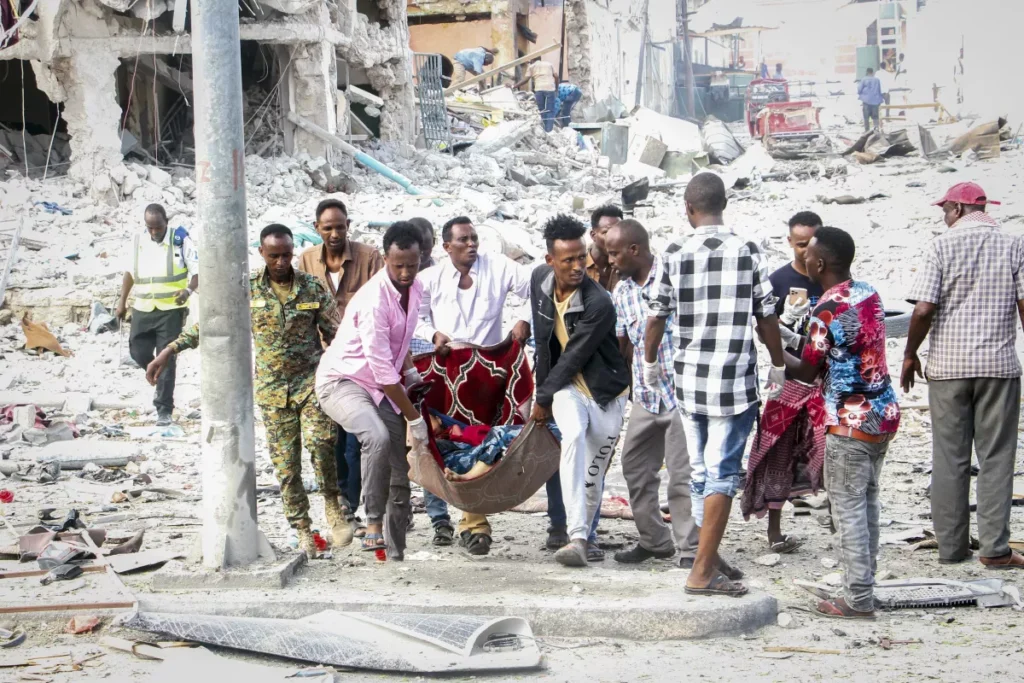 Despite countless warnings that al-Shabaab could wage attacks in Mogadishu, the government failed to plan a coordinated security strategy to protect the capital. Moreover, before rescuers removed bodies from the scene and families buried their loved ones, President Hassan Sheikh left the country for the 15th time in five months, heading to Algeria to attend the Arab League summit.
Furthermore, the appointment of Mahad M. Salad as the Director-General of the National Intelligence and Security Agency (NISA) who has no background in security is a drawback to the Somali security. His appointment is nothing more than to wage a proxy war against Ethiopia in support of Egypt. Somalia is now in the midst of a regional proxy war.
Throughout the past five months, bad governance has seriously thwarted efforts to stabilize Somalia. Millions of dollars allocated for humanitarian and security assistance were misused or wasted on lavish presidential travels and flawed efforts to arm clan militias. The government is trying to organize clan militias in Hirshabelle and Galmudug to rise against al-Shabaab. Although the Somali security forces have been able to hold ground and push back al-Shabaab offensives on almost all fronts, which has become a source of pride for the Somali people, the government is promoting the arming of ineffective irregular clan militias.
The rebellion "Kacdoon" is led by Ma'awisley militias made up of clan militias, bandits (Mooryaan), and farmers turned fighters. In the wake of devastating al-Shabaab attacks, Hassan Sheikh is looking to use militias to distract from his government's failure to formulate a meaningful security strategy to build professional Somali forces to combat al-Shabaab. The mobilization of non-state clan militias encourages clan land grabs and a fight over resources which could reignite the old wounds of Somalia's clan war. Moreover, the mobilization of militias is not sustainable, will not offer much relief, and will not fix the issue with al Shabab. It is indeed an illusion and will only create new problems. Thus, the government's arming of clan militias is a losing strategy:
The militias often lack the training and necessary equipment to confront al-Shabaab without the assistance of federal and state security forces.
The government did not set up command and controls to coordinate operations with irregular militias.
The government does not have a plan to pay and re-supply irregular militias, likely resulting in some militias leaving the battlefields and potentially joining al-Shabaab.
The proliferation of armed clan militias risks further fracturing of Hirshabelle and Galmudug.
Establishing armed militias could counterbalance Hirshabelle and Galmudug governments or even come to ally with al-Shabaab.
Reliance on clan militias is risky. According to reports, some of the clan leaders in Hirshabelle and Galmudug have some ties to al-Shabaab senior leadership and have refused orders or turned against their state sponsors.
My core argument is that the Somali government and the international community partners should focus their resources on developing the capabilities that help improve the counterterrorism and counterinsurgency capacity of the Somali security forces. The former government of President Mohamed Abdullahi Farmaajo, with its many shortfalls, made significant investments and changes to Somali National Army (SNA), Somali Police Force (SPF), and NISA.
Since 2017, the Farmaajo-led government has spent nearly $1.4 billion in security sector assistance to develop a professional, independent, and self-sufficient force capable of combating internal and external threats. However, Hassan Sheikh is undermining SNA, SPF, and NISA, dramatically reducing, and diverting their resources to arming irregular militias. Clan militias often lack professionalism and can commit violence against civilian populations while allowing the government plausible deniability and immunity from sanctions for human rights violations.
Sixteen years after the start of the African Union Mission in Somalia (AMISOM) intervention in Somalia, the country remains beset by a morphing insurgency and terrorism that weaken political stability and security. The return of Hassan Sheikh has again marked the fragmentation of Somalia's political and security landscape and could potentially lead to the collapse of the central authority. The president and his allies have weakened state security institutions, state funding, and legitimacy, leading to rivalries with the federal member states (FMSs).
From 2012 onwards, Hassan Sheikh focused on dealing with the threat of the day rather than creating long-term Somali unity, development, and defense capabilities. He has talked about integrated civil-military plans as well as longer-term goals. However, he has focused primarily on dealing with threats rather than creating practical strategies to develop effective Somali military, internal security, and police forces, as well as some economic aid programs tailored to uniting its federal member states under one effective structure of governance.
Since taking office, Hassan Sheikh has created one of the most wasteful administrations. During his short stay in office, the president paid a visit to the United Arab Emirates, Egypt, Turkey, Kenya, Eritrea, Djibouti, Uganda, Tanzania, and Ethiopia, as well as trips to the United States, the United Kingdom (to attend the funeral of Queen Elizabeth) and Algeria. The current government has achieved little to support Somalia's national security and economic objectives. According to reports, the president traveled to some of these countries without planning and properly consulting with his prime minister, cabinet, and senior diplomats.
The president, who campaigned to unite the nation, had a unique opportunity to collaborate with Somalia's competing political interests to create a unified government. Rather than fulfilling those promises, the president's solo decisions and policymaking without consulting with parliament, have become increasingly authoritarian, turning the prime minister's role as non-functioning, losing the support of the majority of the public!
Conclusion:
Rebuilding Somalia, a country devastated by decades of civil war and violent extremism is daunting. Thus, this goal should be the government's primary focus with the support of international partners, funding Somalia to help build a government, provide a secure and stable life for the Somali people, and create resiliency against al-Shabaab. The current government needs a developed strategy, plans, ends, ways and means to achieve them. The state of affairs in the country now seems like a one-man solo show!
The following are the core issues that need to be addressed:
President Hassan must stop the excessive and unnecessary traveling and focus on dealing with security issues. Somalia faces a continuing threat from al-Shabaab. The objective of the government is to defeat threats posed by al-Shabaab and support the Somali security forces.
The government does not have a coordinated national policy, security strategy, action plans, and implementation to combat al-Shabaab. If the federal government and the federal member states cannot agree on a unified vision for national security, options to counter al-Shabaab will remain limited for the federal government and the international community partners.
The government ignored numerous reports about the potential terrorist attacks and failed to plan. Instead of shoring up NISA to counter al-Shabaab, The new NISA chief declared war on professional NISA officers and dismissed counterterrorism officers, including senior officers limiting NISA's ability to track terrorist threats in the country.
The necessity of defeating Al-Shabaab cannot be overstated, but arming warring clans increases risks, prolonging conflict with Al-Shabaab, worsening other longstanding, unresolved conflicts, and creating new ones. The government does not have a strategy for dealing with the consequences of arming irregular militias. Rather than forging a strong, unified military response to the threat of Al-Shabaab, building clans and forces will accelerate fragmentation, increasing tensions between these forces and state security forces.
The government should focus on facilitating the return of 5000 SNA soldiers training in Eritrea. They should use them to augment SNA forces in Hirshabelle, Jubaland, Galmudug, and Southwest.
At this is a particularly fragile moment in Somalia, rather than shoring up Somali unity and institutions, the latest iteration of the government to use Ma'awisley will probably ignite old and new tensions, undermining whatever progress has been achieved in turning Somali National Army (SNA) into a professional, apolitical military force responding to a single chain of command. This undertaking will pave the way for renewed foreign and regional involvement in Somalia affairs, notably by Ethiopia, Kenya, and the African Union Transition Mission in Somalia (ATMIS), justifying the extension of foreign forces' presence in Somalia.
Ahmed Ibrahim, Ph.D
Email: [email protected]
—————-
Dr. Ibrahim is a former senior United Nations official who served in Africa, the Middle East, and the United Nations in New York. Dr. Ibrahim is a security and development consultant and a freelance writer based in Nairobi, Kenya.
---
We welcome the submission of all articles for possible publication on WardheerNews.com. WardheerNews will only consider articles sent exclusively. Please email your article today . Opinions expressed in this article are those of the author and do not necessarily reflect the views of WardheerNews.
WardheerNew's tolerance platform is engaging with diversity of opinion, political ideology and self-expression. Tolerance is a necessary ingredient for creativity and civility.Tolerance fuels tenacity and audacity.
WardheerNews waxay tixgelin gaara siinaysaa maqaaladaha sida gaarka ah loogu soo diro ee aan lagu daabicin goobo kale. Maqaalkani wuxuu ka turjumayaa aragtida Qoraaga loomana fasiran karo tan WardheerNews.
Copyright © 2023 WardheerNews, All rights reserved