Muqdisho (WDN)-Wafdi uu hogaaminayo Ra'isalwasaaraha Dowladda Federaalka Soomaaliya Xasan Cali Khayre ayaa socdaal ugu dhoofay dalka Qadar. Wafdiga kheyre waxa ka mid ahaa Guddoomiyaha Bangiga Dhexe Cabdiraxmaan Maxamed.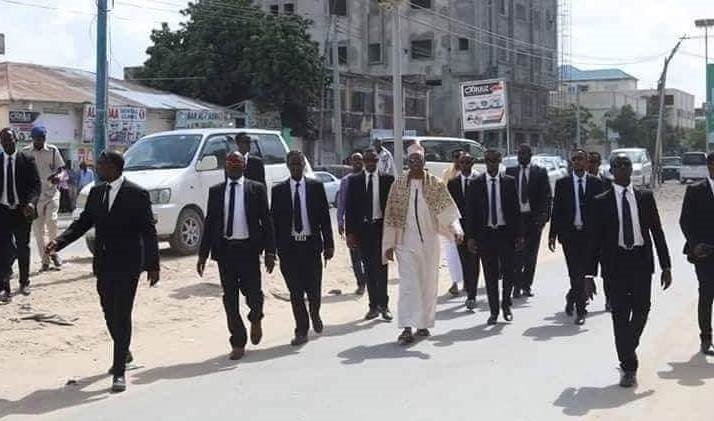 Wararka soo gaadhaya WardheerNews, ayaa sheegaya safarka degdega ah ee Kheyre, wakhtigan oo dhamaan safarada adduunka ay xidhanyihiin cudurka Covid-19 daraadiis, ayaa la sheegayaa in uu la la xidhiidho mucaawanooyinka dhaqaale ee ay Qadar u fidin jirtay Soomaaliya oo is taagay.
Qadar ayaa la leh xidhiidh dhow DFS, iyada oo dhaqaale siyaasaddeed oo joogto ah (political money), oo aan la soo marin khasnada Bangiga Dhexe ku taaageerta xukuumadda Farmaajo.
Taageeradaasi dhaqaale ayaa hakat gashey kadib marki culeys ay Dowladda Maraykanku saartay Qadar.
RW Kheyre ayaa la sheegayaa in uu u tagay Qadar si wadahaddal uu ula yeesho madaxda Qadar.
Qadar ayaa si aad ah faraha ugula jirta arimaha Soomaaliya, taasi oo qeyb ka ah qalalaaseha siyaasaddeed ee ka taagan Soomaaliya.
WardheerNews
---
We welcome the submission of all articles for possible publication on WardheerNews.com. WardheerNews will only consider articles sent exclusively. Please email your article today . Opinions expressed in this article are those of the author and do not necessarily reflect the views of WardheerNews.
WardheerNew's tolerance platform is engaging with diversity of opinion, political ideology and self-expression. Tolerance is a necessary ingredient for creativity and civility.Tolerance fuels tenacity and audacity.
WardheerNews waxay tixgelin gaara siinaysaa maqaaladaha sida gaarka ah loogu soo diro ee aan lagu daabicin goobo kale. Maqaalkani wuxuu ka turjumayaa aragtida Qoraaga loomana fasiran karo tan WardheerNews.
Copyright © 2020 WardheerNews, All rights reserved