By Deeq S. Yusuf
Since the advent of the modern Somali state, the quest for gender equality has remained elusive. Even when the pre-civil war Siad Barre regime introduced legislation in the mid 1970s that promoted gender equality, "Somali women were unable to exercise the newfound rights bestowed upon them."[1] Somali women's rights took a nosedive during the civil war as the most heinous crimes were perpetrated against women and girls in the form of gender-based violence (GBV) that continues to plague society today. Somalia has one of the world's highest rates of GBV against women including rape and FGM. Women are also under-represented in Parliament and other state organs and in all key sectors of the economy.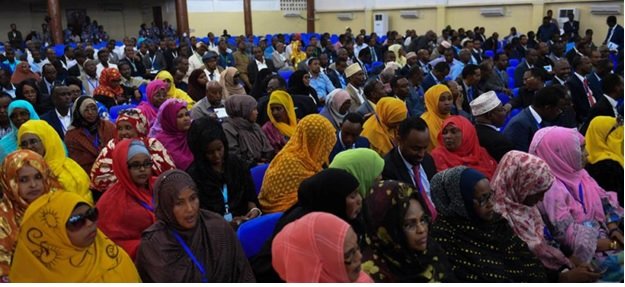 In the transition to Federal politics, the Federal Government of Somalia has demonstrated its commitment to tackling women's under-representation in decision-making through the harmonization of the minimum 30% quota in the various laws, policies, and frameworks including the March 2019 Women's Charter demanding 50% representation of women across all decision-making positions in state organs, the National Development Plan's commitment to the delivery of 30% of women's quota in both houses by December 2020, Article 11 of the Federal Provisional Constitution which emphasizes equality of citizens, and Article 23, Paragraph 4 of the National Elections Law calling upon parties to observe women's 30% quota in the selection of their candidates.
Other frameworks include the consensus reached on September 20, by President Mohamed Abdullahi Farmajo and all FMS leaders and endorsed by a Parliamentary resolution reinforcing support for the minimum 30% women quota for each parties' candidates, and Prime Minister Mohamed Hussein Roble's commitment to both the November UN Security Council and December Somalia Partnership Forum reiterating the Government's commitment to the minimum 30% quota of women in Parliament.
Why does gender equality matter? Why should the Somali society relentlessly pursue initiatives that promote gender equality? Experience elsewhere has shown that a society stands to benefit the most when it takes gender equality seriously. For example, Nordic countries are known for their stellar record in advancing gender equality. According to the Cato Institute, "the Nordic countries are widely regarded as world leaders in gender equality". In the Global Gender Gap Index, the Nordic nations are top performers. A 2018 report by the US-based think tank noted that Iceland leads the list, followed by Norway, Finland, and Sweden in second, third, and fifth places, respectively. Denmark ranks lowest in 14th place, but still considerably higher than the United States, which is in 49th place.[2]" As of 2020, the Nordic countries lead the gender gap index in public life with women accounting for 47% in Finland's Parliament while the share of female legislators in Sweden stood at 46.1% and Denmark around 41%.
According to the report, the Nordic countries are in many ways, the most gender-equal in the world, owing to their history, culture, and progressive policies. These sentiments are echoed by OECD which states, "Nordic countries have long been the international champions of gender equality for they explicitly support gender equality at home, at work, and in the public life adding that "promoting gender equality is likely to carry a number of benefits for societies and economies.[3]" The OECD further notes that "providing girls and women with equal opportunities is an issue of human rights. There are also social and economic effects that mean wider society is better off when women are treated fairly." Gender experts in general, agree that societies that are gender equal are happier, healthier, and inclusive.
It is no accident that progress in the Nordic countries has translated into higher standards of living across genders as the annual Human Development Index (HDI) perennially places the region at the top of the global rankings for all social indicators. While no one is expecting Somalia to attain a higher level of gender equality Nordic style, it can certainly emulate a shining example closer to home. Like Somalia, Rwanda is a post-conflict state that has risen from the horrors of genocide to emerge not only as the most gender equal African country in the public realm but the top in the world. Likewise, post-conflict Liberia has produced Africa's first elected female head of state, former President Ellen Johnson Sirleaf.
Driven by his gender inclusive, development vision, President Paul Kagame felt that the task of reconstructing post-genocide Rwanda cannot be left to men alone. According to NPR, the country's new constitution, passed in 2003, decreed that 30 percent of parliamentary seats be reserved for women. The government also pledged that girls' education would be encouraged. That women would be appointed to leadership roles, like government ministers and police chiefs. Kagame "vowed to not merely play catch-up to the West but leapfrog ahead of it[4]." The country embraced Kagame's policies and even went beyond his mandatory minimum. In the 2003 election, 48 percent of parliamentary seats went to women. Today Rwandan politics is cited as a model of gender inclusiveness[5]. At 64% Rwanda ranks number one in the world when it comes to gender equality in politics ahead of Bolivia at 53%, Cuba at 49%, Seychelles at 44% and Sweden at 44%.[6]
Strikingly, the cases of developing countries like Rwanda, Bolivia, Cuba, and Seychelles occupying the top four positions in the global rankings of gender parity in parliament, demonstrates that gender equality is not exclusively a western phenomenon, but a universal one. The above development is a testimony to the fact that wherever there is a political will, any nation in the world, including a developing country like Somalia can realistically achieve this feat by going far and beyond the minimum 30% threshold set by the constitution, not only in parliament, but in all facets of life including business, media, academia and more.
Somali women have been at the forefront in agitating for gender equality. According to Inter-Parliamentary Union (IPU), women hold 24% of the 329 seats in Somalia's lower and upper houses of parliament, up from 14% in the previous election. As is widely agreed upon, the Somali Parliament is required to meet a minimum 30% threshold representation for female parliamentarians.
In recent years, momentum toward addressing the gender gap has been growing. In March 2019, the Somali Women Convention held in Mogadishu that brought together 350 women and gender champions and other stakeholders from across Somalia and the diaspora that identified joint demands for women's rights in the peace-building and state-building process, adopted the Somali Women's Charter. The agenda for the Convention was developed under the leadership of the Ministry of Women and Human Rights Development (MoWHRD) with a Steering Group composed of leaders who have made – and are making – critical contributions to the promotion of women's rights and empowerment in government, parliament, civil society, the private sector, and the media, ensuring full inclusivity.
The Charter calls for 'equal participation in all political and peacebuilding processes', including through a 50% quota. It also calls for 'zero tolerance for gender-based violence', strengthening legal protections (including through passage of the Sexual Offences Bill, SOB), women's full participation in the justice sector and training on women's rights for justice and security personnel. On economic empowerment, the charter calls for socio-economic rights and full participation in decision-making on relief and recovery; for all development assistance to be assessed and monitored through a gender lens; and women's leadership and full participation in transitional justice.
The joint demands identified by women and gender champions during the Convention closely reflect priorities of the Women, Peace and Security (WPS) Agenda's whose four pillars include promoting women's participation in peace-building at all levels of decision-making, protection of women's rights during and after conflict and prevention of sexual and gender-based violence and addressing women's specific needs during relief and recovery, including repatriation, resettlement, reintegration and reconstruction. The Somali Women's Charter is inclusive, nationally-owned and backed by significant political will and will be taken forward through dedicated action plans with implementation process led by the Ministry and supported by the UNDP.
With ongoing support by the Ministry, Somali women are forging alliances to safeguard equal rights for all. A survey of 10,300 women conducted by MoWHRD in different parts of the country indicated that Somali women continue to play a major role in sustaining Somali society but still faced numerous inter-related burdens that undermine their rights and constrain their capacity to contribute to sustainable development. The survey revealed that the majority of women continue to face significant challenges including lack of formal education and access to basic services.
However, an overwhelming majority of respondents want more opportunities to participate in decision-making (92%) and indicated that they would have more access to a decision-maker if that person was a woman (86.6 %). This points to the importance of promoting women's equal representation in decision-making positions – including through the 50 % quota demanded by the Somali Women's Charter.
On the 15 December last year, the Speaker of the House of the People, Deputy Speaker of the Upper House, Deputy Prime Minister of the Federal Government of Somalia, the Minister of Women and Human Rights Development together with all the Ministers of Women and Human Rights Development from all the FMS along with stakeholders representing women from across Somalia, met to discuss the importance of securing the minimum 30% quota for women's representation in the upcoming federal government elections, a precondition for the achievement of an inclusive government that can sustain peace and development in Somalia.
According to a communique issued at the end of the milestone event, policymakers and participants alike endorsed the commitment to secure a minimum 30% quota for women in the upcoming federal elections through adhering to the following six resolutions:
At least 30 % of all electoral bodies must be allocated for women.
At least 30% of parliamentary seats at federal level to be reserved for women
Lowering of candidate eligibility fees for women candidates by 50% to address the historical inequality.
50% of delegates to be women who represent the different sections of Somali society, including women with disabilities and women from other marginalized groups.
Inclusion of Somali Women's Charter Champions as part of the body that will select the delegates.
Barring men from taking seats that were allocated for women with the provision that the seat will remain vacant until a suitable and eligible woman is elected.
Women's participation in the decision-making process in Parliament should not be limited to the minimum threshold of 30%. Gender rights activists state that the Somali society should ideally aim higher through the attainment of 50% gender parity in future. Equal representation in the decision-making processes should go beyond Parliament, other state organs and the civil service to include the private sector, and other non-state institutions.
Beyond goodwill and usual political rhetoric, what will it take to get Somali women to the Promised Land? For Somalis and others in the continent striving for gender parity in state and other societal realms, Liberian Peace Activist, Leymah Gbowee has a clear message.
During her March 2020, speech at the UN General Assembly, Ms. Gbowee, stressed that in our unjust and unequal world, gender equality must be more than just numbers, spelling out: "Equality is linked to our collective humanity…to peace and justice.[7]"She maintained that women's right require actionable, radical transformation through political will, financial resources, and ownership.
On the road to Canaan, Somali leaders should demonstrate genuine political will, pull resources together, and embark on actionable, Somali-led, Somali- owned plan that will fully prepare the Somali society to openly embrace the call for radical gender transformations. Somalia's future and its ongoing search for peace and prosperity will depend on the eventual realization of gender equality in all facets of life.
Deeq S Yusuf
Email: [email protected]
———–
Deeq S Yusuf is currently the Director General of the Ministry of Women and Human Rights Development of the Federal Government of Somalia and a former Chief of Staff of Puntland State House)
References
[1] Iman Abdulkadir Mohamed. Somali Women and the Socialist State. https://www.qscience.com/docserver/fulltext/messa/2015/
[2] The Nordic Glass Ceiling, Cato Institute, 2018.    https://www.cato.org/sites/cato.org/files/pubs/pdf/pa-835.pdf
[3] OECD, 2018.  https://www.oecd.org/els/emp/last-mile-longest-gender-nordic-countries-brief.pdf
[4] NPR: Rwanda Ranks in Top 5 in Gender Equity." https://www.npr.org/sections/goatsandsoda/2018/01/10/577018509/rwanda-ranks-in-the-top-5-for-gender-equity-do-its-teen-girls-agree
[5] Ibid
[6] ibid
[7] UN News, March, 2020    https://news.un.org/en/story/2020/03/1058881
---
We welcome the submission of all articles for possible publication on WardheerNews.com. WardheerNews will only consider articles sent exclusively. Please email your article today . Opinions expressed in this article are those of the author and do not necessarily reflect the views of WardheerNews.
WardheerNew's tolerance platform is engaging with diversity of opinion, political ideology and self-expression. Tolerance is a necessary ingredient for creativity and civility.Tolerance fuels tenacity and audacity.
WardheerNews waxay tixgelin gaara siinaysaa maqaaladaha sida gaarka ah loogu soo diro ee aan lagu daabicin goobo kale. Maqaalkani wuxuu ka turjumayaa aragtida Qoraaga loomana fasiran karo tan WardheerNews.
Copyright © 2022 WardheerNews, All rights reserved