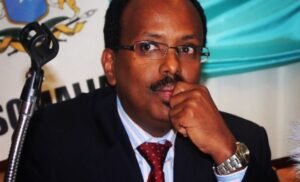 Boidoa (WDN)- WardheerNews reports that 25 members of the South West Parliamentary Assembly were taken to Mogadishu on October 31st, 2018.
The 25-member parliamentarians are part of a 120 South West State law makers scheme hatched by Farmajo, Fahad and Khayre, invited to Mogadishu for consultations to secure majority votes for South West State's presidential candidate backed by Villa Somalia.
The election of the president of the South West is expected to begin on November 17th in the transitional capital of Baidoa.
Nearly 120 lawmakers are scheduled to arrive in Mogadishu, so they will settle for Farmajo, Fahad and Khayre, while their votes are planned to provide support to the Federal Government's favorite candidates (the current minister of water and energy and former NISA Director), using surreptitiously corrupt means to bribe the MPs using money from the state treasury.
Reliable reports indicate that Villa Somalia's SWS presidential candidate was gifted two bullet proof vehicles, delivered by special cargo plane to Boidoa.
Reports from Baidoa state that President Sharif of the South West State has complained to the United Nations Office in Somalia and other foreign entities in Somalia about the federal government's treacherous political scandals.
President Sharif Hassan said that FGoS is using the country's meager resources to create a fraudulent corruption scandal on behalf of their handpicked candidates.
WardheerNews