Muqdisho (WDN)- Wararka naga soo gaadhaya magaalo madaxda Maamul Goboleedka Galmudug ee Dhuusa-Mareeb, ayaa sheegaya in ciidamo lagu qiyaasay 1,000 askari oo ka tirsan ciidamada Itoobiya, ay soo galeen magaalada Dhuusa-Mareeb.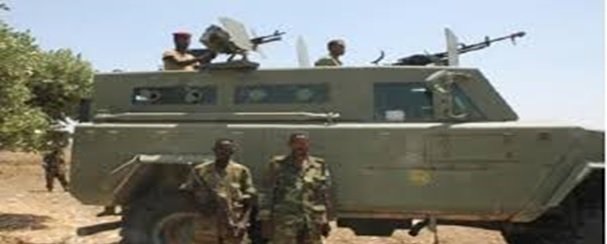 Ciidamadan ayaa la sheegayaa in ay ujeedadoodu tahay sidii ay taageero u siin lahaayeen Dowladda Federaalka Soomaaliya, oo ka wada maamul goboleedka Galmudug qorshe doorasho, ay  dhawaan soo saareen jadwelka doorashada Baarlamaanka iyo Madaxweynaha Galmadug oo ay gadhwadeen ka tahay isla Dowlada Federaalka Soomaaliya.
Hadaba ciidamada Itoobiyaanka ee soo galay maanta magaalada Dhuusa-Mareeb, ayaa la sheegayaa in maamulka Farmaajo uu rabo in uu u adeegsado sidii ay u sugi lahaayeen in goobta ay ka soo baxdo natiijada ay rabto DFS.
Ciidamada Itoobiya ayaa horey DFS u adeegsatay cabudhinta rabitaanka shacbiga Soomaaliyees ee Maamul Goboleedka  Koonfur Galbeed, iyada oo rabshado ka dhacay magaalada Baydhabo kagadaal doorashadii madaxweynaha Koonfur Galbeed, ay sababeen dhimasho,
Sidoo kale ciidamada Itoobiya, ayaa la sheegay in ay soo galeen gobolka Gedo, deegaanada Luuq, Doolow iyo Buulo-Xaawo, ee Jubbaland, halkaasi oo la sheegay in ay xoog ugu muquuniyeen maamulkii ka jiray deegaanadaasi in ay ka soo horjeestaan maamulka Jubbaland.
Waxaa iyana maanta oo ku beegan bishan Noofember 29, Warqad Furan u diray Raysal- Wasaaraha Itoobiya, Madasha Xisbiyada Qaran iyaga oo sheegay in Itoobiya ay joojiso xadgudubka, farahana kala baxdo, islamarkaana ay dhexdhexaad ka haato arimaha Soomaaliya sida uu dhigayo qodoka 8-aad ee heshiiska joogitaanka ciidamada AMISOM.
WardheerNews
---
We welcome the submission of all articles for possible publication on WardheerNews.com. WardheerNews will only consider articles sent exclusively. Please email your article today . Opinions expressed in this article are those of the author and do not necessarily reflect the views of WardheerNews.
WardheerNew's tolerance platform is engaging with diversity of opinion, political ideology and self-expression. Tolerance is a necessary ingredient for creativity and civility.Tolerance fuels tenacity and audacity.
WardheerNews waxay tixgelin gaara siinaysaa maqaaladaha sida gaarka ah loogu soo diro ee aan lagu daabicin goobo kale. Maqaalkani wuxuu ka turjumayaa aragtida Qoraaga loomana fasiran karo tan WardheerNews.
Copyright © 2020 WardheerNews, All rights reserved