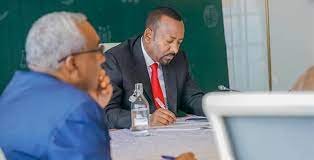 The Council of Ministers has approved an 801.6 billion birr budget for the coming fiscal year – a meager two percent increase from the current year's allotment.
The budget rise is a far cry from last year's 40 percent growth when this year's budget was approved, indicating a significant slowdown.
In real terms, the approved budget is actually much lower given the double-edged sword inflation exceeding 30 percent which erodes the value of the budget allocation.
The recurrent budget portion totals 369.6 billion birr while the capital expenditure accounts for 203.9 billion birr for the coming fiscal year.
Regional states will receive 214.1 billion birr in subsidies from the federal government's budget for the next fiscal year.
The budget bill now awaits parliament's stamp of approval before it can take effect on the ground.
Source: The Reporter