Muqdisho (WDN)- Ra'iisal Wasaaraha Xukuumadda Soomaaliya Md. Xamse Cabdi Barre, ayaa shir gudoomiyey kulan degdeg ah oo looga hadlayey weerarada ismiidaaminta ee kooxda Alshabaab ka fulisey xerada Lama Galaay ee magaalada Baladweyne, halkaasi oo dhimasho, dhaawac iyo burbur hantiyeed oo ballaaran la geystay.
Kulanka ayaa go'aanada kasoo baxay waxaa ka mid ahaa in gurmad degdeg oo caafmaad loo fidiyo dadka dhaawacyadu kasoo gaareen qaraxyada ismiidaamiinta ah ee Baladweyne.
Md. Xamse oo kulanka ka hadlay ayaa sheegay in qaraxyada Alshabaab maanta ka geysteen magalaada Baladweyne, ee gobolak Hiiraan ay tusaalle u tahay u babac dhig la'anta hawlgalka ka dhanka ah kooxda ee sida wada jirka ah dalka uga wadaan ciidamada xoogga dalka iyo dadka deegaanka ee ka dhiidhiyey falalka guracan ee kooxdan bulshada Soomaaliyeed ku hayso.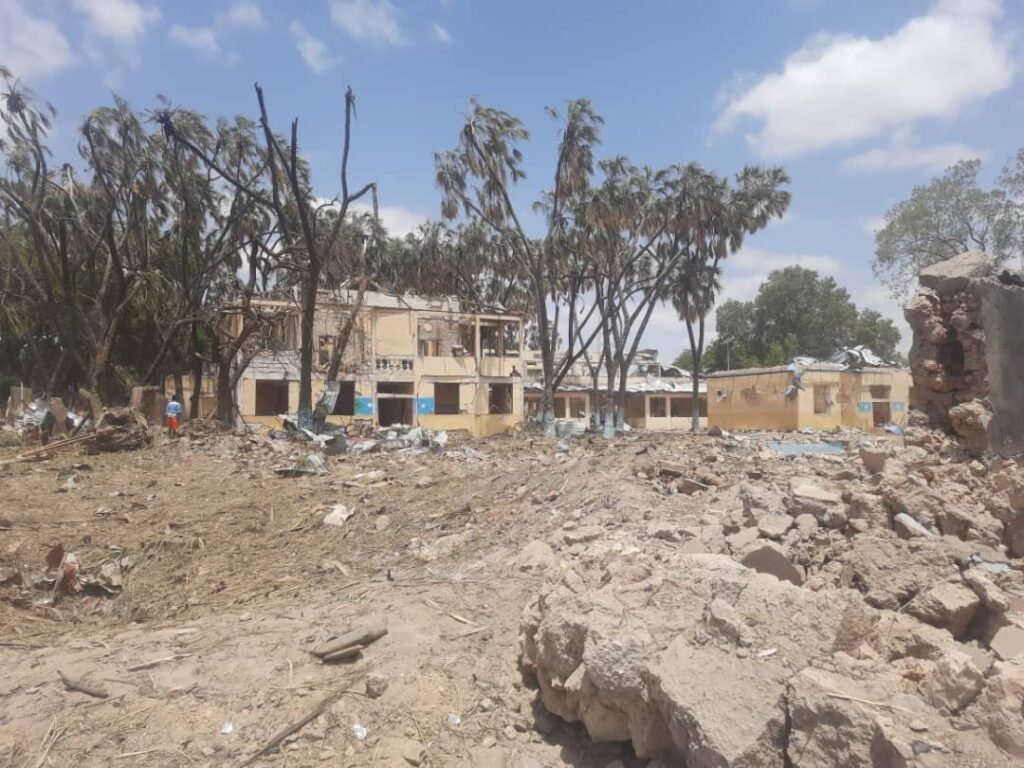 Go'aanada kulankan xukuumaddu ku qaadatey ayaa waxaa sidoo kale ka mid ah in la xoojiyo hawlgalada socda ee dib loogaga xoreynayo maleeshiyaadka Alshabaab deegaanada ay kaga harsanyihiin guud ahaan dalka, waxay ayna sheegatay in Soomaaliyana ay ka go'antahay in kooxdaan lasoo afjaro.
Dhinac kalena bayaan uu soo saarey RW Xamse ayuu ku yiri " Falkan wuxuu caddeyn u yahay sida ay weli ugu ooman yihiin kooxaha nabad diidku daadinta dhiigga dadka shacabka ah, waana mid ay rabaan in ay ku niyad jabiyaan dadka u istaagey dagaalkooda , dhiigga dadkeena qiimaha badan ee maalin walba daadinayaan ma aha mid looga hari doono".
Weerarkan ismiidaamiinta ah ee ka dhacey Baladweyne ayaa loo adeegsadey gawaari nooca xamuulka ah oo laga soo buuxiyey walxaha qarxa, waxaana lala beegsadey xerada ciidamada Lama Galaay halkaasi oo ay ku sugnaayeen masuuliyiin sarsare oo Alshabaab ka tirsan, waxaana inta la xaqiijiyey ku dhimatey tiro ka badan 20 ruux oo ay ku jiraan gudoomiye ku xigeenka gobolka Hiiraan Abuukar Cabdullaahi Maadeey iyo wasiirka caafmaadka maamulka Hirshabeelle Dr. Zakariye Hurre.
Qaraxaan ayaa sababey dhaawac tiro badan oo si rasmi ah qiyaastiisa aan loo haynin, waxa uu sidoo kale sababey burburka dhismooyinkii ku dhawaa xerada Lama Galaay ee qaraxu ka dhacey, halkaasi oo la sheegay in burburka dhismayaasha ay ku hoos jiraan dad isugu jira dhimasho iyo dhaawac.
Qaraxyadaan ayaa imaanaya xilli maleeshiyaadka Alshabaab dharbaaxooyin xoog leh kala kulmeen hawlgalada wada jirka ah ee ciidanka xoogga iyo dadka deegaanka,waxaa sidoo kale kooxda dhawaan duqeyn looga diley madixii dacwada kaasi oo loo badinayey inuu badalo hogaamiyaha kooxda Axmed Diiriye oo in muddo ah xanuun la il daran.
Maxamed Cumar
WardheerNews, Muqdisho
---
We welcome the submission of all articles for possible publication on WardheerNews.com. WardheerNews will only consider articles sent exclusively. Please email your article today . Opinions expressed in this article are those of the author and do not necessarily reflect the views of WardheerNews.
WardheerNew's tolerance platform is engaging with diversity of opinion, political ideology and self-expression. Tolerance is a necessary ingredient for creativity and civility.Tolerance fuels tenacity and audacity.
WardheerNews waxay tixgelin gaara siinaysaa maqaaladaha sida gaarka ah loogu soo diro ee aan lagu daabicin goobo kale. Maqaalkani wuxuu ka turjumayaa aragtida Qoraaga loomana fasiran karo tan WardheerNews.
Copyright © 2022 WardheerNews, All rights reserved