W.Q. Saciid Jaamac Xuseen
Odhaahda qoraaga: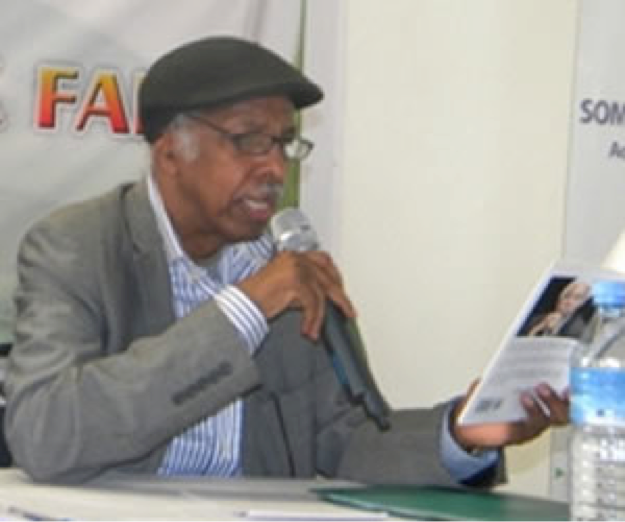 "Sheekadan Dr. Kaynaan oo bishii Abriil, 2010ka lagu daabacay degelka WardheerNews, saaxiibbo si gaar ah aanu isu tixgelinno, ayaa markay akhristeen, u qaatay in daktoorkaasi yahay qof jira oo aan aqoon u leeyahay.  Iyagoo iga ballanqaadaya in aan sirtaasi bixin, ayay si khaas ah iiga codsadeen in aan u sheego kuu ka yahay ragga aanu isla garanaynno.
Runtii sheekadu waa mala-awaal, daktoorkuna qof jira oo aan laftiisa ka warramayo ma aha.  Middase run kasta ka qiime badan ee sheekadu ku socotaa waa sawirrada daktoorka ay ka bixinayso ee nolosha dadkeenna si baas u soo martay 20kii sano ee u dambeeyay.
Sheekadan curinteeda markaan ku dhaqaaqay, si weyn ayaan maskaxda ugu hayay  in qofkii akhristaaba uu Dr. Kaynaan mid cabbirkiisa lehi si cad u hor iman doono.  Waana ta dhacday ee saaxiibbaday ilaa maanta ay u qaadan la'yihiin in qofkani aanu runtii ahayn qof aan aqoon u leeyahay oo jira. Waa gartooda oo sannad walba Dr. Kaynaan cusub oo dardar qaba ayaa ummaddeenna ka dhex onkoda. Sidaa darteed ayaan saaxiibbadayda daadihiya WardheerNews uga codsaday in ay mar kale soo daabacaan sheekada DR Kaynaan si intii ay seegtay iyo inta kale ee xiisaynaysaa uga bogtaan ee akhris wanaagsan."
*******************************
Sidaan isu lahaa sannadka soo socda, ayaa wax isdoorin, oo aad dalkii dib ugu noqon doontaa, ayaa toban sanoo bilo dheer yihiin igu dhaafeen qurbaha iyo qoomamaduu reebo.  'Toddoba beri kay ku tahay waa inaad Xamar isku shubtaa,' ayaan hiyigayga ka goostay.  Luulyo bartamaheedii ayaa go'aankaasi ii hirgalay
Magaalada Stockholm (Sweden) ayaan ka safray.  Habeendhax ka dib, garoonka Jibuuti, ayaa diyaaraddii Xamar u socotay barqo hore nagala haaddey.  Hurdaan dug iri oo indhaha ma kala qaadin jeer aannu Jowhar dul marayno.  Waad oran kartaa daal igu raagey ay ku darsameen kulka iyo qaalinimada Jibuuti ayaa iigu wacnaa.  Waxaase kaloo jirta sidaydaba diyaarad ma u baxay kan hore ka seexda ayaan ahay. Malaa waxaan ka qaaday carruurnimadii oo ay maqalkayga ka badatay in qofka baddu liqdo iyo kan dayuuradi la dhacdo ay labaduba jannadii toos u tegayaan.
Daruuro khafiif ah oo sida shabaagta isu haysta ayaan Balcad ugu galnay.  Hoos ayey diyaaraddii usoo degtay. Xamar ayaa midigta nooga bidhaantay.  Daaraha cadcadaantooda, dhirta magaaladu ku shaqlan tahay cagaarkooda, qudbadaha dhaadheer ee masaajiddada, tirneedka guduudan ee guryaha saqafkooda saaran, Xamar korka waxay uga eg tahay gole cibaadadeed.

Badweynta Hindiya hirka iyo mawjadda ka soo cartamaya siday xeebta Xamar ugu burburayaan; roobkii xagaayada oo bishii luulyo ku da'aya.. quruxda jawigaas dibedda ka muuqdey waxaan uga jeedey muraayadda diyaaradda daaqaddeeda. Nabad iyo xasillooni ayay diyaaraddii ku caga dhigatay garoonka.
Degdeg ayaan uga fulnay garoonka diyaaradda.  Xamar ayaan usoo dhaadhacnay.  Saaxiibbo aan garto dhawr ayaan la kulmay. Magaalada Xamar labadeeda daamood ee koonfur iyo waqooyi ayey kala deggan yihiin.  Maalintii waa laysu tegi karaa, habeenkiise iniba daan bay seexataa (cimrigaagoo dheeraadaa waxaas iyo wax ka daranba waa ku tusi karaa). Waqtigii aan booqashada ugusoo talagalay si lama filaan ah ayuu isu guray. Durba maalintii lixaad ayaa iskeentay anoo qorshihii aan toddobaadka u dejistay weli wax rooni iiga qabsoomin.  Shantii maalmood ee hore waxay badanaa igu dhaafeen hadba sidaan uga war doonayey xaaladda dunidaan ka tegey ay ku dambaysey.  Maxaan la kulmay? Muraaradillaac !
Burburka cuskaday magaalada, wararka idaacadaha laga tebiyo iyo telifiishanka Yurub ayaan kala socdey, marnase waxa indhahaygu la kulmeen socdaalkaygan iyo sawirkii maskaxdayda ku daabacmay wax isu dhow ma ahayn.  Xamar Cadde hareerahaa la qaatee, dhexdii ayaa digaandigaha laga dhigay sidii neef bahalo heleen (oo miyaanay helin!! ) ayaa calooshii iyo uur-ku-jirtii lala baxay.  Liido.. Shingaani.. Xamar-weyn.. Boondheere.. Shibis.. iyo Xamar-jabjab  gelgelin laga guurey bay u ekaatay.  Taariikh dheer iyo ilbaxnimo fac weyn oo astaan lagu faano inoo ahayd, adduunweynahana aynnu la shir tegi jirey ayaa muddo gaaban damdaguugan laga yeelay.
Subaxii lixaad waxaan niyeystey inaan dhawr saacadood keligay dhex meero Xamar  goobo aanan hore u tegin intaanan wixii hawl i sugeysey maalintaas ku dhaqaaqin.  Laydha macaan ee dhacaysa, iyo carafta udgoon ee dhulka xagaayadii ku hoortay ka soo butaacaya inaan sanbabada ka sii dhaansado ayaan goostay.  Lugahaan usii  daayey inay meeshay rabaan ila tagaan.. mayse noqon siday muhatay laabtaydu.
Cabbaar goortaan warwareegay oo si roon isula maqanahay, ayaan mar qura si kedis ah isku soo baxnay Dr. Kaynaan oo lix bilood isugu kaayo dambaysey mar aannu shir Geneve lagu qabtay ka wada qayb galnay. Diktoorku waa nin dheer, hilib dhexaad ah, oo isku siman. Xoqadaha uu indhaha ku wato iyo cirrada dhafoorrada ku soo dhigaysa mooyee innaba haddii kale kama muuqato dhawr-iyo-afartanka sanuu jirey.  Waa nin xarrago iyo xash-xashaash badan.  Waxbarashada illaa dugsiga sare Soomaaliya ayuu ku dhammaystay, ka dibna jaamacadaha dibedda ayuu ka soo qalin-jebiyey isagoo diktoornimo ku soo qaatay cilmiga siyaasadda iyo bulshada.  Aqoon lagu liidaa ma jirto; saaxiibbada hoos usii yaqaannaase waxay yaalaaba ku tilmaamaan oo ku yara duraan inuu isku buuxo oo isla baxsan yahay.  Jooggiisa, dhar-qaad wanaaggiisa, aftahamadiisa iyo is-qaadqaadkiisa waxa markiiba kugu soo dhacaya kooxdii lixdamaadkii Soomaaliya u kala tartami jirey wasaaradda arrimaha dibedda in ay shaqo ka helaan.
Salaan degdeg ah ayaan isku boobnay.  Salaantayadu aad ayey u diirdiirranayd, waxa laba daraadle u sabab ahaa meeshaannu iskaga soo baxnay aan midkaayona kan kale ka filayn.  Israacnay.. maqaayad aan naga fogayn ayaan fariisannay.. shaah ka dalbannay oo iswaraysi bilawnay.
Marna intaan safarka ku soo jirey iguma soo dhicin ninkii Dr. Kaynaan ayeydin Xamar ku kulmi doontaan oo weliba xilligan iyo goobtan.  Haye Kaynaan bal ii warran.. immisaad magaalada joogtey? Maxaad meesha ku haysaa? Goormaad Yurub ku laabanay, mise meeshaadba ka heshay waadigan aad ugu cayileye?" Intaan Diktoorka su'aalaha u wadey waxa wejigiisa ka muuqanayey 
rayrayn xad-dhaaf ah oo gawsdambeedku muuqday.

 Wuxuu ila socodsiiyey in uu muddo lix bilood ahba magaalada joogey. Shirkii Geneva aannu isku aragnay ka dib in taar loo soo diray oo gudaha looga yeeray suu dagaallada ka socda iyo dawlad-soo-noolaynta uu gacan uga geysto.' Inkastoo meesha dhibi iga haysato xagga deganaanshaha iyo kharash-xumida, misna mar haddii xil qaran oo sidaas u culus la iiga maarmi waayey waa inaan wixii karaankay ah ka geystaa,' ayuu hadalkii ku soo gaabshey. 'Halkan waxba kuugu ma soo koobi karo, ee berrito aan wada qadaynno .. kolkaas ayeynnu si buuxa isu waraysan e,' ayuu ka soo daba tuuray. Inaan subaxa hore baxayo berrito ayaan la socodsiiyey. Inta ka horraysana dhawr ballan leeyahay aanan dhaafi karayn.  Inaan soo wada xiriirno ayaannu isku sii adkaynay.
Jawiga cirka oo macaanaa iyo aniga oo berritoo kale ka safraya Xamar, waxaan goostay inaan xaafaddaan qadada ku lahaa oo hal cabbaar ah jirta u sii lugeeyo."Diktoorku muxuu meesha ku hayaa ?" ayaan is-weydiiyey. Markii iigu dambeysey iigama muuqan nin Soomaaliya tegisteeda hadal haya.  Su'aashani waxay igula aroortay inaan dib u raaco aqoontaan Diktoorka u leeyahay.  Masii bursana.  Warka guud iyo kulan teelteel ah ma dhaafsiisna. Dalka gudihiisa waxaa Diktoorka looga aqoonsan yahay inu kuwa ugu tacliin sarreeya ka mid yahay. Dibeddana wuu ka diiwaan-gashan yahay oo waa dhif iyo naadir maxfal laysugu yimaaddo oo lagaga hadlayo mushkiladda Soomaaliya sidii loo furdaamin lahaa aan laga marti qaadini. Shirkii u dambeeyey ee lagu qabtay magaalada Geneve raggii ugu doodda dheeraa ayuu ka mid ahaa. Qiirada iyo wadaninimada dooddiisa ka muuqatay, ayaa i taabatay. Kolkaas ayaan ka codsaday in uu khudbaddiisa oo dhan qoraal igu siiyo saan mar kale keligay uga bogto.  Qoraal dheer oo makiinad ku garaacan ayuu farta iga saaray.  Runtii qoraalkaas Diktoorku aad ayuu ugu fara yaraystay khubaro ajnabi ahina way u qushuuceen saamigii uu shirkaas ka qaatay.
Filimkii Diktoorku suu iigu socdey ayaan mar qura is-arkay anoo hor taagan aqalkii aan qadada ku lahaa.  Dhawr saaxiibaday ah oo isaga yimid degmooyinka Xamar markay safarkayga degdegga ah maqleen, ayaan qadadii sagootiska ee la iigu talagalay ku kulannay.  Inaan is-aragnay Dr. Kaynaan ayaan u sheegay oo ka yaabay siduu u cayiley muddadii yarayd aanu is mooganayn.  Qosol ayey ka wada kaceen.

" Muxuu kuugu warramay?" ayey i weyddiiyeen.  Codsigii uu ku yimid iyo hawsha culus uu meesha ka hayo, ayaan ugu jawaabey iyadoo gaaban.

' Waan u jeedaa, oo qosolkiinani bilaash ma aha ee ila socodsiiya sidee bay wax u jiraan iyo waxa saaxiibkeen Kaynaan ku cindan yahay,' ayaan iyagii ku ceshey anigoo la yaabban waxa ragga midkoodna hore in Diktoorku joogo Xamar iyo warkiisa toonna iila soo qaadi waayey.
Ragga wejigoodii wuu isbeddeley. Waxay iisoo ururiyeen iyagoo hadalkii boobsiis ku wadaagaya "Waxba meesha looga ma yeerin ee isagaa nolosha dibedda ka soo cawday oo qaylodhaan soo dirsaday." "Dhawr kulan ayaannu la yeelannay annagoo doonayna inaan sidii wax laysugu soo dhoweyn lahaa  ka wada shaqaynno. Wax walbase wuu naga diidey."

"Marka laysku soo dhowaadoba waa ninka dabka huriya." "Kharashka uu qaataa caqligaaga ma geli karo. Camanka iyo cayilka ka muuqdaad  ka garan kartaa." "Wax kale iska daaye, horta ma ogtahay aqalkuu deggan yahay? Waa kii marxuunkii Xaaji Cabdiraxmaan Khayre. Beelaha ayaa isugu tegey in qoyskii iyo carruurtii Xaajigu ka tegey gurigooda loo celiyo, isagana meel kale la dejiyo.  Waa loogu maara waayey.  Imminkuuba 'Diish' cusub ku rakibtay."
Intaan is-haysan kari waayey ayaan saaxiibbada weydiiyey: " Xaggee buu isagu xarkaha adag ka haystaa? oo ayuu isku hallaynayaa?"
" Oo miyaanad ogayn, saw gacan yaraha Waasuge ma aha ee xilli walba ku lammaan ee wax u qorqora.  Xataa waxa nagu maqaala ah in Waasuge laftiisu usoo jeediyey in uu guriga Xaajiga ka baxo oo meeshii kaluu doorto la dejiyo.. saaxiibkaase diidey. Waasuge kolkaas damcay in uu qoyskii Xaajiga mag-dhaw ka siiyo guriga iyo samirsiin. Taasna ay qoysku ka diideen."
Waxa iga soo boodey: "Cajaba-rabbi! Ma Waasugihii uu sidii la ogaa uga hadli jirey buu la joogaa.
 Waxaan is oran jirey malaa adduunka ma jiro qof uu ninkaas ka neceb yahay ee ma waxaad haatan i leedihiin isagii buu ag fadhiyaa oo weliba gacan yare u yahay?!"
Mar labaad ayaa la wada qoslay. "Ninkaas warkiisa waa laguu dhaamaa ee soo kac aan qadaynee," ayey warkii ku soo gunaanadeen. Intaan qadada cunayney waxaa maskaxdayda mar qura ka daarmay oo iska soo daba dhacayey…

Dr. kii  shirka Geneve ka hadlayey ee indhaha isoo saaray.. Dr. kaan saaka maqaayadda isku waraysaneyney ee rayrayntu ka muuqatey.. iyo Dr. kan warkiisa saaxiibbadu igu taabteen oo aanan ka beenaysan karayn…  inu isku qof qura yahay ayaa isu kay qaban waayey.  Kolkaan arkay qadadii in laga soo wada jeestey iyo raggii oo dhan oo wada fara xashay ayaan ku maca-salaameeyey:

" Soomaalida Kaynaan u Diktoor yahay Ilaah bay leedahay!"
Saciid Jaamac Xuseen
E-Mail:sjx2005@hotmail.co.uk
—-
Siciid waa qoraa deggen magaalada London, UK, oo si joogto ah wax ugu soo qora degelka WardheerNews, waana guddoomiye xigeenkii hore ee Naadiga Qalinleyda Soomaaliyeed.
---
We welcome the submission of all articles for possible publication on WardheerNews.com. WardheerNews will only consider articles sent exclusively. Please email your article today . Opinions expressed in this article are those of the author and do not necessarily reflect the views of WardheerNews.
WardheerNew's tolerance platform is engaging with diversity of opinion, political ideology and self-expression. Tolerance is a necessary ingredient for creativity and civility.Tolerance fuels tenacity and audacity.
WardheerNews waxay tixgelin gaara siinaysaa maqaaladaha sida gaarka ah loogu soo diro ee aan lagu daabicin goobo kale. Maqaalkani wuxuu ka turjumayaa aragtida Qoraaga loomana fasiran karo tan WardheerNews.
Copyright © 2018 WardheerNews, All rights reserved